For this week's T-13:
Princess Fiona
The Maltese Scrapper
had included a Princess Fiona wig and braid in one of the wig out kits, which got me thinking of "greening" one of the cats. In this end, this turned out be remarkably easy.
I just had to play with the color levels, which is what I play with all the time anyway.
Daisy the Curly Cat
was the only cat I had in mind for this, BTW, she just fits the princess role.
The wig, was a different story, as it just didn't fit right. So while I stuck with braid, I went out and got another wig, which worked much better.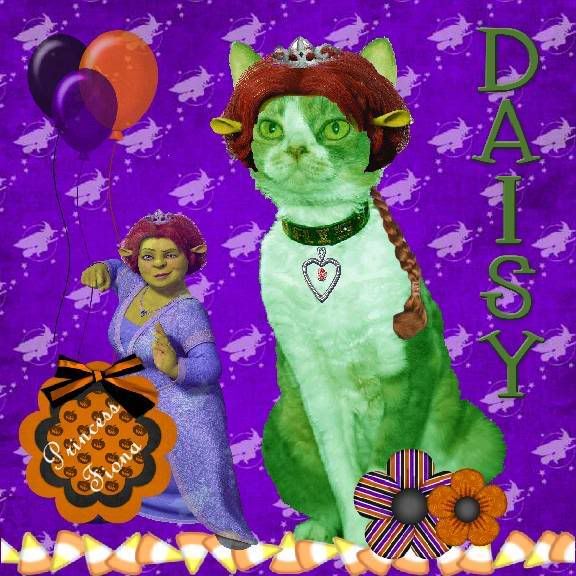 After using all my PTU kits, I decide to go with the FTU kit(s) from
Kristen's Wicked Scrapz
. Kristen puts out some really amusing little freebies from time to time, so she's worth checking in with. The Little Green Monster Alpha is from
Free Digital Scrapbooking
.
The Cowardly Lion
Brainball
really doesn't need any help to look like a lion, but I went out and found a lion wig in any case. With it being Halloween, it's been pretty easy to google up Halloween wigs.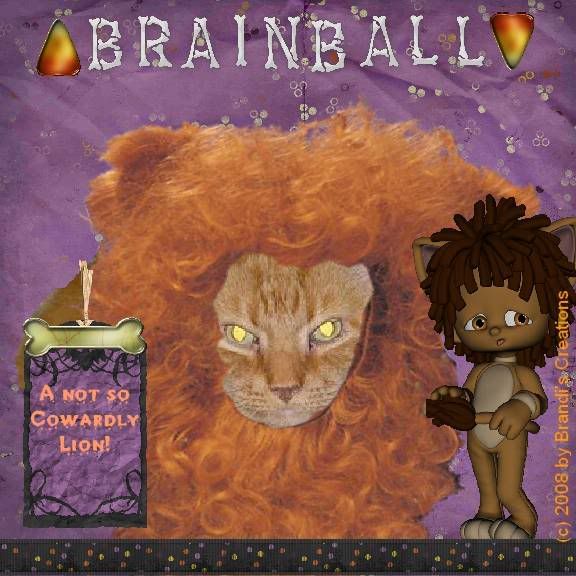 The scraps are from the Trick-or-Treat Mini-kit (collection) by
Rachael Hudnall
that I downloaded off the freebie section at
Digital Arts Cafe
. It's a very unique kit with the glitzienss (and hey, it was free!) The LeRoy Lion poser is (c) 2008 by
Brandi's Creations
, and is part of FTU set (and you get three LeRoys in it). The bone alpha is from Free Digital Scrapbooking.
The Dread Pirate Tripper
This was the piece that I mentioned in the
fairy post below
, and I might try something similar - although not necessarily pirate related - in upcoming weeks. I also used this particular layout for
Miss Peach's winter tag
.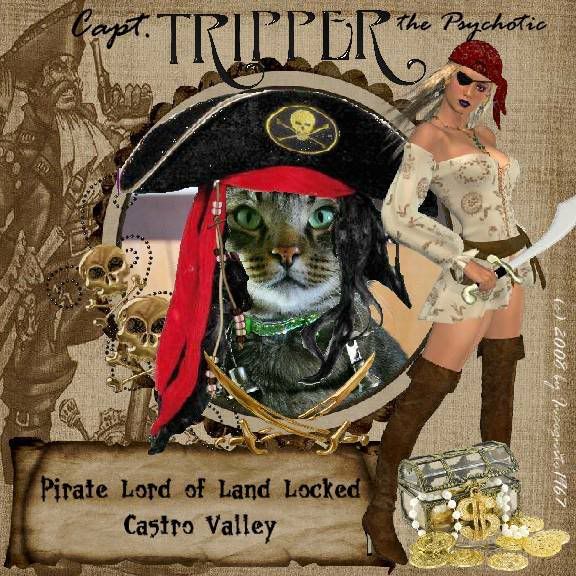 The scraps are from
A Pirates Life
by
Yarrow
, still the nicest pirate kit I've found out there, just wish it had a bit more in the way of elements. The Poster is from the
Pirate Babe
pack (c) 2008 by
Incognito
, and the Black Epoxy alpha is from (all together now) Free Digital Scrapbooking.
I figured
Trip
would be like "Yo Ho Yo Ho A Pirate Babe for me..."
Zorro
Rounding out our last quartet is Thunder, from
The Chronicle of Woos
. He is wearing the One size fits most Zorro costume, the hat is probably not right but it's courtesy of The Maltese Scrapper and was the closest I could find. There are spurs that go with he outfit, but since you can't see his feet (in part because he was standing in grass) I didn't use them.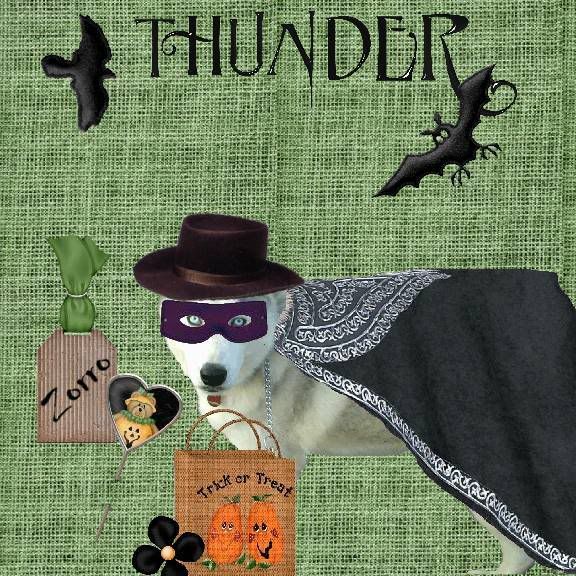 The scrap kit was a freebie from
Soxsational Scraps
- part of the Trick-or-Treat blog train - expect for the bat (from
Monika Digital Designs
) and the crow (uncredited). Alpha from FDS, same as above.
Thunder reminds me of my sister's old husky, Sky King, who was helped to the bridge earlier this year. He was 12 or 13 year old and had suffered epileptic seizures through most of his life. He went downhill really fast the last year, so the vet came to the house to help him to his final rest.
There are two more, as there's a bonus this time around, but I'm not happy with one, so I'm going redo it.