Polycystic Ovarian Syndrome, also called PCOS, is a hormonal disorder causing enlarged ovaries with small cysts on the outer edges. It is the leading cause of female infertility.
PCOS can also lead to other serious conditions including severe anxiety and depression, obesity, endometrial cancer, type 2 diabetes, liver disease and cardiovascular disease.
PCOS affects 1-in-10 women.
For more information on this disorder, visit
www.pcoschallenge.org
.
The orange, dark grey and eggshell white in the palette suggested clownfish to me, so that's what I went with this month. Welcome to an under the sea adventure with 12 (3600 x 3600 pixel) .jpg papers, 25 elements, and 1 mermaid poser from ©Sirina's Box.
You are getting 2 bows, 2 borders, 2 frames, 2 ribbons, 1 angelfish, 1 awareness ribbon fish, 1 bubbles, 1 clam, 1 clown fish, 1 coral, 1 little crab, 1 octopus, 1 port hole, 1 sea horse, 1 sea lion, 1 sea plant, 1 sea weed, 1 starfish, 1 tower, 1 waves, and 1 whale.
300 DPI. Personal use only.
Now, a question. Approximately 75% of all downloads this year have been for full size kits. Should I continue to make tagger size kits, or are you good with full size for the freebies? Please leave your answer in the comments.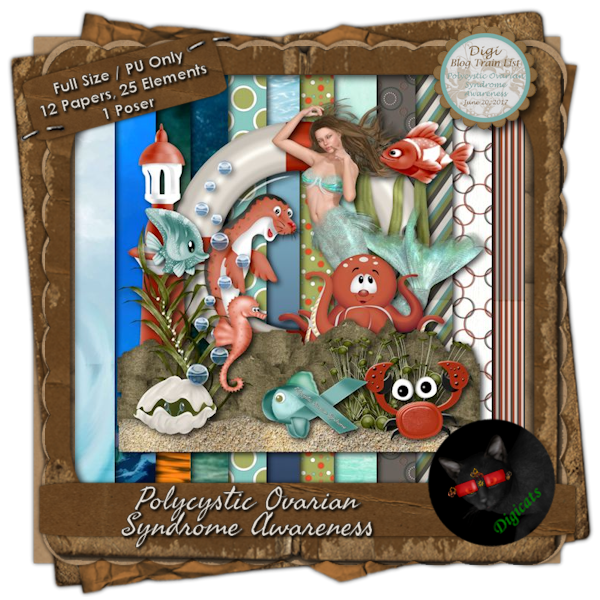 Please remember that by downloading this kit you agree to my terms of use which state, in part that that that you cannot redistribute, rebroadcast, resale, or claim my graphics as your own. That means placing this kit on 4Shared, RapidShare or any other file sharing site for any reason is a strict NO-NO! That constitutes redistribution.
If you know someone who is interested in this kit , please direct them to my blog where they can download their own copy. Free to use is NOT the same thing as free to share. My graphics are copyright protected.
Plus I already pay for premium download service so you don't have to wait for your freebies, and the links stay here FOREVER, so you don't have to put this kit anywhere else to share it, just link to this post.
To download from MediaFire, click on the buttons below:
If you enjoyed this freebie, please take a moment to
"Like" us on Facebook!
!
Please be sure to visit all of the rest of the stops on this train and see what everyone else is doing and grab the freebies they have for you along the way! And don't forget to leave some love when you download. Your thanks are the fuel that keeps these blog trains running! Note that we are all on different time zones, so if someone does not have their part up when you visit, just stop back a little later.
Digicats (& Dogs)
Angel Wing Scraps
Moore Blessings digital Design
Dreamn4Ever Designs
Dea's Design
Shuckclod's Stuff
DBTL FB Page(click bonus)
Don't forget that you can keep up with all the latest Digicats news and freebies just by liking us on
Facebook
, or following us on
Twitter
,
Pinterest
or
Tumblr
!