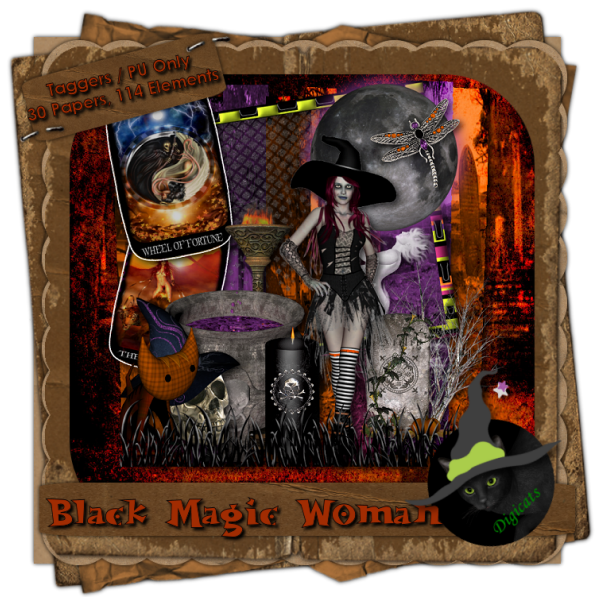 I got a Black Magic Woman, I got a Black Magic Woman.
Yes, I got a Black Magic Woman, She's got me so blind I can't see;
But she's a Black Magic Woman and she's trying to make a devil out of me.
Necromancy, Voodoo...this girl knows it all! She's evil, through and through, and she wants to bring out the evil in you.
30 800 x 800 pxl papers in .jpg format, and 114 .png elements including 15 frames, 10 candy corns, 6 haunted tombstones, 5 ghostly tags, 5 bows, 5 ribbons, 5 skull tapes, 5 star tapes, 5 tarot cards, 5 stick pins, 5 flowers, 5 roses, 5 candles, 3 Angry Simon constructs, 3 batties, 3 dragonfly charms, 3 voodoo dolls, 2 bottled roses, 2 braziers, 2 sunflowers, 2 word arts, 1 set of bubbles, 1 cauldron, 1 crystal ball, 1 Gramps, 1 Grass Border, 1 Moon, 1 Ouija Board, 1 pumpkin & cat cluster, 1 skull cat & hat cluster, 1 study, And three Halloween Rose posers created by Designs by Lou.
300 DPI, Personal Use only please.
This is yet another former PTU kit that is now FTU.
Please remember that by downloading this kit you agree to my terms of use which state, in part that that that you cannot redistribute, rebroadcast, resale, or claim my graphics as your own. That means placing this kit on 4Shared, RapidShare or any other file sharing site for any reason is a strict NO-NO! That constitutes redistribution.
If you know someone who is interested in this kit , please direct them to my blog where they can download their own copy. Free to use is NOT the same thing as free to share. My graphics are copyright protected.
Plus I already pay for premium download service so you don't have to wait for your freebies, and the links stay here FOREVER, so you don't have to put this kit anywhere else to share it, just link to this post.
To download your treat from MediaFire, click
HERE
.
The password is "WickedGirl" - no quotes.
Stop back tomorrow, November 1st, as the January Rain Harvest of Memories blog train leaves the station and I will have yet another freebie for you!
Remember that you can keep up with all the latest Digicats news and freebies just by liking us on
Facebook
, or following us on
Twitter
!