Welcome to the Digicats Station of the Butterfly Blush Blog Train. We're haunted this month, so watch out for ghosts while you're here. And DON'T get on the train pulled by Dread 107, she's got a bad habit of jumping off her tracks!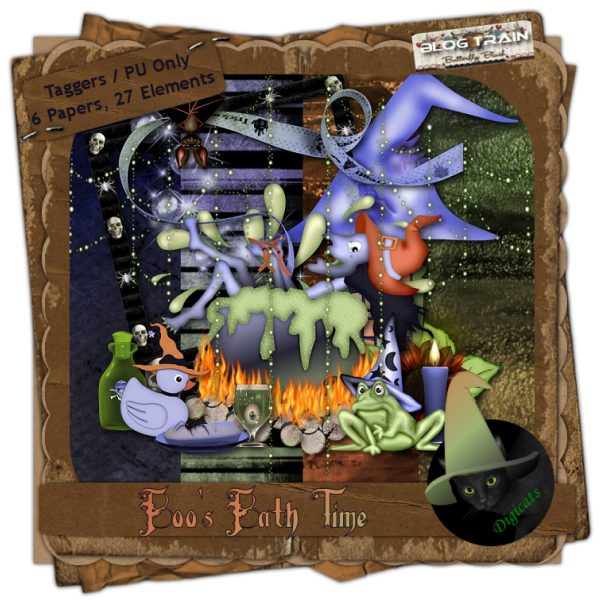 Getting ready for Halloween night is very important, especially if you're a witch! Witchy Boo has decided to get all dolled up this year and is taking a bath!
This Halloween mini-digital taggers kit consists of six papers and 27 booootiful elements to help you get Witchy Boo all ready.
Included in the kit are: 2 frames, 1 ribbon banner, 1 batty, 1 bow, 1 broom, 1 bubble bath, 1 bubbles, 1 candle, 1 do not disturb sign, 1 ducky, 1 eyeball cocktail, 1 flower, 1 Halloween cat, 1 heart web, 1 ribbon, 1 shower curtain, 1 soap, 1 splash, 1 tag, 1 test tube worm, 1 towels, 1 witchy bath house, 1 witchy bath, 1 witchy boot, 1 witchy plate, and 1 wizard frog.
300 DPI. Personal use only.
This add on sampler coordinates with my Boo! taggers kit. If you enjoyed this sampler, be sure to stop by
Butterfly Blush
and pick up Boo! (it's on sale!) for more Halloween fun!
Please remember that by downloading this kit you agree to my terms of use which state, in part that that that you cannot redistribute, rebroadcast, resale, or claim my graphics as your own. That means placing this kit on 4Shared, RapidShare or any other file sharing site for any reason is a strict NO-NO! That constitutes redistribution.
If you know someone who is interested in this kit , please direct them to my blog where they can download their own copy. Free to use is NOT the same thing as free to share. My graphics are copyright protected.
Plus I already pay for premium download service so you don't have to wait for your freebies, and the links stay here FOREVER, so you don't have to put this kit anywhere else to share it, just link to this post.
To download from MediaFire, click
HERE
.
The password is "Spooky Do" - no quotes.
If you enjoyed this freebie, please take a moment to vote for Digi!

Click on the blinkie to vote!
Don't forget to visit all the rest of the great stops on the train and pick up all the great goodies they have for you! Remember that we're all on different time zones, so if someone doesn't have their part posted yet, just stop back in a little while.
Be sure to leave some love when you download, you're thanks are the fuel that keeps these blog trains running.
Train Depot
AW Design
ArianneGrafX
Becky's Creations
Black Widow Creationz
Butterfly Kisses Scraps
Connie's Pages
Crafty Poly
Debs Design
DC Creations
Digicats (& Dogs)
Horseplay's Pasture Design
Moody's Designz
Nette's NightOwl Works
Pink's Poetic Scraps
Tezza's Tagger Scraps
Remember that you can keep up with all the latest Digicats news and freebies just by liking us on
Facebook
, or following us on
Twitter
!
Thanks for stopping by and don't forget to collect your bonus freebie which is posted just above this entry on my blog!