Because I made you wait an extra day for your freebie, and because my Birthday is on Monday, I've got another FREEBIE for you today!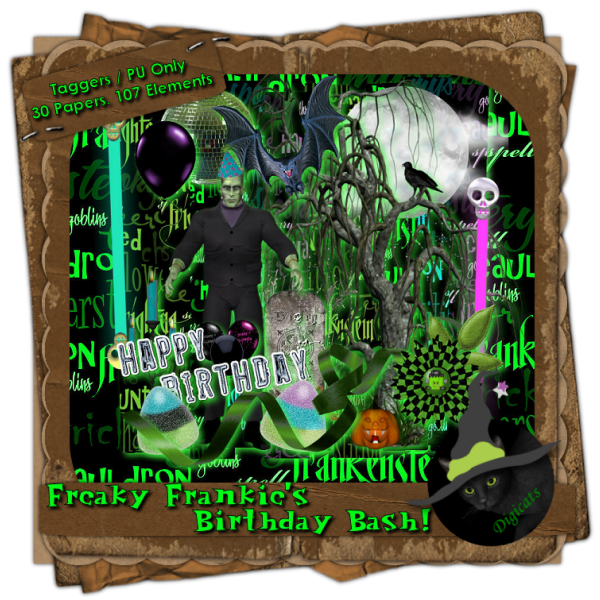 You know Frankie, right? Big dude, doesn't say much, lives in the run down house at the end of the street? Yeah, well, he's having a birthday party at his place and I hear it's going to be a real SCREAM!
This taggers size party kit comes with 30 papers and 107 elements including three Frankenstein posers by ©Coh Scraps.
What's in this party in a box? How about 10 candy corns, 7 frames, 5 glo sticks, 5 bows, 5 candles, 5 ribbons, 5 "Frankie" flowers, 5 haunted trees, 5 tombstones, 5 stitched hearts, 5 treat bags, 4 Tags, 4 cup cakes, 4 lollies, 3 balloons, 2 Corny Characters, 2 birthday hats, 2 books, 2 lightnings, 2 word arts, 1 bat, 1 Halloween skyline, 1 disco ball, 1 birthday cake, 1 Frank N Stine, 1 full moon, 1 grim reapers, 1 Halloween Cutie, 1 haunted house, 1 haunted house sign, 1 set of potions, 1 set of pumpkins, 1 sammy spider, 1 skull hat, 1 stitched hat, 1 rat, and 1 nightmare spider?
300 DPI. Personal use only!
Have fun, and remember, don't drink test tube shots and drive.
Common Frankie! Dance! Dance!
This is a former PTU kit that is now Free to Use and Yes! you CAN USE the posers included in this kit on your league pages and other Scrap 4 Hire projects!
Please remember that by downloading this kit you agree to my terms of use which state, in part that that that you cannot redistribute, rebroadcast, resale, or claim my graphics as your own. That means placing this kit on 4Shared, RapidShare or any other file sharing site for any reason is a strict NO-NO! That constitutes redistribution.
If you know someone who is interested in this kit , please direct them to my blog where they can download their own copy. Free to use is NOT the same thing as free to share. My graphics are copyright protected.
Plus I already pay for premium download service so you don't have to wait for your freebies, and the links stay here FOREVER, so you don't have to put this kit anywhere else to share it, just link to this post.
To download from MediaFire, click
HERE
.
The password is "Happy Birthday" - no quotes.
Remember that you can keep up with all the latest Digicats news and freebies just by liking us on
Facebook
, or following us on
Twitter
!