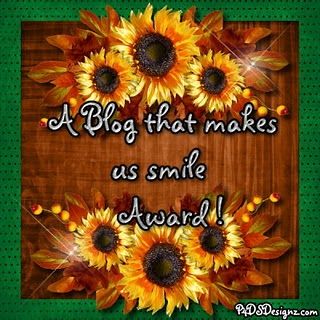 I admit to being really bad about posting awards. So both Nette of
Nette's NightOwl Works
, and Pink, of
Pink's Poetic Scraps
, have given me this Blog that makes us smile award.
So now, I'm going to pass this award off to:
Lou of
Designs by Lou
, who is giving away a freebie a day for the next couple of months,
Jo of
A Taggers Scrap
, who also gives away a ton of freebies and gets little thanks for it.
Pixie of
Kissed by Pix
, who is a wonderful store owner and who also has some great CU freebies on her blog,
Lis, from
PSP Girl
, who has some great - and fast running too - PSP scripts,
And my friend Ann, of
Foxys Designz
, for the great tag she made for me and for being a terrific store owner as well!
And because I've been so lax about getting awards posted and cluttering up my blog with them, Sharon of
Designs by Sharon B
gifted me with this Beauti-Licious award.
This award is for the Beautiful Women (and Men) who grace us with their talents in the Tagger Community. The intent of this award is to pass it on to the Designer, Tagger, or Artist who has inspired you with their endless talent and who has touched your heart. There are many out there.

Let's see how far we can pass this on.

♥HERE'S TO ALL YOU BEAUTIFUL PEOPLE!♥
I'm passing this award off to Dani of
Darkmoon's Dreams
,
Vicki of
Gemini Creationz
,
and Gail of
Aussie Scrap Designs
,
in recognition of all their great poser work. They all are doing some truly beautiful designs!