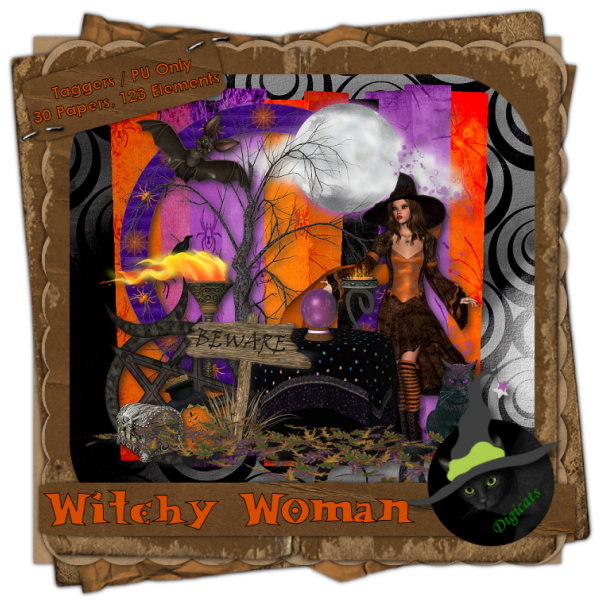 Get witchy with his beautiful Halloween themed digital taggers kit! 30 possessed papers, and 123 eerie elements for your Fright Night enjoyment including 2 Scorcha posers by MediEvil Creations.
This cauldron of fun includes 15 frames, 10 Bonbons, 6 cauldrons, 5 Halloween Tags, 5 bows, 5 brads, 5 bubble trails, 5 candles, 5 flowers, 5 ribbon wraps, 5 ribbons, 5 witches hats, 4 spooky trees, 4 lollies, 3 spell books, 2 braziers, 2 bats, 2 vampire bats, 2 buttons, 2 sets of eyeball beads, 2 flairs, 2 sets of Jack-O-Lanterns, 2 bottles, 1 torch, 1 witch's portrait, 1 bat border, 1 beware sign, 1 black cat, 1 broom, 1 full moon, 1 Granny Dianny Self-Portrait, 1 hourglass, 1 leaf border, 1 nightmare spider, 1 pentagram deco, 1 set of ruin stones, 1 scrying table, 1 sign, 1 skull chest, and 1 spider web.
300 DPI, personal use only please. Please read and abide by Medi's Terms of Use when using her posers in layouts and projects.
This is a formerly PTU kit that is now FTU.
Please remember that by downloading this kit you agree to my terms of use which state, in part that that that you cannot redistribute, rebroadcast, resale, or claim my graphics as your own. That means placing this kit on 4Shared, RapidShare or any other file sharing site for any reason is a strict NO-NO! That constitutes redistribution.
If you know someone who is interested in this kit , please direct them to my blog where they can download their own copy. Free to use is NOT the same thing as free to share. My graphics are copyright protected.
Plus I already pay for premium download service so you don't have to wait for your freebies, and the links stay here FOREVER, so you don't have to put this kit anywhere else to share it, just link to this post.
To download from MediaFire, click
HERE
.
The password is "Treat!" - no quotes.
You next freebie will be one day late, on Saturday, October 15th, when the
Butterfly Blush Blog Train
leaves the station.
Remember that you can keep up with all the latest Digicats news and freebies just by liking us on
Facebook
, or following us on
Twitter
!
Thanks for stopping by and enjoy your freebie!