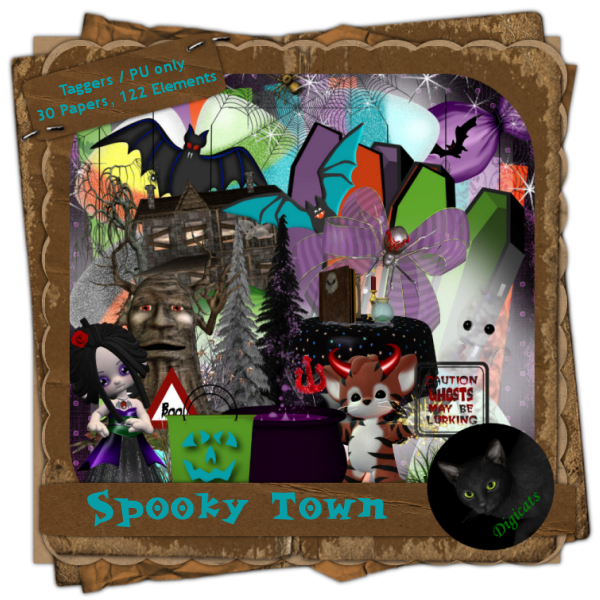 Gotta make a move to a
Town that's right for me
Town to keep me shiverin'
With some ghastly ghouls and treats!

Won't you take me to
Spookytown?
Welcome to Spooky Town, my part of the October Ghost Train. This is a taggers size stop and I have a fun little kit consisting of 30 spooky papers and 120 ghoulish elements - including yes, a lot of treats down on Treat Street.
Inside Spooky town you'll find 10 frames, 10 bonbons, 10 candy corns, 6 tags, 6 brads, 5 bows, 5 ribbons, 5 ric-racs, 5 "Frankie" flowers, 5 crazed bats, 5 treat bags, 4 coffins, 4 haunted tree stumps, 3 cauldrons, 3 candy bats, 3 Lil Ghosts, 2 Lommies, 2 special deliveries, 2 trick or treaters, 2 goth trees, 1 boo sign, 1 caution: ghosts sign, 1 fence, 1 flying purple people eater, 1 patch of fog, 1 grassy border, 1 haunted house, 1 haunted tree, 1 leave border, 1 Lil Witch cluster, 1 Razorwire-N-Roses, 1 sign post, 1 set of spellcasting supplies, 1 vampire bat, 1 spiderweb curtain, 1 bloodmoon, and 1 Tabby-ween of Terror, plus 6 additional posers - 2 little witches, 2 sweet goth girls, and 2 lil vamp boys.
Please be sure to read and abide by both my terms of use and those included for the poser artists.
Please remember that by downloading this kit you agree to my terms of use which state, in part that that that you cannot redistribute, rebroadcast, resale, or claim my graphics as your own. That means placing this kit on 4Shared, RapidShare or any other file sharing site for any reason is a strict NO-NO! That constitutes redistribution.
If you know someone who is interested in this kit , please direct them to my blog where they can download their own copy. Free to use is NOT the same thing as free to share. My graphics are copyright protected.
Plus I already pay for premium download service so you don't have to wait for your freebies, and the links stay here FOREVER, so you don't have to put this kit anywhere else to share it, just link to this post.
To download from MediaFire, click
HERE
.
The password is "TYVM" - no quotes.
And don't forget to visit the rest of the stops on this train. You can use the handy navigation bar below to continue your journey:
Return to the previous stop
Go on to the next stop
Also, leave a little bit of thank you when you download! Your thanks are the fuel that helps keep these blog trains running.
You can keep up with all the latest Digicats news and freebies just by liking us on
Facebook
, or following us on
Twitter
!
P.S. And don't forget to scroll down and grab your Gothic Inspirations Blog Train Freebie as well!