Note: I've had a couple of comments that there's some problems getting the
All Hallow's Eve
kit to download. The link to MediaFire works every time I test it. It's also worked for 250 (and counting) other visitors, so I don't know what to tell you, except it might be a temporary problem with MediaFire and to try again in a little while.
Alternately, it could be a problem with your browser/operating system. If you're using an old version of MSIE, MediaFire won't support the download.
In any case...some creative work I did with some of the other kits on this train....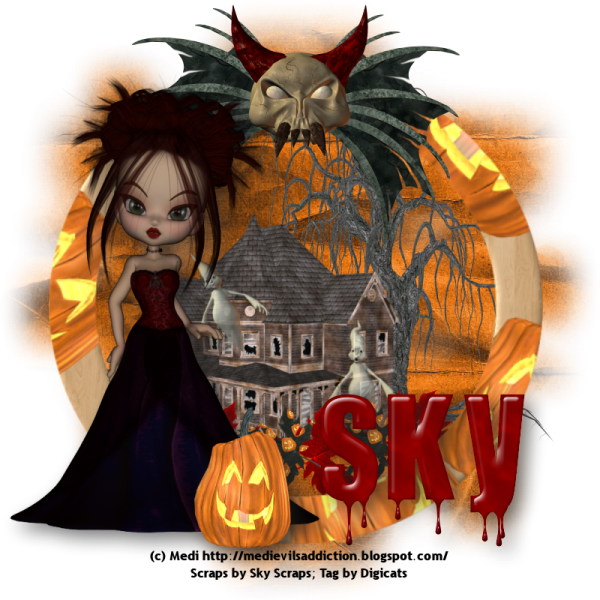 From
Sky Scraps
' portion of the train. The Bloody Alpha is by Sarah at
Pimp my Tag with Scraps
and is also available on the train. I totally love the Demon mask BTW. Lady Bathory is (c) by MediEvil Creations and is
not
included in the kit.
The groovin' little witch is by Bits'N'Bobs, while the scraps are
Created by Jill
. The witch does not come with Jill's sampler; neither does the
Lookin' Fur alpha
which was created by Heaven Dreams.
I just love this Hallows Eve kit by
Alyssa's Scraps and Such
, she's got some really fun things in there. Widowmaker is (c) by MediEvil Creations and is NOT included, although the spider is. The Creepy Alpha is by Judy at
Winter's Loft
and is available on the train.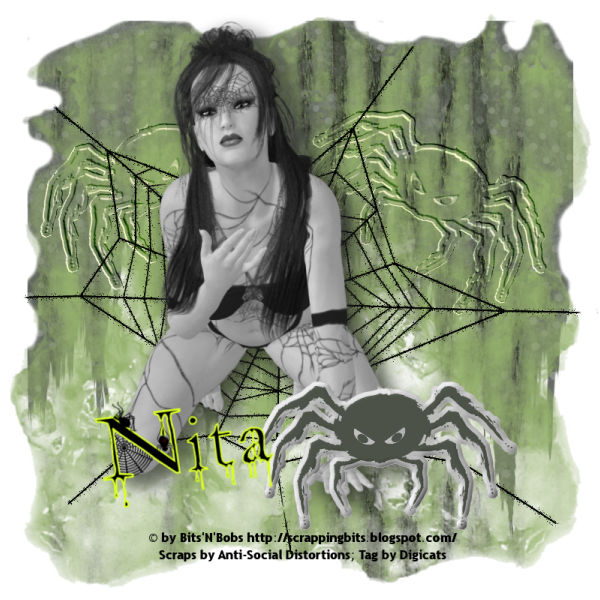 Another type of spider queen is Webmistress (c) by Bits'N'Bobs. Nita from
Anti Social Distortions
created the scraps. I always love her contributions to the G.I. trains. The alpha, again, is by Winter's Loft.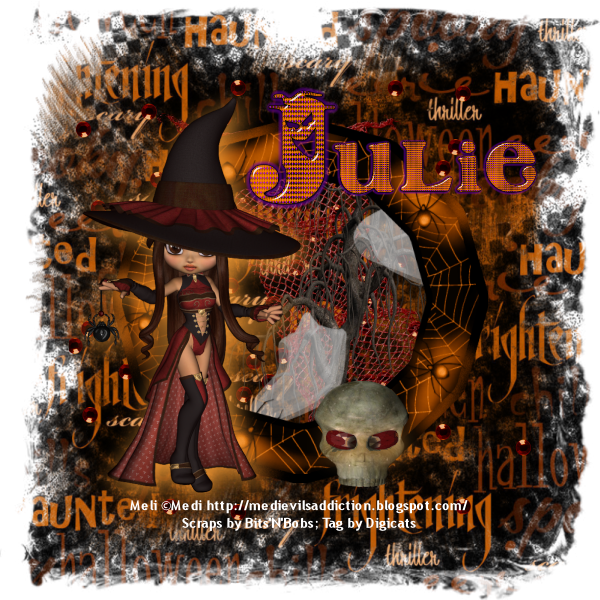 Interestingly enough, Julie chose to include one of Shannon's Cookie posers in her kit, so Meli is (c) by MediEvil Creations and IS included in the
Bits'N'Bob
's offering, which I thought was for sale and was going to run out and buy. How nice to get it for free? LOL.
The creepy face alpha is by Morgana at
Nutshell Creations
.
Pia's offering
is one of the full sized kits on the train. I resized it to scrap with. The alpha is included. Halloween Rose is not, she is (c) Design by Lou.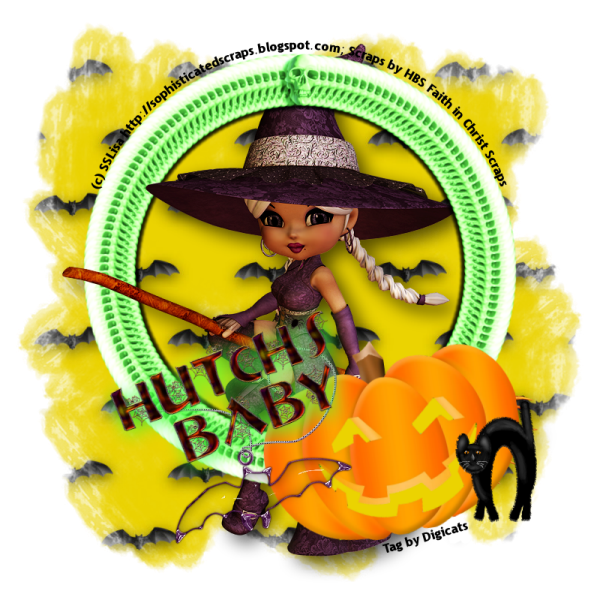 Hutch's Baby at
Faith in Christ Scraps
includes one of SSLisa's Halloween Witches in her kit. I actually asked Lisa to make these up for my Strange Brew kit and they've proved to be very popular. We're having a slightly harder time getting her to produce a vampire set. Ah, but wait...the
Fangtasia Blog Train
is coming and look what Lisa is working on for you...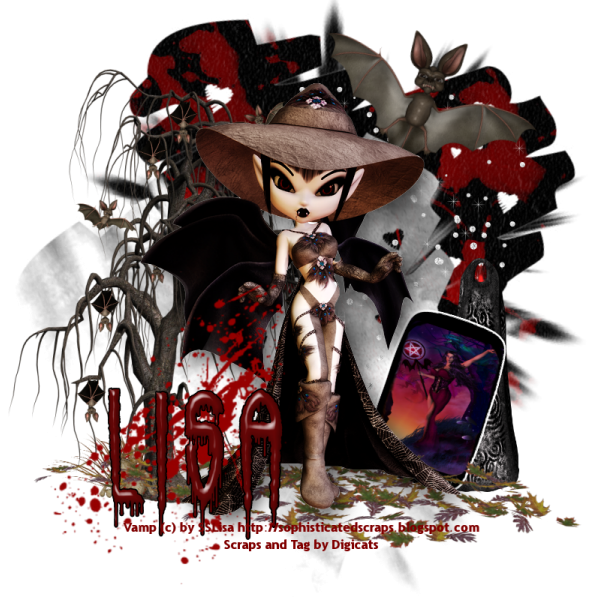 She's still tweeking, this is only a test vamp. LOL! Anyway, the alpha used in the Hutch's Baby tag is by
Polarfuchs Treasures Digital Designs
and was a blog freebie. You might want to scoot over there and snatch it up.
Anyway...that does it for now. I'll have more for you in a little while. I've a pinched nerve in my shoulder (on my mouse side no less) and it's really bothering me right now.  Hope you enjoyed this little ride on the Gothic Inspirations Blog Train!