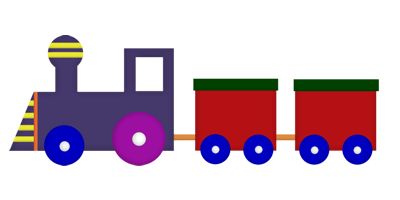 Wooot! Wooot! The Medical Mayhem Blog Train has arrived!
I went a bit off the beaten path, into the world of the holistic tribal medical practitioner, the so called "Witch Doctor".
It came to my attention while I was working on a different kit that I had used some CU products that could not be used to make freebies. So I'm providing you with a sampler on the train. The complete kit has been retired and an amended version is available as a
FREEBIE
elsewhere on this blog.
The sampler consists of 8 papers and 33 elements - and believe me when I say you can still get some good tags out of it.
You are getting 3 stickers, 2 ferns, 2 frames, 2 hibiscus, 2 palm trees, 2 polished stones, 2 tags, 1 bones, 1 bow, 1 bubbles, 1 cauldron, 1 ceremonial mask, 1 fantasy mask, 1 fire, 1 giraffe, 1 grass, 1 hen, 1 potion, 1 ric rac, 1 skull necklace, 1 skullz, 1 snake, 1 staff, 1 vine, and 1 voodoo doll.
This sampler is saved in 300 DPI, and is for Personal use only!
Please remember that by downloading this kit you agree to my terms of use which state, in part that that that you cannot redistribute, rebroadcast, resale, or claim my graphics as your own. That means placing this kit on 4Shared, RapidShare or any other file sharing site for any reason is a strict NO-NO! That constitutes redistribution.
If you know someone who is interested in this kit , please direct them to my blog where they can download their own copy. Free to use is NOT the same thing as free to share. My graphics are copyright protected.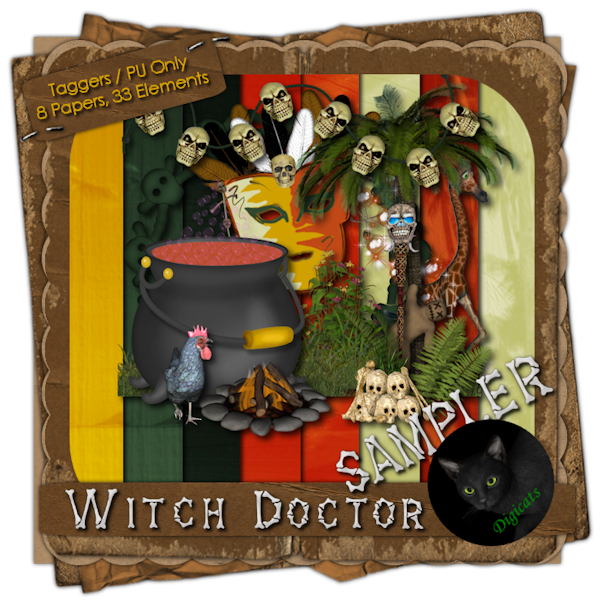 Plus I already pay for premium download service so you don't have to wait for your freebies, and the links stay here FOREVER, so you don't have to put this kit anywhere else to share it, just link to this post.
To download from MediaFire, click
HERE
.
The password is "Thanks" - no quotes.
If you enjoyed this freebie, please take a moment to vote for Digi!

Click on the blinkie to vote!
Be sure to stop by and grab the rest of the kits on this train, and please take a moment to leave a thank you if you download. Your thanks are the fuel that keeps these blog trains running.
HEADQUARTERS
Wicked Princess Scraps
Alyssa's Scraps & Such
::designed by stina::
Ahava Creative Ideas
Amy's Scrap Place
Angele Design
CaysCreation Designs
Crazed's Creations
Digicats (& Dogs) <-- You are here!
Ella V. Grim
Envied & Admired Scraps
Eye Opening Designs
Gothic Inspirations
Hippiedaze Scrappin' Stuff
Jennie D Desings
KiKeKa Kits Crafted by Gina
Majik Of Mystee Designz
Moonlight Laura Creations
Nette and Sherra's Scraps
Princess Tara Designz
Pspgirl
Scrapz By Sashi
Stef's Creations
Sticky Kisses Designs
Remember that we're not all on the same time zone, so if someone doesn't have their part up yet, be patient, and stop by later.
Don't forget that you can keep up with all the latest Digicats news and freebies just by liking us on
Facebook
, or following us on
Twitter
!