I went into work for two hours yesterday, was told I was incoherent, and was sent home. I really don't think I'm babbling, do you? I mean, it's not like I have enough of a voice left to babble. In any case...
This is a creative use pre-train freebie that I did sort of for the Wrapped in Chocolate blog train although it's more Valentine's Day themed. I thought I'd put it out there now in case anyone wanted to use it for their kits.
It is taggers sized and consists of 5 800 x 800 pxl overlays, and corresponding sample papers, 5 gradients for use in both PSP and PS, 2 1260 x 100 ribbon overlays, 5 balloons, 3 fuzzy bears and two rose clusters.
Credit not required, but appreciated.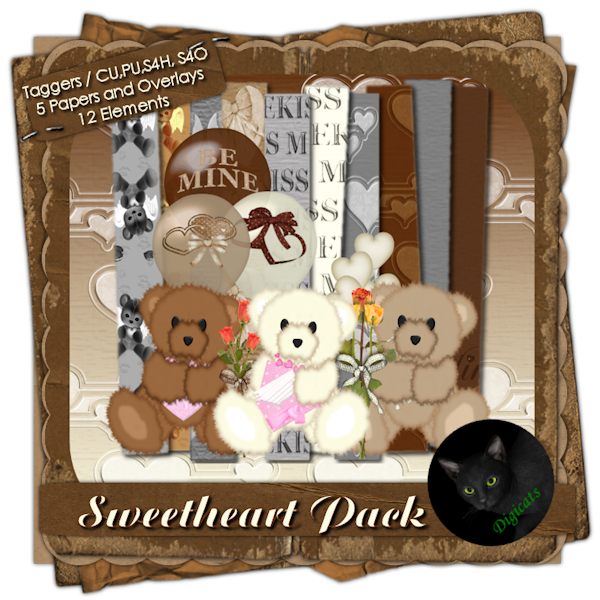 Please remember that by downloading this kit you agree to my terms of use which state, in part that that that you cannot redistribute, rebroadcast, resale, or claim my graphics as your own. That means placing this kit on 4Shared, RapidShare or any other file sharing site for any reason is a strict NO-NO! That constitutes redistribution.
If you know someone who is interested in this kit , please direct them to my blog where they can download their own copy. Free to use is NOT the same thing as free to share. My graphics are copyright protected.
Plus I already pay for premium download service so you don't have to wait for your freebies, and the links stay here FOREVER, so you don't have to put this kit anywhere else to share it, just link to this post.
To download from MediaFire, click
HERE
.
The password is "TYVM" - no quotes.
If you enjoyed this freebie, please take a moment to vote for Digi!
Click on the blinkie to vote!
Don't forget that you can keep up with all the latest Digicats news and freebies just by liking us on
Facebook
, or following us on
Twitter
!