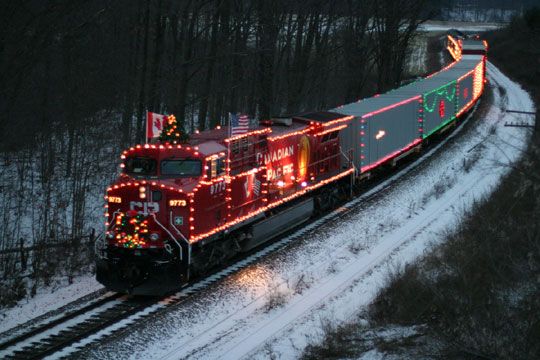 Woooo! Woooo! The
Gothic Inspirations Holiday Wishes blog train
has left the station! And just look at all those pretty lights that the train is decked out in!
We've got some equally festive freebie kits for you on this train ride. Here at Digicats, we're taking you all the way up North, into the arctic circle to the place where ol' St. Nick hangs out during this off days - the North Pole.
My kit, called
Happy Holly Days
, is a taggers size affair consisting of 24 snowy, blowy papers, and 103 adorable elements, including 4 posers (c) by Perfect Posers.
It also features some great clip art by Americo, which I've turned into felties for you. I had to have it the minute I saw it, it was just toooooo adorable!
You can look forward to playing with 8 snowflakes, 8 ornaments, 6 trees, 5 glitter frames, 5 silver frames, 5 tags, 5 bottle caps, 5 bows, 5 curly ribbons, 5 ribbons, 5 Christmas cookies, 5 penguin clip arts, 4 gumdrops, 4 polar bear clip arts, 4 winter bells, 3 snowdrifts, 3 poinsettes, 2 holiday swags, 1 Christmas star, 1 candy ring, 1 icicles, 1 igloo, 1 lights & garland, 1 man in the moon, 1 north pole, 1 Santa sack, 1 snowflake curtain, 1 Christmas pudding, 1 snowman and 1 toy train, plus two cheeky elves and 2 Holly Berry fairies.
I'm sure you'll have just as much fun playing with it, as I had, putting it together!
Remember that by downloading, you are agreeing to abide by my terms of use which state in part that that you cannot redistribute, rebroadcast, resale, or claim my graphics as your own. That means placing this kit on 4Shares, RapidShare or any other file sharing site is a strict NO-NO! That constitutes redistribution.
If you know someone who is interested in this kit, please direct them to my blog where they can download their own copy. Free to use is NOT the same thing as free to share. My graphics are copyright protected.
Plus I already pay for premium download service so you don't have to wait for your freebies, and the links stay here FOREVER, so you don't have to put this kit anywhere else to share it, just link to this post.
To download from MediaFire, click
HERE
.
The password is "TYVM" - no quotes.
If you enjoyed this freebie, please take a moment to vote for Digi!
Click on the blinkie to vote!
Don't forget to visit the rest of the stops on this train, and be sure to say thank you to all the designers for all their hard work in putting these kits together for you! Your thanks are the fuel that keeps these blog trains running!
HEADQUARTERS
Jessica with: Gothic Inspirations
Jill with: Created By Jill
Sky with: Sky's Scraps
Sarah with: Pimp My Tags With Scraps
Jo with: Creationz By Jo
Dianna with: Digicats (& Dogs)
Nita with: Anti Social Distortions
Kelly with: Designs By Kelly
Laura with: Addicted 2 Scrapz
Nette: Nette's NightOwl Works
Julie with: Bits N Bobs
Ann with: Addicted 2 Scrapz
Kelly with: Angels Designz
Mystee with: Intoxxikate Intentionz By Mystee
Pia with: Digital Blue Print
Alyssa with: Alyssa's Scraps & Such
Missy with: Scraps With Attitude
Cari Jaime with: Black Widow Creationz
Natasha with: Sticky Kisses Designs
Judy with: Winter's Loft
Cora with: Pimpd Designz
Missy Lynn with: MissyLynn Scraps And Tuts
NAC with: Naughty Angels Creations
Julie with: Whispy's D'zines
Hezalin with: HezaScraps & Tags
Remember that you can keep up with all the latest Digicats news and freebies just by liking us on
Facebook
, or following us on
Twitter
!
Thanks for stopping by and enjoy the rest of your ride on the Gothic Inspirations Holiday Wishes blog train!