Wow! Check this out! Another absolutely gorgeous tag from Jessica!
She used my Winter Solstice taggers kit.
You can find this tutorial
HERE
.
Visit Jessica on the web at

Before the Jewish Holiday of Haunakah, and before the Christians took over the end of the month for Christmas, Pagans celebrated the Winter Solstice as the coming of Noio Helle - Noel - New Light, into the world.
This beautiful winter themed taggers kit is perfect for your Solstice tags, or for winter themed or holiday tags as well. Composed of 25 (800 x 800, .jpg) papers and 105 .png elements: 10 frames, 10 snowflakes, 9 ornaments, 6 paper stars, 5 tags, 5 bows, 5 ribbons, 3 solstice stars, 3 standing stones, 3 trees with snow, 3 snow covered trees, 3 hollies, 3 shooting stars, 3 snow dangles, 3 snowdrift borders, 2 crazed bells, 2 suns (1 midnight, 1 silver), 2 poinsettia, 2 unicorns, 2 winter bells, 2 holiday swags, 1 bowl with fire, 1 candle, 1 bells (by OBD), 1 castle, 1 chalice, 1 dagger, 1 wreath, 1 owl, 1 Jules jingle, 1 icicle border, 1 lattice moon, 1 goth hat, 1 glowing star trail, 1 silver bells, 1 holiday candle setting, 1 holiday lights, 1 snow overlay and 2 Mrs. Claus posers created by ©Perfect Posers.
Saved to 300 DPI, this beautiful kit is also suitable for blogwear and websets, online stationary, and smaller print jobs. Personal use only please.
---
I've been in a bit of a party mood, so I've been working on a New Year's kit. His is a bit of a sneak peak: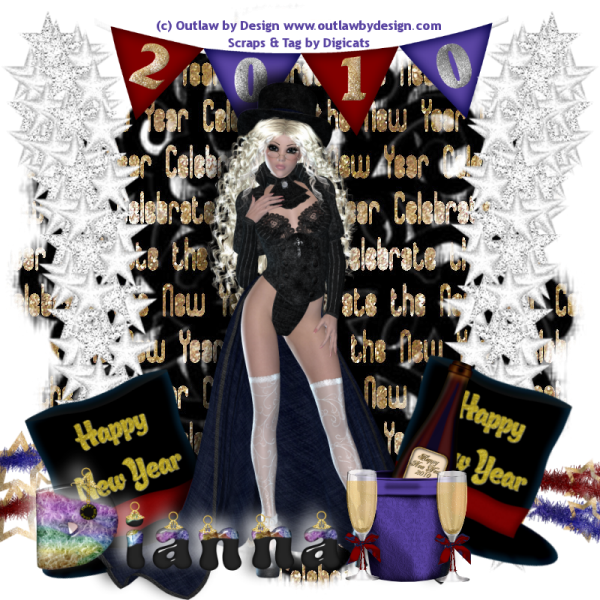 Don't look for this one anytime soon - however, I've got two New Year kits coming out on Tuesday
So stop back here on Tuesday, December 15th because you know what? You can snag both of those for FREE!