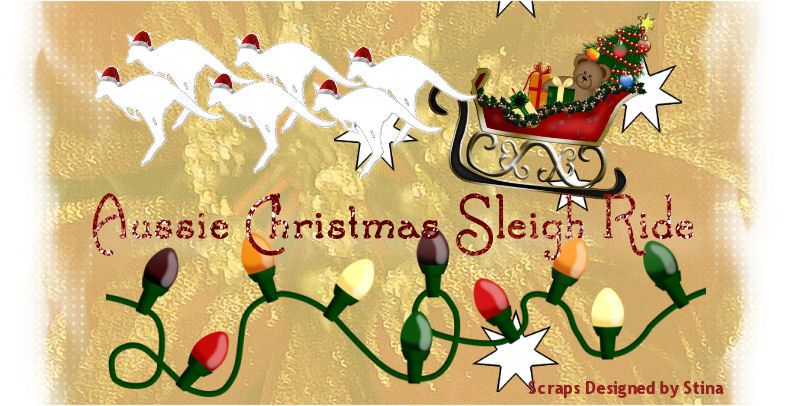 Alright kids, the Boomers are hitched to sleigh and we're off to enjoy a Christmas Sleigh ride - Aussie Style.
Actually, for all of that, it was a very traditional pallet and so you're getting a very traditional kit from me, never mind the cute stuff. Even when I try not to do cute I end up with cute. LOL
This is a taggers size kit with 20 (800 x 800 pxl, .jgp) papers and 115 .png elements including three Sadie Elf posers that you can use in your tags.
You're also getting 10 frames, 5 tags, 5 candy sticks, 5 Christmas balls, 5 Christmas cookies, 5 Christmas ornaments, 5 poinsettia bows, 5 ribbons, 5 snowflakes, 4 Christmas doodles, 3 Christmas bulbs, 3 Christmas gifts, 3 reindeer sleighs, 3 Sadie Elfs, 3 Santa Stars, 3 wooden dolls, 2 Christmas boys, 2 Fat Santas, 2 holiday bells, 2 holiday swag, 2 penguins, 2 peppermints, 2 poinsettia, 2 ribbon trees, 2 santa sacks, 2 stockings, 2 toy drums, 2 winter bells, 1 baseball bat, 1 baseball, 1 Christmas Tree, 1 fireplace, 1 gold toy stocking, 1 holiday corn, 1 pyramid, 1 reindeer, 1 rocking horse, 1 Santa, 1 toy soldier, 1 train, 1 winter bird, and 1 wreath.
Please remember that by downloading this kit you agree to my terms of use which state, in part that that that you cannot redistribute, rebroadcast, resale, or claim my graphics as your own. That means placing this kit on 4Shared, RapidShare or any other file sharing site for any reason is a strict NO-NO! That constitutes redistribution.
If you know someone who is interested in this kit , please direct them to my blog where they can download their own copy. Free to use is NOT the same thing as free to share. My graphics are copyright protected.
Plus I already pay for premium download service so you don't have to wait for your freebies, and the links stay here FOREVER, so you don't have to put this kit anywhere else to share it, just link to this post.
To download from MediaFire, click
HERE
.
The password is "TYVM" - no quotes.
If you enjoyed this freebie, please take a moment to vote for Digi!

Click on the blinkie to vote!
Don't forget to visit the rest of the stops on this train, and when you download be sure to say thank you to all the designers for all their hard work in putting these kits together for you! Don't be part of the broken finger brigade, alright? Your thanks are the fuel that keeps these blog trains running!


Gail at Aussie Scrap Design
Chris at Katelynn's Designs
Susan at Tooty Pup Scraps
Lynne at Baby Cakes Scraps
Lena at A Design by Lena
Nicole at Irresistible Scraps
Grazy at Grazy the Beauty
Stacie at Cakes Creations
Lou at Designz by Lou
Charly at Perfect Posers
Marieche at Scrappin Dsigns
Kara at Kara's Designs
Lorraine at Artlor's Designs
Tammy at This-n-That by Tammy
Malu at Armezem Scrap
Linda at Bad Girlz Stuff
Joanne at Creationz by Jo
Mystic at Ocean Myst Designs
Dianna at Digicats (& Dogs) <--You are HERE
Ketty at Charlie Online
Nette at Nette's NightOwl Works
Brianna at Gothic Witch Creations
Leigh at Heartfelt Perfections
Claudia at Simply Shortmop
Remember that you can keep up with all the latest Digicats news and freebies just by liking us on
Facebook
, or following us on
Twitter
!
Thanks for stopping by and enjoy the rest of your ride on the Aussie Scrap Designs Christmas Sleigh Ride!