April-ween kicks off next Friday. This isn't really a Halloween kit, but it could probably be used as one.
Step off the beaten path, into the world of the holistic tribal medical practitioner, the so called "Witch Doctor".
This tropical themed kit consists of 20 patterned and textured papers, plus 106 Elements. You'll find 5 Bows, 5 Bubbles, 5 Cauldrons, 5 Hibiscus Flowers, 5 Polished Stones, 5 RicRac, 5 Round Frames, 5 Square Frames, 5 Tags, 4 Fantasy Masks, 4 Ferns, 4 Palms, 4 Potions, 3 Giraffes, 3 Snakes, 3 Staffs, 3 Vines, 2 Bone Clusters, 2 Grasses, 2 Hens, 2 Leafy Things, 2 Panels, 2 Skull Necklaces, 2 Skullz, 2 Tiki,1 Ceremonial Mask, 1 Coconut, 1 Coconut Cup, 1 Crock, 1 Elephant, 1 Fire, 1 Ivy, 1 Lion, 1 Rhino, 1 Rooster, 1 Skeleton, 1 Spider, 1 Sun, 1 Water Buffalo, 1 Voodoo Doll, and 2 Wyld Posers by Sophisticated Scraps & Imaging.
300 DPI. Personal use only please.
This is a formerly PTU kit that is now FTU. Please note that I had to make some changes to the kit to offer it as a freebie. So this is a slightly different version than the PTU version.
Please remember that by downloading this kit you agree to my terms of use which state, in part that that that you cannot redistribute, rebroadcast, resale, or claim my graphics as your own. That means placing this kit on 4Shared, RapidShare or any other file sharing site for any reason is a strict NO-NO! That constitutes redistribution.
If you know someone who is interested in this kit, please direct them to my blog where they can download their own copy. Free to use is NOT the same thing as free to share. My graphics are copyright protected.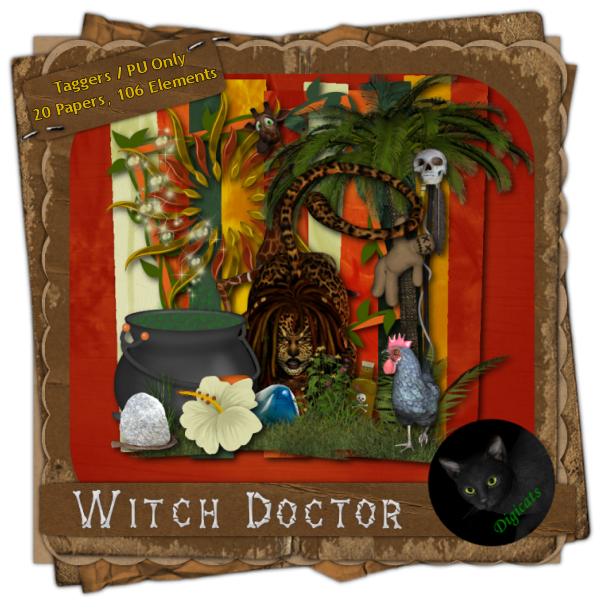 To download from MediaFire, click
HERE
.
The password is "Voodoo" - no quotes.
If you enjoyed this freebie, please take a moment to vote for Digi!

Click on the blinkie to vote!
Be sure to stop by next Friday for your first April-ween freebie, plus the Gothic Inspirations Blog train also leaves the station that day, so there will be two freebies for you!
Remember that you can keep up with all the latest Digicats news and freebies just by liking us on
Facebook
, or following us on
Twitter
!