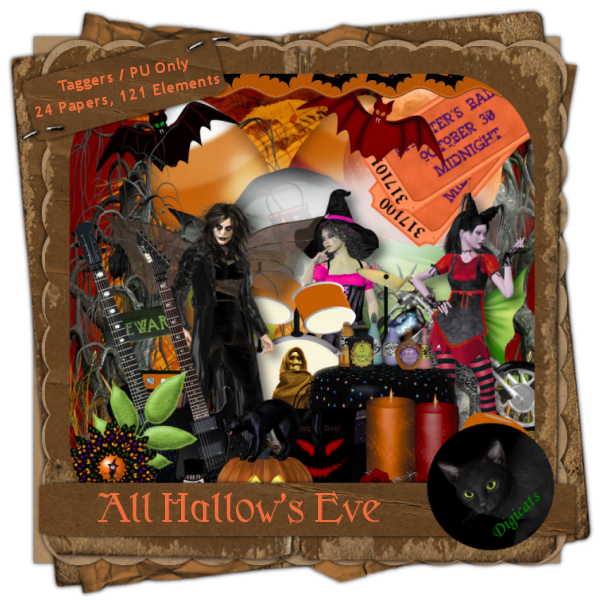 Once a year as it happens, on Halloween Night,
The monsters gather together, for their annual delight,
They'll be rocking along to some spooky sounds,
Even the old timers will be Mashin' around the grounds.
It's ghastly good time, for the ghoulish crowd,
And this year you're invited to get crazy and loud.
But don't forget your tickets, else we'll be notifying your next of kin,
For it's held in the cemetery, and people are just dying to get in!
Welcome to Digicats station on the Gothic Inspirations October Blog Train!
My contribution to this train is a taggers size kit consists of 24 patterned & grungy papers (800 x 800 pxls, .jpg format), and 121 elements saved as .pngs so they'll open in almost every graphics program.
Included in the kit are 12 frames, 8 bonbons, 8 candy corns, 6 leaves, 5 spooky trees, 4 tags, 4 candles, 4 charmed bows, 4 crazed bats, 4 fire charms, 4 "Frankie" flowers, 4 gravestones, 4 ribbons, 4 ribbon bows, 4 ric-racs, 4 sparkles, 2 full moons, 2 treat bags, 2 cauldrons, 2 flairs, 2 goth guitars, 2 haunted tombs, 2 motorcycles, 1 amp, 1 bat curtain, 1 drink table, 1 drum set, and 1 drum stick, 1 fallen leaf border. 1 fog, 1 guitar pick, 1 mic, 1 pumpkin mix, 1 pumpkin and cat, 1 speaker, 1 witches broom,1 Tabby-ween of Terror, 8 monstrous posers, and 1 set of monster ball tickets.
Everything is saved to 300 DPI, making it suitable for smaller print jobs.
Please remember that by downloading this kit you agree to my terms of use which state, in part that that that you cannot redistribute, rebroadcast, resale, or claim my graphics as your own. That means placing this kit on 4Shared, RapidShare or any other file sharing site for any reason is a strict NO-NO! That constitutes redistribution.
If you know someone who is interested in this kit , please direct them to my blog where they can download their own copy. Free to use is NOT the same thing as free to share. My graphics are copyright protected.
Plus I already pay for premium download service so you don't have to wait for your freebies, and the links stay here FOREVER, so you don't have to put this kit anywhere else to share it, just link to this post.
To download from MediaFire, click
HERE
.
The password is "TYVM" - no quotes.
Don't forget to hit up the rest of the stops on this most excellent All Hallow's Eve blog train! And don't forget to leave some love if you download. Your thanks are the fuel that keeps these blog trains running!
Jessica with: Gothic Inspirations
Julie with: Bits N Bobs
Sarah with: Pimp My Tags With Scraps
Jill with: Created By Jill
Sky with: Sky's Scraps
Alyssa with: Alyssa's Scraps & Such
Dianna with: Digicats (& Dogs)
Jen with: GF Designz
Laura with: Laura's Designz
Pia with: Digital Blue Print
Hutchs Baby with: HBS Faith In Christ Scraps
Nette and Sherra with: Nette and Sherra's Scraps
Melinda with: Melinda's Designs
Tracy with: Tracy Did It
Rachel with: Rachels Expressionz
Mystee with: Intoxxikate Intentionz By Mystee
Judy with: Winter's Loft
Nita with: Anti Social Distortions
Brandy with: Super Scrappin Mom
Cora with: Pimpd Designz
Thanks for stopping by!
Remember that you can keep up with all the latest Digicats news and freebies just by liking us on
Facebook
, or following us on
Twitter
!