I hate doing Commercial Use stuff. However, I love old movies so for once, this was a bit of enjoyable commercial use work.
Today I have for you a collection of 4 overlays created using public domain images of old film posters.
This pack contains Tarantula, Forbidden Planet, La Signora of Shanghai, and Werewolf of London.
1000 x 1000 pixels each, saved to 300 DPI. Commercial use/S4H/S4O. No credit required, but appreciated.
This is a freebie add on to my Vintage Movie Overlay pack that I released yesterday.
Please remember that by downloading this kit you agree to my terms of use which state, in part that that that you cannot redistribute, rebroadcast, resale, or claim my graphics as your own. That means placing this kit on 4Shared, RapidShare or any other file sharing site for any reason is a strict NO-NO! That constitutes redistribution.
If you know someone who is interested in this kit, please direct them to my blog where they can download their own copy. Free to use is NOT the same thing as free to share. My graphics are copyright protected.
To download the kit from Mediafire, click on the preview below: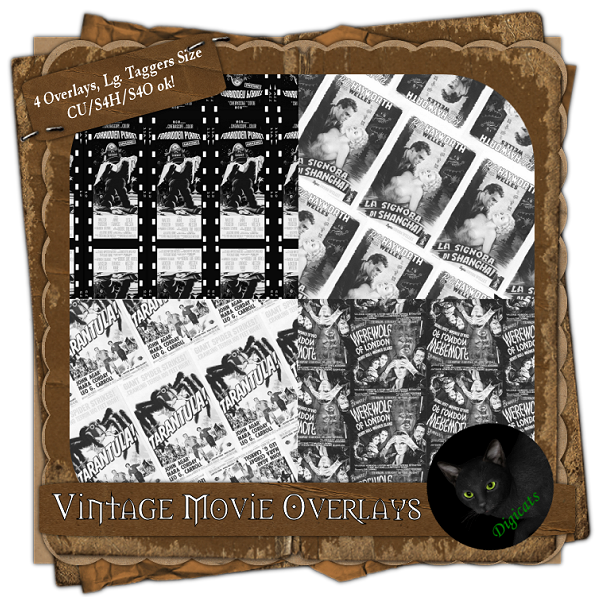 The password is "TYVM" (no quotes).
If you enjoyed this freebie, please take a moment to vote for Digi!

Click on the blinkie to vote!
Want more? You can find 12 more great old movie overlays in Digi's Vintage Movie Overlay pack at these fine stores: