Thanks for stopping by on this Freebie uh...Thursday, and welcome to the Digicats Station on the Wilma4Ever Mystical Journey Blog Train. I was kind of in a Halloween mood so I had a hard time getting into the Fantasy with pastel colors thing, but I hope you still enjoy my portion of the train.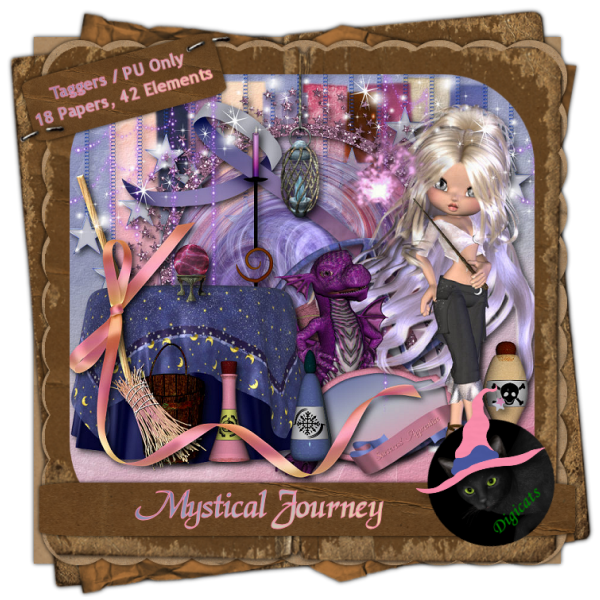 It takes years and years of work and practice to develop the skills of a sorceress. But if you're willing to put in the time and start at the beginning, your Mystical Journey will certainly be worth it.
Join our young candidate as she embarks upon her quest to learn magic with this digital taggers kit. 18 papers and 42 elements including two Sweet Little Moon Rising posers by ©DN Scraps.
Included in this kit are 6 bows, 4 ribbons, 3 frames, 3 potions, 1 book shelf, 1 broom, 1 bucket, 1 candle, 1 crystal ball, 1 dragon, 1 flower, 1 fractual, 1 heart web, 1 hour glass, 1 imp, 1 lamp, 1 magic mirror, 1 magic wand, 1 magic, 1 moon and stars, 1 pegasus, 1 pentagram, 1 sparkles, 1 spellbook, 1 star curtain, 1 table, 1 tag, and 1 web.
300 DPI. Personal use only.
Please remember that by downloading this kit you agree to my terms of use which state, in part that that that you cannot redistribute, rebroadcast, resale, or claim my graphics as your own. That means placing this kit on 4Shared, RapidShare or any other file sharing site for any reason is a strict NO-NO! That constitutes redistribution.
If you know someone who is interested in this kit , please direct them to my blog where they can download their own copy. Free to use is NOT the same thing as free to share. My graphics are copyright protected.
Plus I already pay for download service so you don't have to wait for your freebies, and the links stay here FOREVER, so all you pirates out there don't have to put this sampler anywhere else, just link to this post.
To download from MediaFire, click
HERE
.
The password is "Spellcaster" - no quotes.
If you enjoyed this freebie, please take a moment to vote for Digi!

Click on the blinkie to vote!
Our next freebie will be Friday, September 23, on the Autumn Equinox, so be sure to stop be then.
Don't forget to visit the rest of the stops on this train and pick up all the goodies available to you! And when you download, please leave some love, your thanks are the fuel that keeps these blog trains running.
Wilma4Ever Store Blog (train station)
Ariasparkle
ABCreations
Amanda & Millie Designs
Anita
AW Design
Becky's Creations
Craftypoly's Curiosity Shop
Creating With Fae
Creations By Rain
Debs Design
Digicats (& Dogs)
EmJay Scraps
HF-Projekte
Nette's NightOwl Works
Pink's Poetic Scraps
Scrappin' Wright
Shal's World
Swheat Creations
Tina Shaw
Wilma Fourever
Remember that you can keep up with all the latest Digicats news and freebies just by liking us on
Facebook
, or following us on
Twitter
!
I hope you enjoyed your stay here at Digicats Station. I see the train is getting ready to leave for the next station, so "Allll Aboard!"