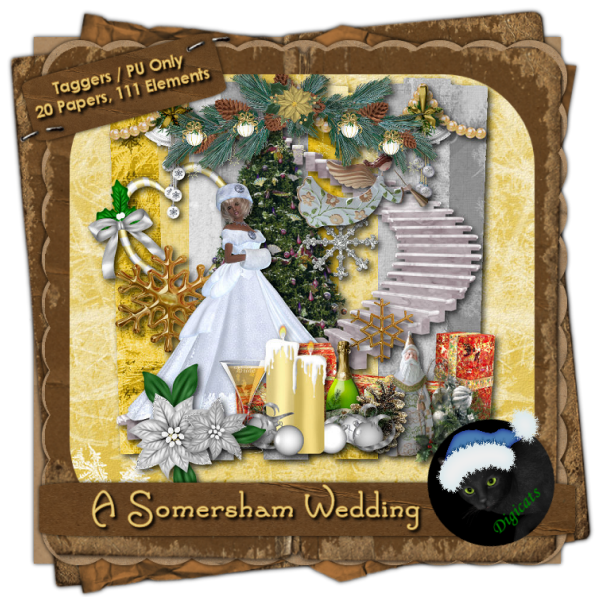 Inspired by "Devil's Bride" and "The Promise in a Kiss", this is a beautiful winter wedding themed digital taggers kit is set in the Regency Era (early 1800's) at the fabulous (but fictional) Somersham Place, the seat of the Dukes of St. Ives. I couldn't think of a nicer place for a winter wedding.
This beautiful kit includes 20 papers, and 111 elements including 3 Winter Bride posers created by ©Outlaw by Design.
You also get 10 snowflakes, 8 ornaments, 7 Christmas frames, 5 tags, 5 bows, 5 poinsettias, 5 ribbons, 3 heart frames, 3 Christmas bells, 3 hanging baubles, 3 presents, 3 snow borders, 3 stars with ribbon, 3 winter bells, 2 bead bows, 2 bead garlands, 2 Christmas candles, 2 decorations, 2 jewels, 2 gold pine cones, 2 ribbon trees, 2 snowy trees, 1 angel, 1 bride's glass, 1 groom's glass, 1 candy cane heart, 1 bottle of champagne, 1 Christmas cracker, 1 Christmas tree, 1 gold heart element, 1 gold star, 1 guest book, 1 holiday Swag, 1 Christmas swag, 1 icicle border, 1 mistletoe, 1 piano and 1 piano bench, 1 ring cushion, 1 snow overlay, 1 staircase, 1 St. Nicholas, 1 wedding bow, 1 wedding cake, 1 wedding candle, 1 set of wedding rings, and 1 wreath.
It's taggers sized, but it's saved at 300 DPI so it's suitable for blogwear and smaller print jobs. Personal use only please.
This is a former PTU kit that is now FTU.
Please remember that by downloading this kit you agree to my terms of use which state, in part that that that you cannot redistribute, rebroadcast, resale, or claim my graphics as your own. That means placing this kit on 4Shared, RapidShare or any other file sharing site for any reason is a strict NO-NO! That constitutes redistribution.
If you know someone who is interested in this kit , please direct them to my blog where they can download their own copy. Free to use is NOT the same thing as free to share. My graphics are copyright protected.
Plus I already pay for premium download service so you don't have to wait for your freebies, and the links stay here FOREVER, so you don't have to put this kit anywhere else to share it, just link to this post.
To download from MediaFire, click
HERE
.
The password is "winter_is_coming" - no quotes.
If you enjoyed this freebie, please take a moment to vote for Digi!
Click on the blinkie to vote!
Your next freebie will be Tuesday, November 15th when the Wilma 4 Ever Celebration! blog train leaves the station, so be sure to check back then!
Remember that you can keep up with all the latest Digicats news and freebies just by liking us on
Facebook
, or following us on
Twitter
!