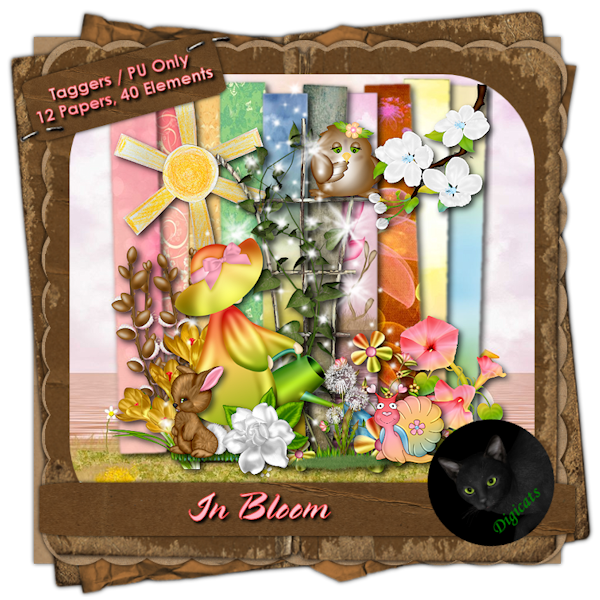 My initial response to "In Bloom" was to do a kit consisting of runny nose, watery eyes, pollen counts, boxes of tissues and antihistamines.
However, I wheezed my way through a nice May kit instead, so I hope that unlike me, you will enjoy all the flowers without sneezing your head off!
12 springtime papers and 40 blooming elements to create your own bloomin' tags with. Included in the kit are: 2 bows, 2 frames, 2 ribbons, 1 apple blossom, 1 bird house, 1 bloom, 1 bunny, 1 calla lilies, 1 cherry blossoms, 1 crocuses, 1 dandelions, 1 flower girl, 1 forget me nots, 1 gardenia, 1 glitter splat, 1 happy snail, 1 hoe, 1 hummingbird, 1 magnolia blossom, 1 morning glory, 1 owl, 1 pansies, 1 poppies, 1 pussywillow, 1 rake, 1 spade, 1 sparkles, 1 summer tree, 1 sun, 1 sunflowers, 1 tag, 1 trellis, 1 trillium flower, 1 tulips, 1 vine, 1 watering can, and 1 wheelbarrow.
300 DPI. Personal use only.
Please remember that by downloading this kit you agree to my terms of use which state, in part that that that you cannot redistribute, rebroadcast, resale, or claim my graphics as your own. That means placing this kit on 4Shared, RapidShare or any other file sharing site for any reason is a strict NO-NO! That constitutes redistribution.
If you know someone who is interested in this kit , please direct them to my blog where they can download their own copy. Free to use is NOT the same thing as free to share. My graphics are copyright protected.
Plus I already pay for premium download service so you don't have to wait for your freebies, and the links stay here FOREVER, so you don't have to put this kit anywhere else to share it, just link to this post.
To download from MediaFire, click
HERE
.
The password is "Flowers!" - no quotes.
Please be sure to visit all the rest of the stops on this train and pick up all the goodies waiting for you. And be sure to leave some love when you download. Your thanks are the fuel that keeps these blog trains running.
Wilma4Ever (start here)
ABCreations
Always Creations
April the Scrapaholic
Arianne
Artragious Designs
Charlie On Line
Digicats (& Dogs)
Disyas Digitals Designs
EmJay Scraps
Galerie de Jackie
Krazi Daizi Kreationz
Loretta
MamaLLamaLisaDesigns
Moody Designz
Pink's Poetic Scraps
S.G.Rowe Designs
Sugarbutt Designs
Tina Shaw
Your next freebie will be May 25th when the IOS Candyland train leaves the station, so be sure to stop back then!
Remember that you can keep up with all the latest Digicats news and freebies just by liking us on
Facebook
, or following us on
Twitter
!