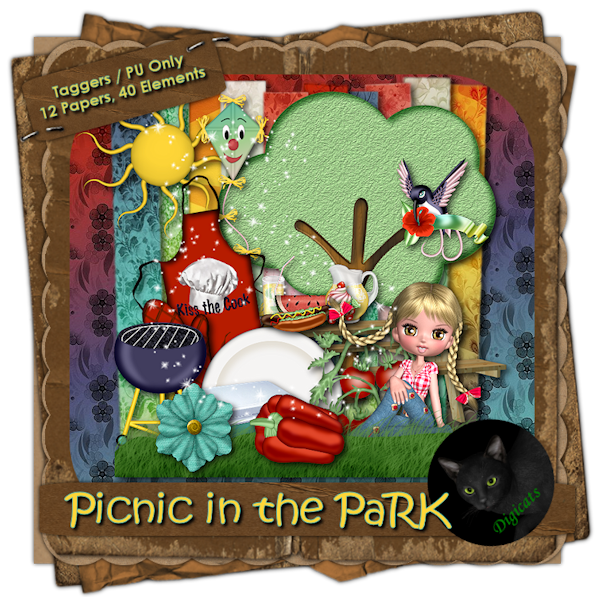 Ah, the lazy, hazy, crazy days of summer, including sun, fun and picnics in the park. Not to mention hanging around late with spanish speaking Cuban immigrants watching Chinese fireworks on an American holiday. How patriotic is that?
For all those lazy, hazy, crazy summer tags you have in mind, try this adorable little kit, complete with grill and all the supplies you'll need for a fun afternoon in your favorite green space. 12 papers and 40 elements, including one "Dixie" cookie by ©Krissy's Imaging.
Included in the kit are 2 bows, 2 flowers, 2 frames, 2 ribbons, 1 apron, 1 burger, 1 cherry cupcake, 1 cooler, 1 dragonfly, 1 drink, 1 fireworks, 1 fork, 1 frisbee, 1 grassy border, 1 grill, 1 hot dog, 1 hummingbird, 1 ice lolly, 1 kite, 1 knife ,1 oven mitt ,1 paper plate ,1 pepper, 1 picnic table, 1 picnic, 1 pitcher, 1 sparkles, 1 spatula, 1 sun, 1 tag, 1 tomatoes, 1 tongs, 1 tray, 1 tree, and 1 watermelon.
300 DPI. Personal use only!
Please remember that by downloading this kit you agree to my terms of use which state, in part that that that you cannot redistribute, rebroadcast, resale, or claim my graphics as your own. That means placing this kit on 4Shared, RapidShare or any other file sharing site for any reason is a strict NO-NO! That constitutes redistribution.
If you know someone who is interested in this kit , please direct them to my blog where they can download their own copy. Free to use is NOT the same thing as free to share. My graphics are copyright protected.
Plus I already pay for premium download service so you don't have to wait for your freebies, and the links stay here FOREVER, so you don't have to put this kit anywhere else to share it, just link to this post.
To download from MediaFire, click
HERE
.
The password is "Yum!" - no quotes.
Thanks to Karen for picking this super cute theme! Everyone has made a special little coordinating something for you to download and enjoy. Remember, we are all in different time zones, so if someone's part is not up yet, please come back. Remember to also leave some love for our designers to keep the freebies flowing!
W4E Train Station (start here)
ABCreations
Always Creations
Artragious Designs
Charlieonline.it
Digicats (& Dogs)
Disyas Digitals Designs
Galerie de Jackie
Loretta B
MamaLLamaLisaDesigns
Meine Bastelwelt
Tina Shaw
My next freebie will be June 25th when the Dusk 2 Dawn Blog Train leaves the station, so be sure to stop back then!
Remember that you can keep up with all the latest Digicats news and freebies just by liking us on
Facebook
, or following us on
Twitter
!