Her mind is Tiffany-twisted, she got the Mercedes bends
She got a lot of pretty, pretty boys she calls friends
How they dance in the courtyard, sweet summer sweat.
Some dance to remember, some dance to forget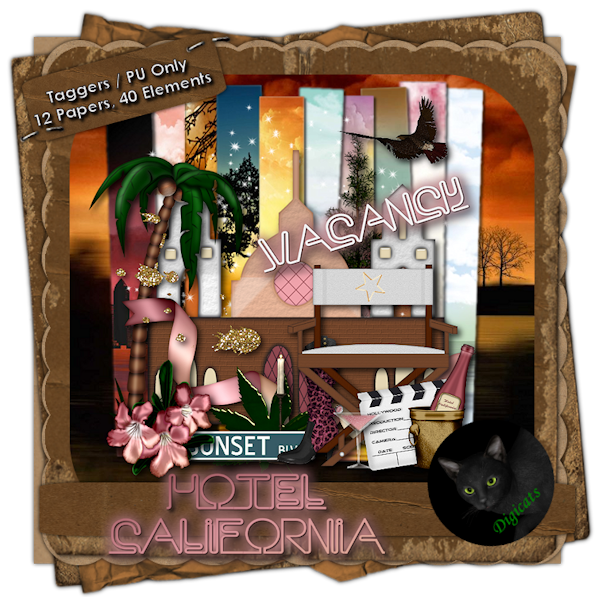 This was a theme I've wanted to do for a while. Nette and I keep joking that some digi-scrap stores are like the Hotel California - You can check out any time you like, but you can never leave.
You get owners that want to bargain with you. "Well, I'll pay you 90% commission if you stay." Sure but 90% of zero sales is still ZERO, so that's not really an inducement, is it?
Anyway...I figured this was also a great end of summer theme, but it seemed like it baffled a lot of the designers. So much for classic rock...
Grant Design Poser did some great freebie posers so I did a (hopefully) great little digital taggers kit to go along with them. 12 papers and 40 elements.
You are getting 2 bows, 2 frames, 2 palm trees, 2 ribbons, 1 Boot, 1 butterfly, 1 cactus, 1 candle, 1 charm, 1 clap board, 1 colitas, 1 credit card, 1 day lily, 1 desert rose, 1 diamonds, 1 director's chair, 1 do not disturb sign, 1 eagle, 1 glitter, 1 grassy border, 1 heart spill, 1 hotel california WA, 1 hotel, 1 martini glass, 1 Mercedes, 1 mirrored ball, 1 pine tree, 1 pink champagne, 1 pool floatie, 1 shoe-n-pearls, 1 sparkles, 1 streetlamp, 1 sun, 1 sunset blvd sign, 1 tag, and 1 vacancy WA.
300 DPI. Personal use only.
Please remember that by downloading this kit you agree to my terms of use which state, in part that that that you cannot redistribute, rebroadcast, resale, or claim my graphics as your own. That means placing this kit on 4Shared, RapidShare or any other file sharing site for any reason is a strict NO-NO! That constitutes redistribution.
If you know someone who is interested in this kit , please direct them to my blog where they can download their own copy. Free to use is NOT the same thing as free to share. My graphics are copyright protected.
Plus I already pay for premium download service so you don't have to wait for your freebies, and the links stay here FOREVER, so you don't have to put this kit anywhere else to share it, just link to this post.
To download from MediaFire, click
HERE
.
The password is "steely" - no quotes.
Don't forget to visit all the rest of the stops on the train and check out the freebies our designers have in store for you. And be sure to leave some love when you download, your thanks are the fuel that keeps these blog trains running.
Craftypoly
Debs Design
Digicats (& Dogs)
Ditz Bitz
Grant Designs Posers
Nette's NightOwl Works


Remember that you can keep up with all the latest Digicats news and freebies just by liking us on Facebook, or following us on Twitter!