Welcome to the Dusk 2 Dawn Scrapz Blog Train. This month's them was Moonlight Magic, which could have entailed several different things, but I was feeling my wiccan roots on this one!
So, my part of the train is very magical indeed, and just a bit witchy! This digital taggers kit comes with 12 papers and 40 Elements, including one witch poser by ©Outlaw by Design.
You are getting 2 bows, 2 frames, 2 ribbons, 2 roses, 1 amethyst, 1 astrology wheel, 1 bell, 1 black cat, 1 bottle, 1 bowl, 1 broom, 1 butterflies, 1 candle, 1 cauldron, 1 chalice, 1 crystal ball, 1 dagger, 1 feather, 1 flowers, 1 full moon, 1 hour glass, 1 incense, 1 ivy spray, 1 pentagram, 1 raven clock, 1 snowy owl, 1 sparkles, 1 spellbook, 1 swirl, 1 table, 1 tag ,1 tarot cards, 1 wand, 1 window, and 1 word art.
300 DPI, Personal use only!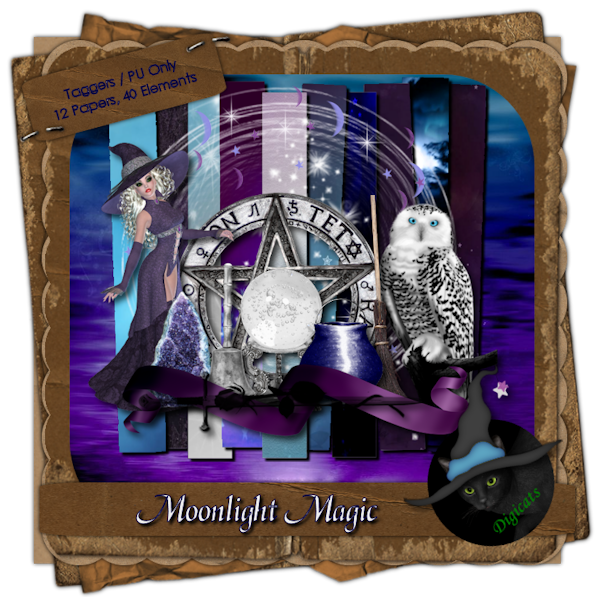 Please remember that by downloading this kit you agree to my terms of use which state, in part that that that you cannot redistribute, rebroadcast, resale, or claim my graphics as your own. That means placing this kit on 4Shared, RapidShare or any other file sharing site for any reason is a strict NO-NO! That constitutes redistribution.
If you know someone who is interested in this kit , please direct them to my blog where they can download their own copy. Free to use is NOT the same thing as free to share. My graphics are copyright protected.
Plus I already pay for premium download service so you don't have to wait for your freebies, and the links stay here FOREVER, so you don't have to put this kit anywhere else to share it, just link to this post.
To download from MediaFire, click
HERE
.
The password is "TYVM" - no quotes.
If you enjoyed this freebie, please take a moment to vote for Digi!

Click on the blinkie to vote!
Don't forget to visit the rest of the stops on the train and grab all the freebies our designers have in store for for you. Also, when you download, please take a moment to say "thank you". Our designers spend hours putting these kits together for you. Is it too much too ask that you take half a minute out of your day to say "Thank You"?
Craftypoly
Crazy Cat Creations
Digicats (& Dogs)
Ditz Bitz
English Rose Designs
Irish Princess Designs
Nette's NightOwl Works
Pink's Poetic Scraps
Sweet Cravings Scraps
Remember that you can keep up with all the latest Digicats news and freebies just by liking us on
Facebook
, or following us on
Twitter
!