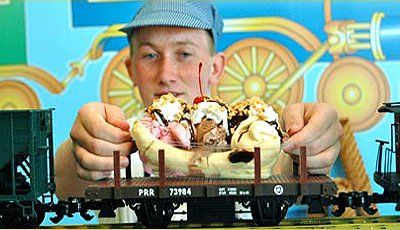 Welcome to the Digicats stop on the Wilma 4 Ever Popsicle Parade blog train! July is National Ice Cream month here in the United States, a fact that AnMarie did not know when she picked the theme for this month's train. So all the sweet treats you are getting on this ride are just a happy coincidence.
Former president Ronald Reagan designated July as National Ice Cream Month in 1984. He also named the third Sunday in July (July 21st this year) as National Ice Cream Day. Reagan recognized the popularity of ice cream in the United States (90% of the nation's population consumes ice cream) and stated that these two events should be observed with "appropriate ceremonies and activities."
Before you ask, there is a REAL ice cream train that you can ride, it leaves out of Newport, Rhode Island, and deals in mainly soft serve. (The photo above is from Choo-Choo's Creamery Ice Cream parlor in Keller.)
Anyway, I hope you enjoy my contribution to the National Ice Cream festivities. This is a taggers size kit composed of 12 (800 x 800 pixel, .jpg) papers and 40 elements.
You are getting 2 bows, 2 flowers, 2 frames, 2 ice cream bars, 2 ice cream cones, 2 popsicles, 2 ribbons, 1 banana split, 1 birds, 1 bottle cap, 1 coconut ice cream, 1 flags, 1 heart popsicle, 1 ice cream cart, 1 ice cream parlor, 1 ice cream pop, 1 ice cream sundae, 1 ice cream treat, 1 ice milk, 1 iced melon, 1 milk shake, 1 paper cloud, 1 rocket pop, 1 snow cone, 1 soft serve cone, 1 soft serve cup, 1 sparkles, 1 strawberry ice bon-bon, 1 strawberry parfait, 1 sun, 1 tag, 1 tree, and 1 waffle cone.
300 DPI. Personal use only, please!
Please remember that by downloading this kit you agree to my terms of use which state, in part that that that you cannot redistribute, rebroadcast, resale, or claim my graphics as your own. That means placing this kit on 4Shared, RapidShare or any other file sharing site for any reason is a strict NO-NO! That constitutes redistribution.
If you know someone who is interested in this kit , please direct them to my blog where they can download their own copy. Free to use is NOT the same thing as free to share. My graphics are copyright protected.
Plus I already pay for premium download service so you don't have to wait for your freebies, and the links stay here FOREVER, so you don't have to put this kit anywhere else to share it, just link to this post.
To download from MediaFire, click
HERE
.
The password is "I Scream" - no quotes.
If you enjoyed this freebie, please take a moment to vote for Digi!

Click on the blinkie to vote!
Be sure to visit the rest of the great stops on this blog train and collect all the goodies waiting for you. And please leave some love when you download. Your thanks are the fuel that keeps these blog trains running!
ABCreations/Anmarie Bowden Creations
Always Creations
ApriltheScrapaholic
ApriltheScrapaholic Kits
Becky - Becky's Creations
Craftypoly
Digicats (& Dogs)
Disyas Digitals Designs
La galerie de Jackie
Moody Designz
Myriad Graphics
PattyB Scraps
Pink's Poetic Scraps
Pizazz Pixels
RoseMade Designs
Tina Shaw
Don't forget that you can keep up with all the latest Digicats news and freebies just by liking us on
Facebook
, or following us on
Twitter
!