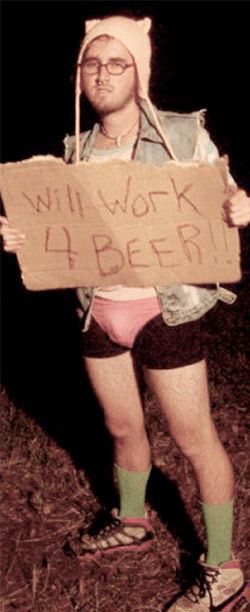 Times are tough all over right now, including in the scrapping community. To help out each other, and our fellow designers on the net, over 30 talented designers have come together to offer you the Will Work for Scraps CU blog train.
All of the items offered in this train are Commercial Use friendly (except for 1 kit, that is clearly marked). And the cost to you?
Nada. Nothing. Zip.
Pretty decent deal huh? And you didn't even have to stand out on the corner, panhandling!
My offering is over 35 megs, so I broke it down into two zips for you. Be sure to snag both!
Please remember that by downloading this kit you agree to my terms of use which state, in part that that that you cannot redistribute, rebroadcast, resale, or claim my graphics as your own. That means placing this kit on 4Shared, RapidShare or any other file sharing site for any reason is a strict NO-NO! That constitutes redistribution.
If you know someone who is interested in this kit, please direct them to my blog where they can download their own copy. Free to use is NOT the same thing as free to share. My graphics are copyright protected.
Also:
VERY IMPORTANT!
Be sure to read and follow the enclosed terms of use when using these items in your kits. They are not to be used CU4CU - meaning you cannot use other CU items out of them - unless they are clearly marked that way.
If you have any questions about the use of an item - ASK!
The links to download the kit from MediaFire are below. The password is "Goodwill" - no quotes, capitalization counts.
MediaFire #1:
http://www.mediafire.com/?8vq75y78m0r44bp
MediaFire #2:
http://www.mediafire.com/?sry2x9nv42aw6kd
If you enjoyed this freebie, please take a moment to vote for Digi!

Click on the blinkie to vote!
Also, don't forget to visit the rest of the stops on the Will Work for Scraps blog train and collect all the great CU items waiting for you! And of course, be sure to leave a little thank you when you snag. Your thanks are the fuel that keep these blog trains running!

HEADQUARTERS
Sam & Jenn with:
3 P's in a Pod Designs
Annette with:
AW Designs
Kelly with:
Angels Designz
Angel with:
Angel Flower Scraps
Lisa with:
Arty-Pharty
Elisabeth with:
BlueCat
Crystal with:
Crystal's Creations
Jill with:
Created By Jill Scraps
Stuart with:
Creative Crazy Scraps
Nikki with:
Creative Intentionz
Muriel with:
Creative-Disorder
Dani with:
Darkmoon's Dream
Wy with:
Designs by LK
Sarah with:
Designs By Sarah
SharonB with:
Designs By SharonB
Dianna with:
Digicats (& Dogs)
Conchi with:
DNScraps
PERSONAL USE ONLY ON THIS ONE!!
Trish with:
Dreamland Designs
Miriam with:
Ellanoir Design
Foxy with:
Foxys Designz
Vicki with:
Gemini Creationz
Julie with:
Glitter Girls
Jessica with:
Gothic Inspirations
Brandi with:
Grunge And Glitter
Hezalin with:
HezaScraps & Tags
Mystee with:
Majik Of Mystee Designz
Victoria with:
Maitri Scraps
Edna with:
Miss Edna
Sally with:
Mythical Designs
Nette with:
Nette's NightOwl Works
Justine with:
PSP Addict
Rieka with:
Rieka Rafita
Kimberly with:
Scrap Rebellion
Kara with:
Sweet Cravings Scraps
Tyger with:
Tyger's Tidbits
Julie with:
Whispy's D'zines
Thanks for stopping by and enjoy the rest of your ride on the Will Work 4 Scraps Blog Train!