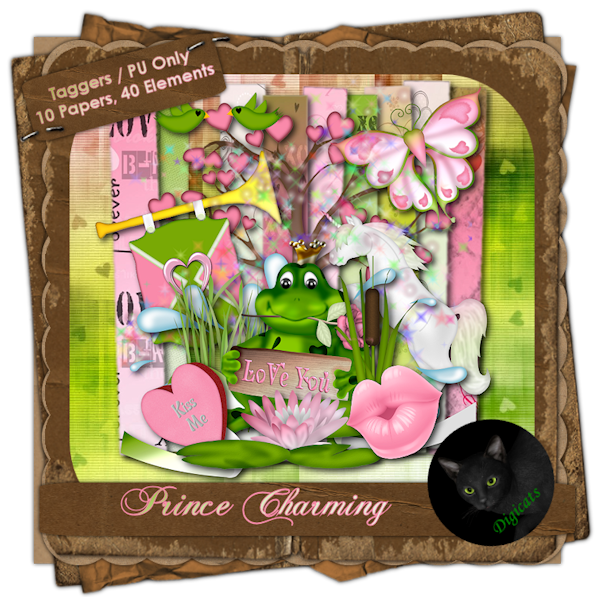 It's that time of month again, so welcome to the Digicats Station on the January Rain "Prince Charming" blog train.
Leap into a bit of happily every after with this Valentine's Day themed digital taggers kit. It's full of frogs, and fantasy and forever love!
10 charming papers and 40 enchanted elements let you decide who your prince charming is...maybe you've found him. Or maybe you just like kissing a lot of toads!
Hop to some spring fantasy with 2 bows, 2 frames, 2 magic mushrooms, 2 ribbons, 1 banner ribbon, 1 butterfly, 1 candy heart border, 1 candy heart, 1 candy kiss, 1 cattail, 1 crown, 1 fairy dust, 1 fairy moon, 1 flower candle, 1 forget me not, 1 frog prince, 1 grass, 1 happy frog, 1 heart chain, 1 heart scroll, 1 heart shaped box, 1 heart tree, 1 kissy lips, 1 lipstick, 1 lotus flower, 1 love bug, 1 owl couple, 1 paper heart chain, 1 rose, 1 splash, 1 swan, 1 tag, 1 trumpet, 1 unicorn, 1 valentine rings, and 1 water lily.
300 DPI. Personal use only.
Please remember that by downloading this kit you agree to my terms of use which state, in part that that that you cannot redistribute, rebroadcast, resale, or claim my graphics as your own. That means placing this kit on 4Shared, RapidShare or any other file sharing site for any reason is a strict NO-NO! That constitutes redistribution.
If you know someone who is interested in this kit , please direct them to my blog where they can download their own copy. Free to use is NOT the same thing as free to share. My graphics are copyright protected.
Plus I already pay for premium download service so you don't have to wait for your freebies, and the links stay here FOREVER, so you don't have to put this kit anywhere else to share it, just link to this post.
To download from MediaFire, click
HERE
.
The password is "OnceUponATime" - no quotes.
If you enjoyed this freebie, please take a moment to vote for Digi!

Click on the blinkie to vote!
Don't forget to visit all the rest of the stops on the January Rain blog train and download all of the freebies waiting for you! Make sure you leave some love when you download. We adore reading your comments! Your thanks are the fuel that keeps these blog trains running!
Always Creations
Becky's Creations
Bits N Bobs
Capricious Scraps
Craftypoly
Crystal's Creations
Designs by LK
Digicats (& Dogs)
Ditz Bitz
Imaginative Designz by Lianne
Just Simple Papers
Nette's NightOwl Works
Scrap Rebellion
Sweet Cravings Scraps
Remember that you can keep up with all the latest Digicats news and freebies just by liking us on
Facebook
, or following us on
Twitter
!