Not only does Valentine's Day fall in February, but February is also national chocolate lover's month. So here's a freebie for all you chocolate lovers's out there!
Welcome to Just Desserts, the cutest little soda bar around, where the only thing on the menu is well..just desserts.
This yummy taggers sized kit brings you 24 chocolatey grunged papers, and 93 of the most delicious elements around. Check out this line up: 8 bon-bons, 8 frames, 4 balloons, 4 bows, 4 candy kisses, 4 chocolate bars, 4 chocolate candies, 4 chocolate chip cookies, 4 choco-pops, 4 cookies, 4 flowers, 4 heart chains, 4 filigree hearts, 4 ribbons, 4 tags, 3 cuppie cakes, 2 bronze butterflies, 2 roses, 2 SL Shakes, 1 banana split, 1 bar stool, 1 chocolate banana cake, 1 chocolate strawberry cake, 1 fork, 1 heartstrings bling, 1 ice cream bowl, 1 just desserts sign, 1 just desserts word art, 1 order book, 1 roche, 1 soda bar, 1 strawberries and cream, 1 sweet heart bear, and 3 Gingermanxmas posers ©NDscraps-Diseñando Scraps.
Saved to 300 DPI, it's good for blogwear and websets, online stationary, and smaller print jobs as well as tagging. Forget the candy man, Just Desserts has enough sweets to satisfy the most demanding of sweet tooths.
Don't skip this one, because well...life's too short to skip dessert! And while you are here, don't forget to snag the
Wrapped in Chocolate
add on sampler!
The is a former PTU kit that is now FTU.
Please remember that by downloading this kit you agree to my terms of use which state, in part that that that you cannot redistribute, rebroadcast, resale, or claim my graphics as your own. That means placing this kit on 4Shared, RapidShare or any other file sharing site for any reason is a strict NO-NO! That constitutes redistribution.
If you know someone who is interested in this kit , please direct them to my blog where they can download their own copy. Free to use is NOT the same thing as free to share. My graphics are copyright protected.
Plus I already pay for premium download service so you don't have to wait for your freebies, and the links stay here FOREVER, so you don't have to put this kit anywhere else to share it, just link to this post.
To download from MediaFire, click
HERE
.
The password is "Love Chocolate" - no quotes.
Your next freebie will be next Wednesday, February 15th, when the Wilma 4 Ever Love My Pet blog train leaves the station, so be sure to stop back then!
Remember that you can keep up with all the latest Digicats news and freebies just by liking us on
Facebook
, or following us on
Twitter
!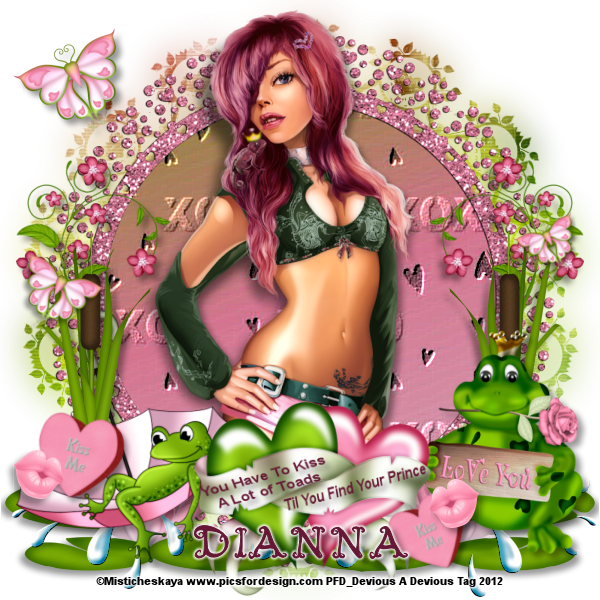 Thanks to Sonya for this great tag using my Prince Charming freebie kit. You can try this tutorial at Devious Desires.