I had this bright idea of doing a Mayan/Aztec theme as I don't think it's been done. Not much out there and I'm fairly sure the poser was meant to be native American and not Mayan, but um...she'll do, I think.
Mayan dress was a bit more elaborate, I think, not that I'm any expert.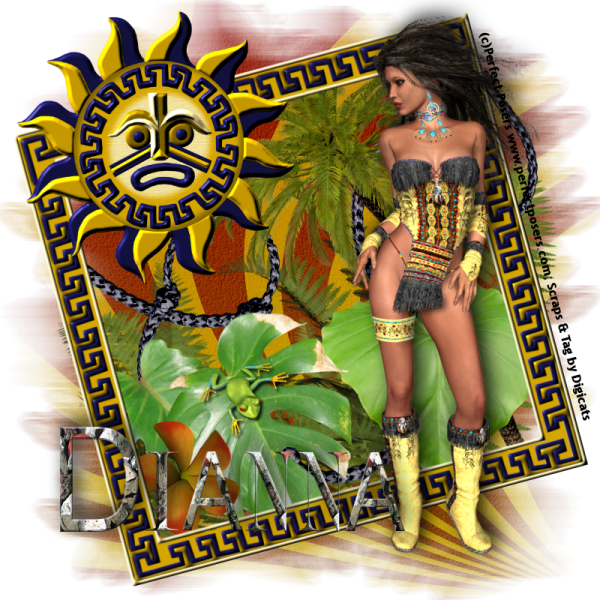 And this after I did that one pyramid for the Alcapulco Buny kit. I said "never again". Must be never, 'cause I'm doing one again. LOL!
Plus a new release maties!
Wanted: enterprising young women to crew the Black Diamond. No experience necessary, we'll teach you the ropes as we go. Includes sea cruise in rustic accommodations. Excellent opportunities for career advancement for the true cut-throat gal.
If you like jewels, gems, and gold then this is the job for you. Side bonus allows you to take out your PMS aggravation with men. Guns, swords and knives will be provided along with instructions as to use. Fabulous costume opportunities abound.
The Blood Red Sea includes 30 (800 x 800, .jpg papers) and 113 .png elements including 3 "High Seas" posers by Sinful Mindz.
You'll also discover 10 frames, 5 bows, 5 eyelet ribbons, 5 flowers, 5 ribbons, 5 silver rings, 5 tags, 5 word arts, 4 boots, 4 candles, 4 guns, 4 scrolls, 3 clouds, 3 ferns, 3 palm trees, 3 parrots, 3 wood curls, 2 brads, 2 brooches, 2 flintlocks, 2 pirate ships, 2 swords, 2 water splashes, 1 anchor, 1 barrel, 1 belt buckle, 1 black eyed susans, 1 butterfly, 1 cannon, 1 dagger ring, 1 gold doubloon, 1 hat, 1 jug, 1 netting, 1 oil lamp, 1 pieces of eight, 1 pirate Captain's Chest, 1 pirate Captain's Skull, 1 rusty Chain, 1 sand, 1 seagull, 1 silver heart, 1 skeleton key, 1 skull-n-sword, 1 splash, 1 starfish, 1 treasure chest, and 1 water drops.
300 DPI. Personal use only.
Apply in person to Captain Diamond, Pier 15B, San Marco Island, Florida.
Blood Red Seas is available at: