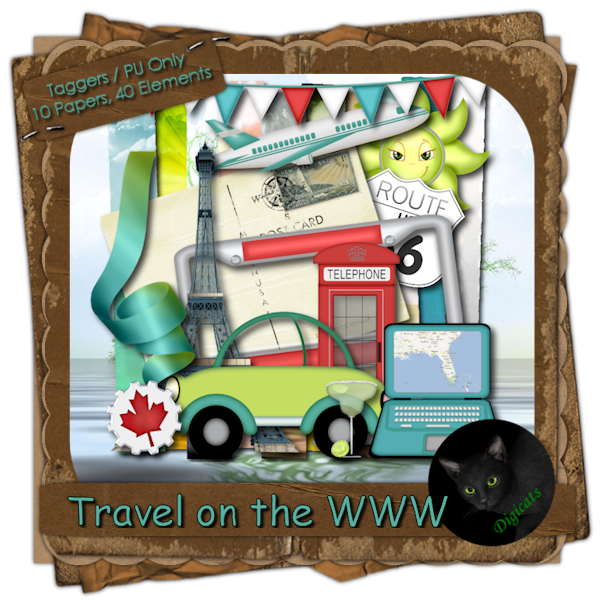 I wasn't quite sure what to make of this theme. Was this supposed to be a travel kit? An internet kit? So I decided to go with planning your vacation online, and traveling in real life (as opposed to planning your vacation in real life and taking it online, which some how didn't sound like as much fun).
Besides, I figured you all would be looking for a vacation kit this time of the year. So...10 papers and 40 elements are included here to see you on your way to the perfect destination - be it Paris, London, Mexico City, Naples or San Francisco.
You are getting 2 bows, 2 flowers, 2 frames, 2 ribbons, 1 airbus, 1 bamboo, 1 bottlecap, 1 camera, 1 dolphin, 1 Eiffile Tower, 1 Hollywood WA, 1 hot air balloon, 1 iPad, 1 laptop, 1 luggage, 1 margarita, 1 mask, 1 motel sign, 1 paper arrow, 1 party flags, 1 passport, 1 phone booth, 1 pinata, 1 postcard, 1 rental car, 1 route 66 sign, 1 snorkel set, 1 sparkles, 1 Statue of Liberty, 1 sun cream, 1 sun, 1 tag, 1 ticket, 1 train ticket, 1 waves, and 1 yield sign.
All unique items, of course, not two of the same thing, recolored, so you should have plenty to keep you busy.
300 DPI. Personal use only. And have fun on your virtual vacation!
Please remember that by downloading this kit you agree to my terms of use which state, in part that that that you cannot redistribute, rebroadcast, resale, or claim my graphics as your own. That means placing this kit on 4Shared, RapidShare or any other file sharing site for any reason is a strict NO-NO! That constitutes redistribution.
If you know someone who is interested in this kit , please direct them to my blog where they can download their own copy. Free to use is NOT the same thing as free to share. My graphics are copyright protected.
Plus I already pay for premium download service so you don't have to wait for your freebies, and the links stay here FOREVER, so you don't have to put this kit anywhere else to share it, just link to this post.
To download from MediaFire, click
HERE
.
The password is "Thanks" - no quotes.
If you enjoyed this freebie, please take a moment to vote for Digi!
Click on the blinkie to vote!
Make sure to check out the rest of the stops on this train and download all of the goodies that are waiting for you. When you download, please take a moment to leave a thank you for the designers who spent a good deal of time coming up with these freebies. After we've spent hours of our time designing, surely a moment of your time to say "Thank You" is a small price to pay. It's your thanks that keep these blog trains running!
Wilma4Ever
(this is the train station's main hub, there is no download here)
ABCreations
Always Creations
April the Scrapaholic
April's Kits
ArianneGrafX
Becky's Creations
Cakie Pot Pie Designs
Designs by Stina
Digicats (& Dogs)
JIC Creations
Galerie de Jackie
Joyfully Yours, Susannah
PattyB Scraps
Pink's Poetic Scraps
Pizazz Pixels
Sugarbutt Designs
Tina Shaw
Tootypup Scraps
Waite for the Moment Designs
Don't forget that you can keep up with all the latest Digicats news and freebies just by liking us on
Facebook
, or following us on
Twitter
!