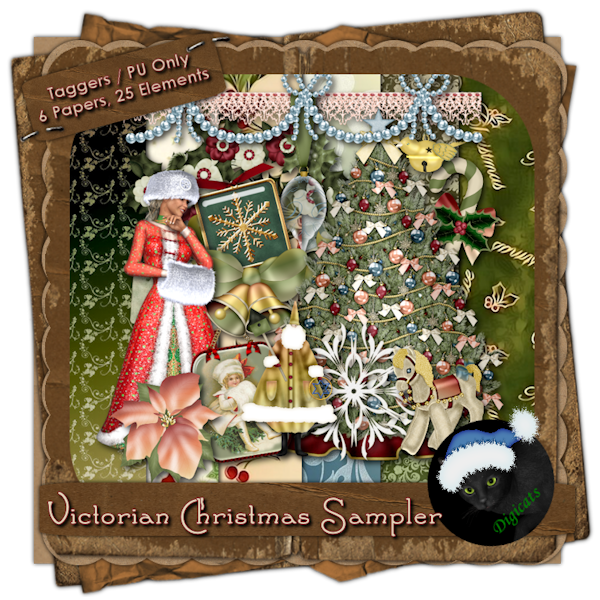 Well..what do you know. I've been scurrying around like a headless chicken today and nearly completely forgot to post this!
Welcome to the Digicats Station on the W4E Victorian Christmas Blog Train. I'm pretty sure back in Queen Vicky's day people scurried around like headless Chickens during the holidays too.
It only looked nicer and more civilized. And they used swords instead of pepper spray when trying to grab those Wiis at Wal-Mart!
I have for you a sampler of my beautiful, new, Victorian Christmas kit which is going into my stores today. This is a mini-digital taggers kit and it comes with six papers and 25 elements, including one "White Christmas" poser by ©Perfect Posers.
Also in this sampler are 2 frames, 1 bead garland, 1 bells, 1 bow, 1 candy cane, 1 charm, 1 cupcake, 1 gift, 1 lace, 1 ornament, 1 poinsettia, 1 reindeer, 1 ribbon, 1 Santa with star, 1 Santa's hat, 1 snowlace, 1 snow swirl, 1 stocking, 1 tag, 1 tree, 1 velvet pony, and 1 vintage girl.
It's saved to 300 DPI and is for personal use only.
My new kit comes with 18 papers and 100 elements inlcuding two more "White Christmas" posers. It's gorgeous so you'll want to check it out.
Just a hint - you can save money on it today at
Butterfly Blush Designs
during Thrifty Thursday and tomorrow at
Country Corner Creations
during TGIF!
Please remember that by downloading this kit you agree to my terms of use which state, in part that that that you cannot redistribute, rebroadcast, resale, or claim my graphics as your own. That means placing this kit on 4Shared, RapidShare or any other file sharing site for any reason is a strict NO-NO! That constitutes redistribution.
If you know someone who is interested in this kit , please direct them to my blog where they can download their own copy. Free to use is NOT the same thing as free to share. My graphics are copyright protected.
Plus I already pay for premium download service so you don't have to wait for your freebies, and the links stay here FOREVER, so you don't have to put this kit anywhere else to share it, just link to this post.
To download from MediaFire, click
HERE
.
The password is "HappyHolidays" - no quotes.
If you enjoyed this freebie, please take a moment to vote for Digi!

Click on the blinkie to vote!
Don't forget to visit the rest of the stops on the W4E blog train. And when you download, please take a moment from your holiday scurrying to leave a little love for our designers. Your thanks are the fuel that keeps these blog trains running.
ABCreations/Anmarie Bowden Creations
Always Creations
Anita
ApriltheScrapaholic
Bubble's Dream
Claudya Designs
Digicats (& Dogs)
EmJay Scraps
Krazi Daizi Kreationz
Nette's NightOwl Works
Wilma4ever
We may have a freebie next Friday, I'm not sure yet. Depends on how much time I have to get it ready. Otherwise, we won't see you again until January 1st when the January Rain New Beginnings blog train leaves the station!
Remember that you can keep up with all the latest Digicats news and freebies just by liking us on
Facebook
, or following us on
Twitter
!
Thanks for stopping by and have a happy, and healthy holiday season!