I know that some ladies out there were just waiting for Whips & Chains and be released. Naught Angel jumped right on it, and created this beautiful tag for me!
I had to talk her into doing the tutorial for me, but she did a fabulous job on it. You can try it out at
Naught's Tut Playground
.
You can grab the Whips & Chains kit below....just scroll down!
---
Another Pressie. This one from Jo who's been making Pressie tags for members of the new Sophisti-Forum.
Visit the
Sophisti-Forum
and be sure to sign up for some great challenges and tutorials, as well as members only deals from the Sophisti-Scrap designers.
Toni and Jo did a fab job of setting the place up. You're gonna love it!
We also have a new
Sophisti-Gallery
where you can post tags and layouts made with all the fine digi-scrapbook products available at Sophisti-Scraps!
---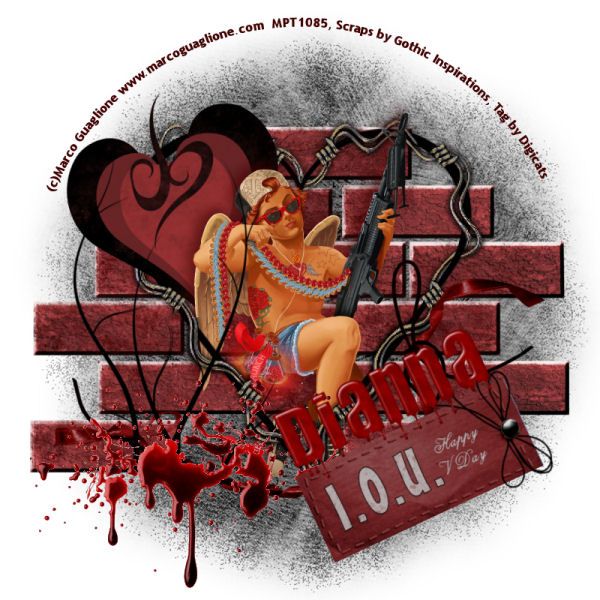 Finally, and to switch gears a little, my Snipper tutorial was featured in the February newsletter from Digital Chaos. You can view the newsletter
HERE
and get some great tips and tricks, plus special newsletter subscriber only freebies!
I am using The Darker Side of Love taggers kit by Gothic Inspirations for this one, and it's a magnificent kit! You can try the Snipper tutorial for youself at
Di Before Dawn
tutorials.
Knowing Jess' views on Valentine's Day - she calls it Forced Affection Day - I had to pass along the promo our local radio station is doing. The station goes by 99-X, and they've set up the "Soon to be Ex" line. Want to get out of your current relationship? Call in to the "Soon to be Ex" line and list your grievences about your S.O. The station will then air them in public as part of the morning show. You can find the stations website
HERE
.