Two versions of the same tutorial from Jessica at Gothic Inspirations using my
Alyce in Gothland
taggers kit.
The first, more conventional one utalizes one of the posers that comes in the kit - that of the Mad Hatter.
This was the closest I could get to sending her Johnny Depp to play with - not that I'd be sending Johnny Depp anywhere if I had him. LOL.
She did a great job on these, although I'm fairly certain the Red Queen would not be happy with the Hatter sitting on her throne.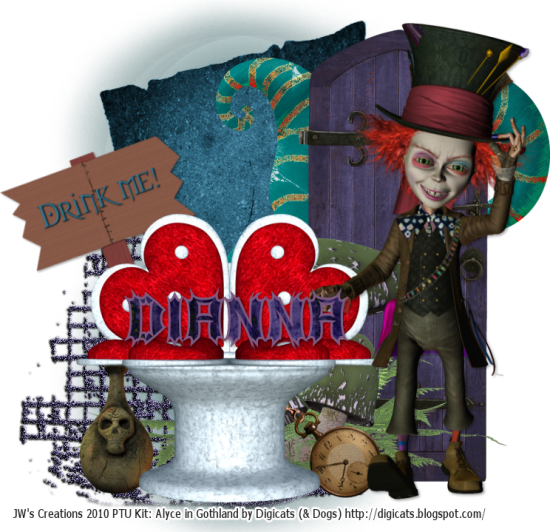 The second version of this tag uses the
Curious Hatter
by Joelle Designs. I just knew she was going to use this little fellow in a tag, as she was trying to convince me to use him in the kit in the first place.
The main problem was he was the only "Alice" character Joelle and done, and I didn't want to mix poser artists. But he is very cute.
You can find both of these tutorials at
Gothic Inspiration Tutorials
.
Alyce in Gothland
is available in all of my stores...just pick one! :) It's a huge taggers kit with 20 papers and 130 elements, including nine posers - three each of Hatter, Alyce and White Rabbit.
Believe me when I say, wonderland was never quite this wonderful before!
Skully Cat tutorial (PTU)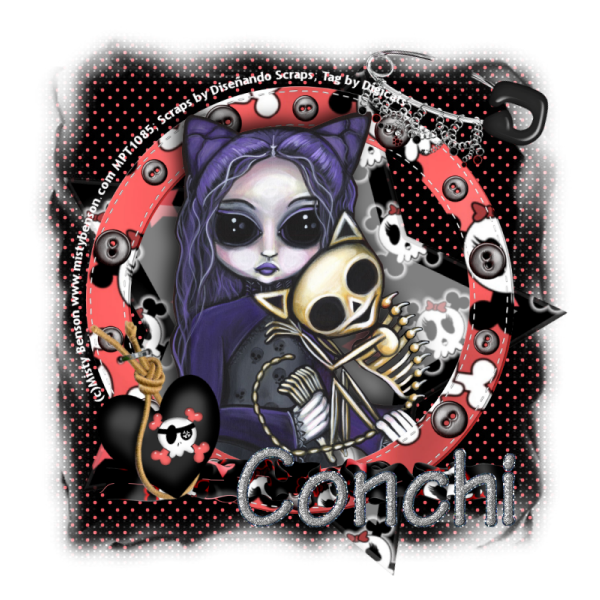 A new tutorial by me using the
Cute Gothic Skull
kit by Conchi of Diseñando Scraps. She's right - it's cute. It's downright adorable!
Cute Gothic Skull
is available at
Scrappetizing
and
Aussie Scraps Designs
, among others.
You can find the tutorial at
Di Before Dawn
tutorials.
And be sure to visit
Conchi's blog
as she's got a free "Cupcake" night poser you can download. Very girly and very hot, you'll want to use in your projects!