Meet a lady with ice in her heart, and who is as deadly as the frozen lands she rules. She is the Snow Queen and winter is her realm.
This beautiful taggers sized scrap kit was inspired in part by the tale of the Snow Queen. In includes 25 icy papers, and 111 frozen elements. Inside the Snow Queen's frosty kingdom, you'll find 10 ornaments, 9 paper stars, 8 snowflakes, 6 baubles, 6 candles, 5 ribbon frames, 5 snow frames, 5 round tags, 5 hollies, 5 poinsettia bows, 5 poinsettia flowers, 5 ribbons, 5 winter bells, 3 snow borders, 3 trees with snow, 2 holiday swags, 2 latice moons, 2 pine cones, 2 shooting stars, 2 snow queen flags, 2 snowflake gem curtains, 2 thorns, 1 castle, 1 Christmas bells, 1 ice pond, 1 icicle border, 1 snow jewel, 1 snow overlay, 1 snow pin, 1 snow staff and 2 Unicorn and 2 2 Snow Queen posers created by Outlaw by Design.
300 DPI, Personal Use only.
Beware of frostbite when you're playing with this one!
**Check out this awesome tutorial by Black Widow using this kit: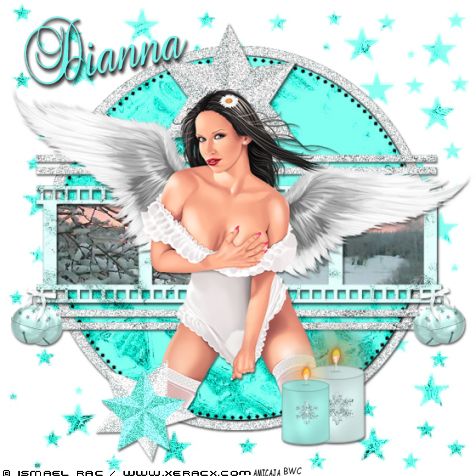 You can find the tutorial at
Black Widow Creationz
.
The Snow Queen is available at these fine stores: