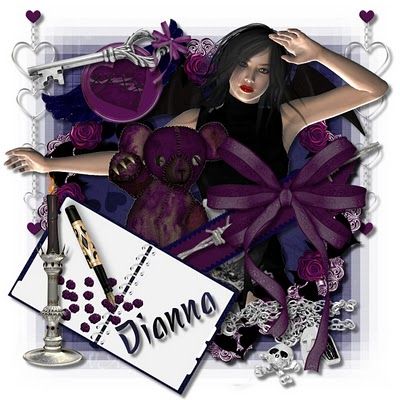 I had two tut writers as for my "My Gothy Valentine" kit but I didn't see anything come through. Jessica told me Brandie had completed her tutorial though and, as always, she did an awesome job!
You can find the tutorial at
Brandie's Eye Candy
, which is a great place to hang out if you're an Eye Candy Lover!
She used the poser that came in the kit, so there's no outside tubes to buy on this one.
Thanks so much hun, and you're welcome to use my kits anytime. :)
My Gothy Valentine
is available at these fine stores:
Just a head's up
...I have another Gothic type valentine kit coming out on January 15th as part of the Just4Taggers collab kit and it is
HOT
!

Some really exciting news!
Sophisti-Scraps.com
has added
forum
and a
gallery
! I've been jonesin' for a gallery for a while now.
Make sure you stop by and register for both so you can get involved with the challenges, plus show off all the fabulous tags you've made - especially if you used my kits on them. ;)
Toni and Jo have done a great job on the new look and feel too, so be sure to click by and have a look around. The Sophisti-Team is also welcoming
Tina's Magical Scrap
to our line up! Our little store is growing and doing wonderful!
Fun times!