I've been saying it for weeks, but it just took me while to realize I should take the concept and apply it to the kit I wanted to do.
So here it is, inspired by Sophisti-Scraps own mistress of Grunge & Glitter, it's rock and roll with Gothic overtones. Everything you need to produce your own rock'n'roll fantasy.
30 grungy papers, and 134 elements, including three custom posers from (c)Sophisticated Scraps & Imaging (thanks Lisa!). You're also getting:
15 frames, 5 crossbones,5 curled ribbons, 5 drum sticks, 5 flowers, 5 glitter splatters, 5 gothic hearts, 5 guitar picks, 5 guitars, 5 music elements, 5 roses, 5 skull tapes, 5 skullies, 5 tags, 4 bottle caps, 4 fuzzy cuffs, 4 winged hearts, 3 barbed wire, 3 black bows, 3 CD's, 3 diamond scatters, 3 glitter guitars, 3 metal plates, 2 amps, 2 butterflies, 2 cross & ribbons, 2 word arts, 2 silver notes, 1 black lipstick, 1 black nail polish, 1 city scape, 1 drum stick, 1 goth hat, 1 gothic boot, 1 guitar close ups, 1 guitar duo, 1 mic stand, 1 motorcycle, 1 rock chic shoe, 1 silver heart chain, 1 skull charm, 1 speaker, and 1 stage.
Back stage access is included. Have fun with this one and just remember, it's ok, you're with the band.
300 DPI, Personal use only.

It's not your average valentine kit. Heart of the Nile is full the richness and pageantry of the Egyptian empire. Come journey down the River of Life and experience love and death in the Valley of Pharos.
30 patterned (800 x 800, .jpg) papers provide the background for 89 exquisite .png elements, including 3 gorgeous posers (c) by Perfect Posers.
No hearts and candies in this one as I tried to stay period specific. You will find 10 frames, 5 candles, 5 metallic strings, 5 raffia bows, 5 ribbons, 5 tags, 4 chrysanthemums, 4 palm trees, 3 ferns, 3 vases, 3 water jugs, 2 Anubius, 2 Bastet, 2 butterflies, 2 cats, 2 dragonflies, 2 Horus, 2 jackals, 2 lillies, 2 orchidea, 2 sphinx, 1 ankh chain, 1 camel, 1 chaise, 1 Egyptian pin, 1 glitter leaf, 1 group of pyramids, 1 Kheper charm, 1 Pharo's Boat, 1 pillar, 1 scorpion charm, 1 scorpion, 1 snake charm, 1 sun and 1 Great Sphinx.
Saved to 300 DPI, it can be used for blogwear and websets as well as small print jobs. Personal use only please.
Both
Brandi Rocks
and
Heart of the Nile
are available at: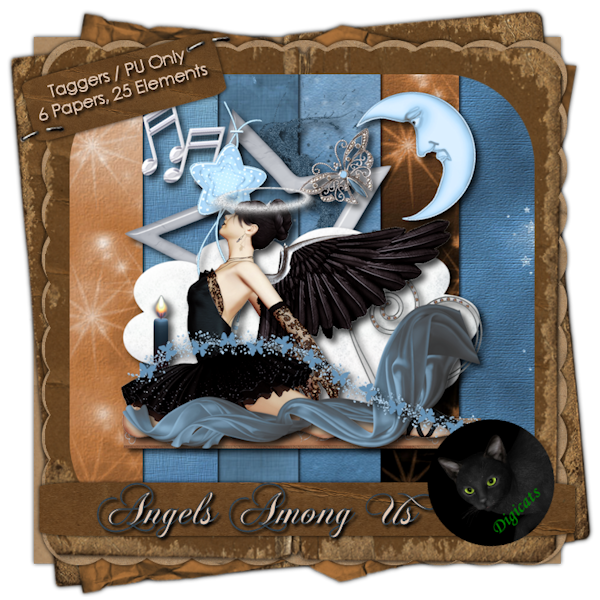 Do you believe in angels? Spread your creative wings and let the angel in you soar with his celestial sampler of my
Dark Angel
taggers kit.
Six heavenly papers and 25 blessed elements including a beautiful Angelic poser created by ©Sophisticated Scraps and Imaging.
It's a divine little treat for you from Digicats - Home of the Paw-ty Animals!
Please remember that by downloading this kit you agree to my terms of use which state, in part that that that you cannot redistribute, rebroadcast, resale, or claim my graphics as your own. That means placing this kit on 4Shared, RapidShare or any other file sharing site for any reason is a strict NO-NO! That constitutes redistribution.
If you know someone who is interested in this kit , please direct them to my blog where they can download their own copy. Free to use is NOT the same thing as free to share. My graphics are copyright protected.
Plus I already pay for premium download service so you don't have to wait for your freebies, and the links stay here FOREVER, so you don't have to put this kit anywhere else to share it, just link to this post.
To download from MediaFire, click
HERE
.
The password is "Thanks" - no quotes.
If you enjoyed this freebie, please take a moment to vote for Digi!
Click on the blinkie to vote!

Don't forget that you can keep up with all the latest Digicats news and freebies just by liking us on
Facebook
, or following us on
Twitter
!