I finally finished off my contribution to the Ghost Train. It's called Spooky Town and it consists of 30 papers and 120 elements. It's a bit more "Kidsy" than what I usually do, but it's a fun kit and I think you all will really like it.
The Ghost Train leaves the station on October 1st, and there's probably over 50 designers already signed up, so you won't want to miss it.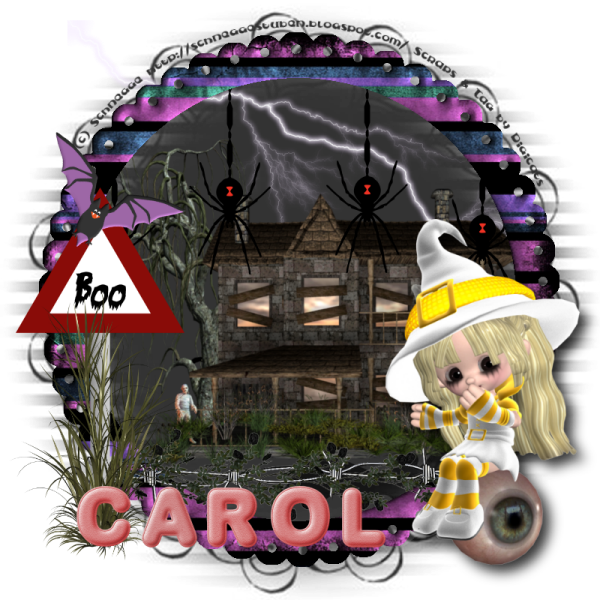 The little witch was a freebie off Schnegge's blog, and while I purchased her little witch pack, this one just sort of reminded me of my sister, with all the blond hair. She'd never get that close to a haunted house, though, as she's afraid of her own shadow. LOL!
The puffy felt alpha was also a blog freebie, this time from Designs by Lou. None of the alpha's used in these tags are part of my kit. However one designer on the train did post her preview of an absolutely adorable alpha, so never fear, there will be something you can use. And it will actually match the kits!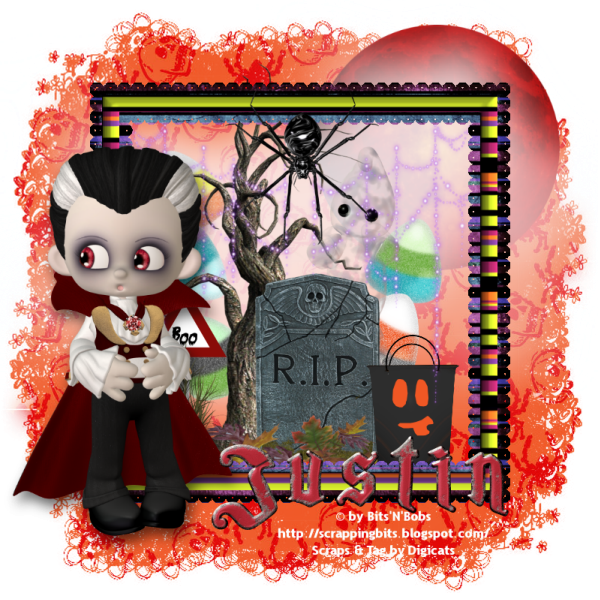 I haven't done tags for the boys in a while, and this seemed like a good time. The little vamp boy is (c) by Bits'N'Bobs - although Schnegge has a version as well. The Halloween alpha is courtesy of Crazy Diamond, from a blog train LAST Halloween!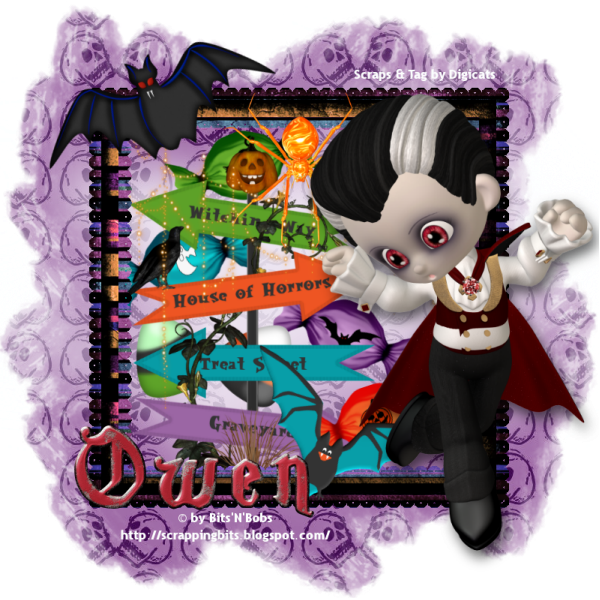 Same credits as above. Don't you just LOVE the sign post. I had a lot of fun creating it - and trying to come up with names for the signs!
I was running around last night trying to find some stuff to replace items I couldn't use because of TOU's and happened to find some of my alphas from last year. The Crazy Diamond one is a personal favorite.
(The lightning bolts in the first tag, for example, will not be part of the kit as they were in direct violation of the designer's tou. Too bad, but...::shruggs::)
I have three different versions of this little goth girl - one by Bits'N'Bobs, one by Schnegge, and this one, which is by Angel's Tubes. The Bones alpha is courtesy of Free Digital Scrapbooking.
I know...how mean of me. Teasing you with a kit that you won't be able to get your hands on until October 1st, but hey...that's the way the cookie crumbles. It's one of the best parts of being me - I get to play with my own kits early. LOL!