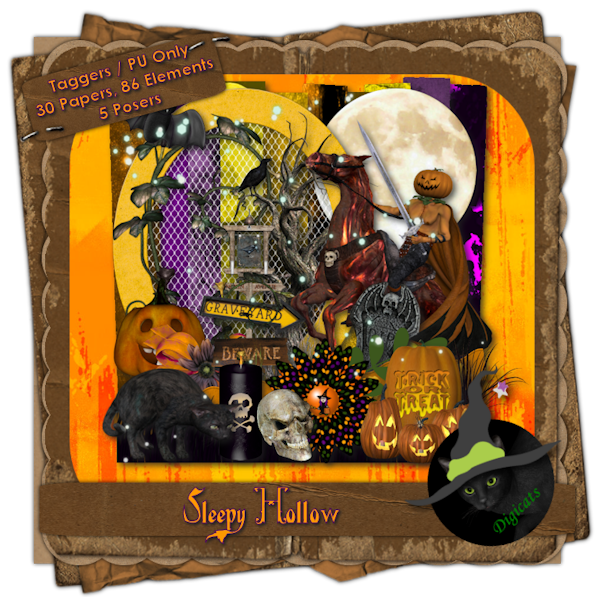 Pun'kin's having a bad hair day and believe me when I say heads are going to roll because of it!
This very scary taggers size digiscrap kit is themed for Halloween and uses the Legend of Sleepy Hollow for it's inspiration. I comes with 4 tubes of Pun'kin (2 mounted, 2 standing) plus one of his nightmare, as well as an additional 91 .png elements, and 30 800 x 800 .jpg papers.
Included in the kit are 5 (each) ribbons, bows, ric-rac, oval frames, square frames, tags, fall leaves, "Frankie" Flowers, and candles; 4 flying ravens, spooky trees, regular vines and flowering vines; 3 bats, blood splatters, crab grasses, grassy borders, and pumpkin mixes; 2 black cats, goth trees, blings, skulls, tombstones, and overlays; and 1 bridge, 1 church, 1 fallen leave border, 1 full moon, 1 sign, and 1 Jack O'Lantern.
Saved to 300 DPI. Personal Use, Scrap4Hire, Scrap4Others okay!
Now make sure you get to hallowed ground before the sun goes down, and whatever you do, stay away from the graveyard!
This kit has been retired and is now available for FREE!
Download a copy HERE.