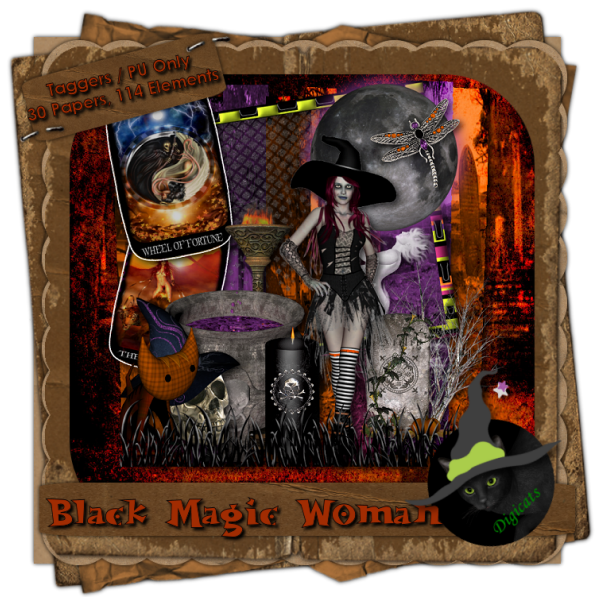 I got a Black Magic Woman, I got a Black Magic Woman.
Yes, I got a Black Magic Woman, She's got me so blind I can't see;
But she's a Black Magic Woman and she's trying to make a devil out of me.
Necromancy, Voodoo...this girl knows it all! She's evil, through and through, and she wants to bring out the evil in you.
30 800 x 800 pxl papers in .jpg format, and 114 .png elements including 15 frames, 10 candy corns, 6 haunted tombstones, 5 ghostly tags, 5 bows, 5 ribbons, 5 skull tapes, 5 star tapes, 5 tarot cards, 5 stick pins, 5 flowers, 5 roses, 5 candles, 3 Angry Simon constructs, 3 batties, 3 dragonfly charms, 3 voodoo dolls, 2 bottled roses, 2 braziers, 2 sunflowers, 2 word arts, 1 set of bubbles, 1 cauldron, 1 crystal ball, 1 Gramps, 1 Grass Border, 1 Moon, 1 Ouija Board, 1 pumpkin & cat cluster, 1 skull cat & hat cluster, 1 study, And three Halloween Rose posers created by Designs by Lou.
300 DPI, Personal Use only please.
Sorry! This kit has been retired!
Get it FREE by clicking HERE!