Street racing: dark, deadly, illegal. Yet despite law enforcements best efforts to wipe it out, cars and drivers duel it out on urban roads, the need for speed erasing the need for caution.
This is a dark, urban style kit, that is versitile enough to be used in a number of different tags. There are 20 grunged .jpg papers, and 14 .png frames, plus 10 flowers, 5 star tags, 5 bows, 5 curled ribbons, 5 checkered ribbons, 5 star tapes, 5 fuzzy cuff sets, 5 ric-rac, 5 ribbon wraps, 5 brads, 5 fire charms, 5 heart charms, 5 beaded dragonflies, 4 street lights, 4 street racing cars, 3 traffic lights, 3 glitter swirls, 3 rose & razorwire rules, 2 car keys, Chicken wire overlay, 1 set of city buildings, 1 full moon, 1 funnel, 1 gas pump, 1 Jerry can, a traffic cone and a yield sign, plus 3 beautiful posers created by ©Perfect Posers.
300 DPI, PU/S4H okay.
Note: this kit has been retired and is available for FREE elsewhere on this blog.

I really need to get busy with Tutorials. I've only got one PTU kit left that I'm working on, plus two freebies which aren't due until the middle of October. Although I've got ideas a plenty, believe me.
Here's a couple of tags I did using my Spooky Lil Girl kit. Just a side note, now through the end of September, I'm doing a buy-one, get-one FREE at Sophisti-Scraps! That includes my Witchy Pooh bundle deal and my CU items as well.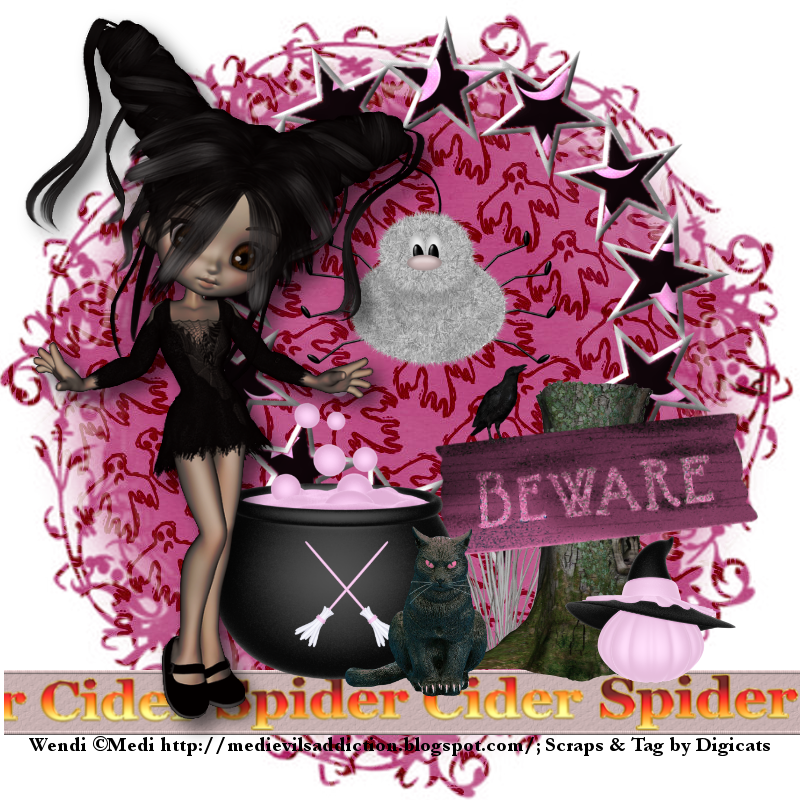 I'm using the Wendi tube pack by MediEvil Creations. I'm almost sorry I locked myself into the gumdrop witches for the series, as she looks wonderful against the pick and black scraps! The PTU kit I'm working on now includes some of Medi's posers, and I do have an idea for yet ONE MORE Halloween kit using one of Medi's creations but to be honest, I'd like to take a break and do a winter kit. LOL!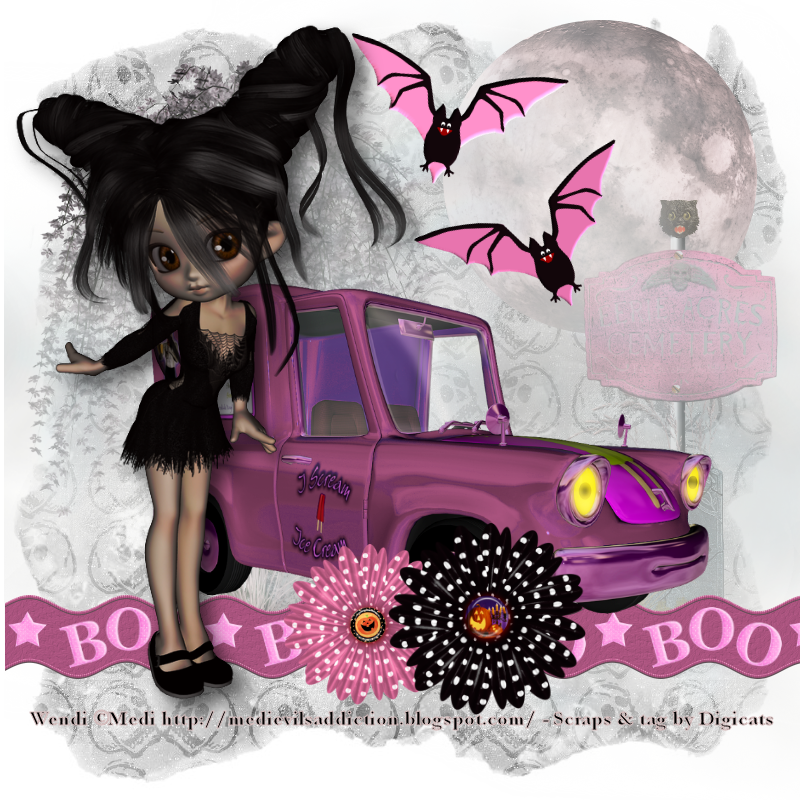 I love the haunted delivery vans. And I've got this idea for Monster Trucks. I REALLY need to learn Daz 3-D! Both these tags are blanks....If you want to snag them and add you name for your own personal use, that would be fine with me.
Anyway, back to the designing board....