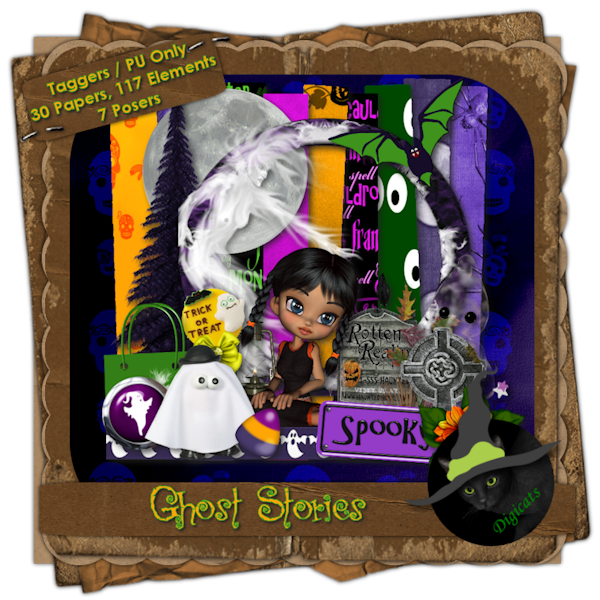 Lexi loves spooky stories. She loves reading them and telling them. And she loves ghost stories especially. She has little ghosts all over her room. She's seen every episode of Ghost Hunter on TV and can tell you the location of all the major haunted houses - not that she's ever been to one. But what she wants most of all is to meet a real live - er dead - ghost.
If you're looking for ghosts, you've come to the right place, as Ghost Stories has plenty of them lurking about!
This kit contains: 30 Patterned .jpg papers, 800 x 800 pxls & 124 Elements including 7 beautiful "Lexi" posers created by MediEvil Creations.
You also get 10 Candy Corns, 7 Flairs, 6 Spell Books, 5 Round frames, 5 Square frames, 5 tags, 5 bows, 5 ribbons, 5 brads, 5 ribbon wraps, 5 treat bags, 4 bats, 4 names plates, 4 lollies, 3 grassy borders, 3 haunted candles, 3 Haunted Trees, 3 Little Ghosts, 3 Sunflowers, 2 goth trees, 2 fences, 2 Jack-o-lantern strings, 2 pumpkins, 2 realty signs, 2 Haunted Mirrors, 2 "Undertaker" Haunted Delivery Vans, 1 tissue ghost, 1 lightning bolt, 1 beware sign, 1 black rose, 1 "Boo"tiful Tree, 1 patch of fog, 1 full moon, 1 toy ghost, 1 Ghosts Lurking sign, 1 Haunted House, 1 oil lamp, 1 Spooky Mansion, and a Spooky Tree.
Taggers size, 300 DPI, Personal Use only.
It's a Hauntingly good time!
This kit has been retired and is available for FREE.
Download a copy HERE!

Some tags I worked up using kits other than mine...
The Summoning
I did this one up using the Eerie Hauntings taggers kit by Gothic Inspirations. I bought it as soon as it came out - had to have it. LOL! The Hocus Pocus witch is (c) by Perfect Posers, and the Creepy Face alpha is by Nutshell Creations. (Nutshell Creations is Morgana, who does the wonderful newsletter for Scrappetizing.)
Be-Witching Woman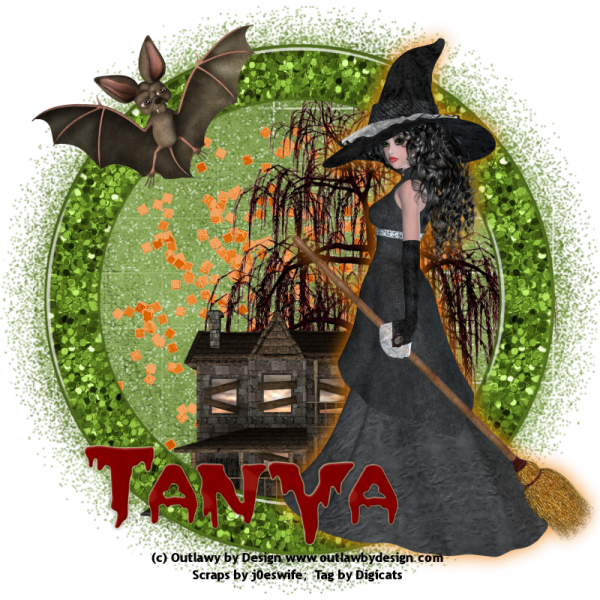 I'm on the CT for Scraps by j0eswife - Tanya - and I asked for her "Boo to You" mega kit to do a tut with. However, there's so much of it, I decided to do a few tags until I figured out what I wanted to do. This one uses one of the witches included in the kit - it's (c) Outlaw by Design. The Bloody Mess alpha is courtesy of Free Digital Scrapbooking and is NOT included in the kit. That's about the only think that isn't in there. LOL.
Trick-or-Treat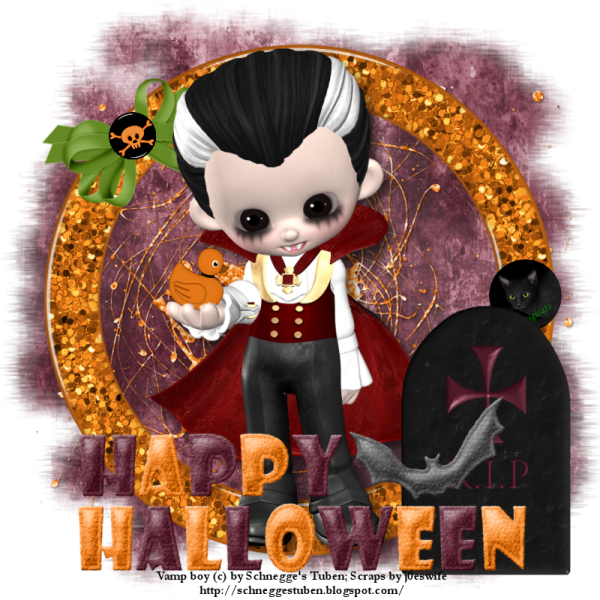 Gothic ducky anyone? Vampy is (c) by Schnegge's Tuben. The scraps - including the word art and the ducky - are from the "Boo to You" mega taggers kit.
You can find "Eerie Hauntings", "Boo to You" and Vampy at Stargazer Scraps. Perfect Posers sells out of Aussie Scrap Designs, and Nutshell Creations can be found at Scrappetizing.
The Witching Hour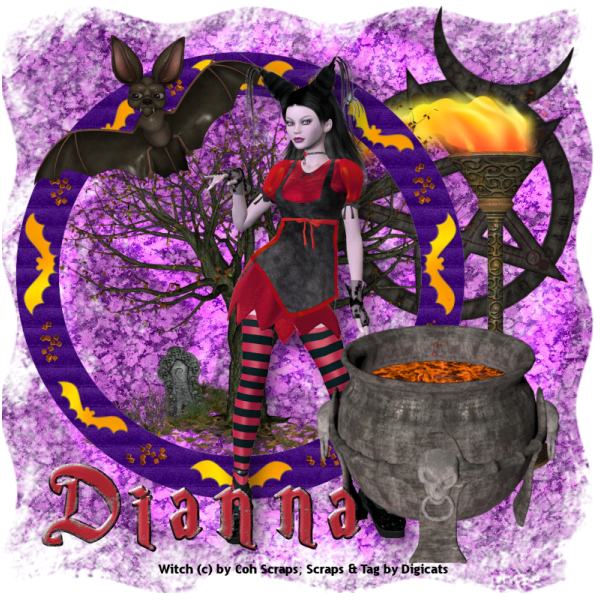 This is from a kit in progress called "Witchy Woman". This one is going to be a freebie! Well, for a week it will be free. But don't hold your breath. I'm stuck on a few things and it's not due until Mid-October, so there really isn't a rush just at the moment.
Just a bit of a sneak peak. The witch is courtesy of Coh Scraps, the Halloween alpha is by Crazy Diamond.