Shortly after I got my first job and was working full time, my mother went through this phase where she wanted to cook out. Every Day. All Summer. And I was the one doing the cooking.
Rain or shine, didn't matter - out the door I went with the daily offerings to the great God Grill.
Need I say, I became, over the course of time, a grilling expert?
I do like Bar-B-Que as much as anyone, but prefer to reserve it for special occasions, like I when I've got friends over.
With that in mind, I put together my latest kit called "All Decked Out", which includes - among other things - my fantasy deck setting complete with a George Foreman Gas Grill.
I have a grill, mind you, but it's the old fashioned kind that burns charcoal.
The darker colors remind of me of my backyard which is shaded by a large - and relatively rare - Banyon Tree. It's the only one in the neighborhood and it's the sort of tree that - if I was a kid - would just beg me to climb it.
You'll notice the patriotic colors, since most of the cookout seem to center around the holidays of Memorial Day, 4th of July and Labor Day. What's in the kit, you ask?
I've included 12 ribbons and 12 bows, 8 frames and 8 wraps, 6 Flowers, 6 Fireworks, 4 Paper Plates, 4 crumples paper tags, 3 planters, 3 grass borders, 2 Chinese lamps, 1 hanging lamp, 2 Patio Chairs, a table, a BBQ Grill, a trellis, a birdhouse, 1 bottle of wine and 2 wine glasses, a football for the guys to kick around, a cardinal, a ginger tabby cat and a selection of unwanted insect visitors that no cook out would be complete without.
(And no cheesy plastic stuff mind, It's all nice wood!)
I'd already put this out under the working name of "Deck Party" and was working on a tag using the kit for Miss Diamond for today when I came up with the name "All Decked Out". So I went back and made some modifications, and changed the kit to include the fireworks as well. This works much better, IMHO.
Here is the tag I did for Miss Diamond: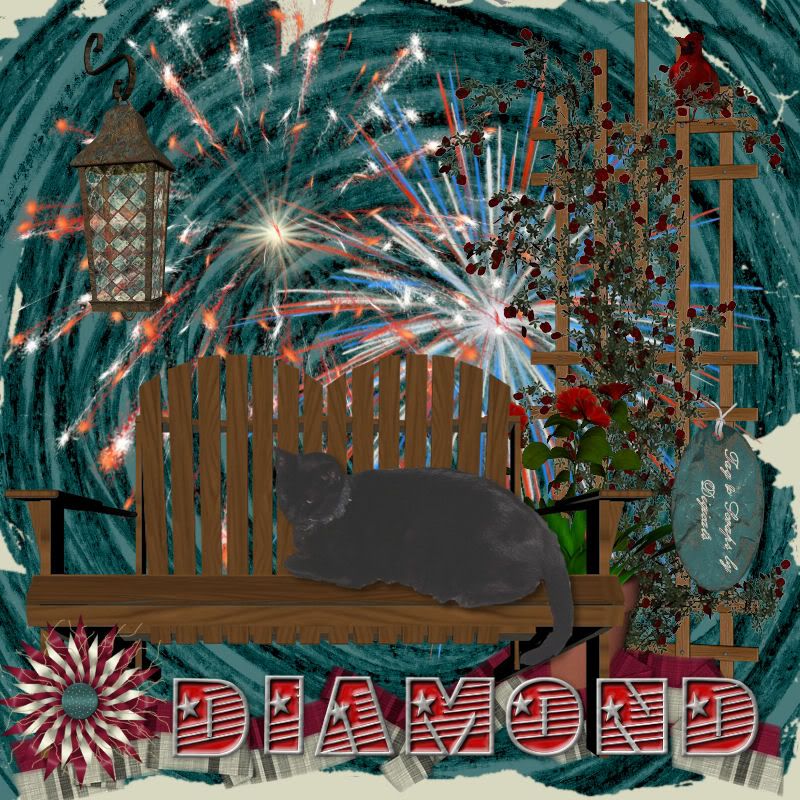 The "Young Stars" alpha is not part of the kit, but it can be download (for free) from Free Digital Scrapbooking.
And here's a tag using the same kit for my handsome Tabby boy: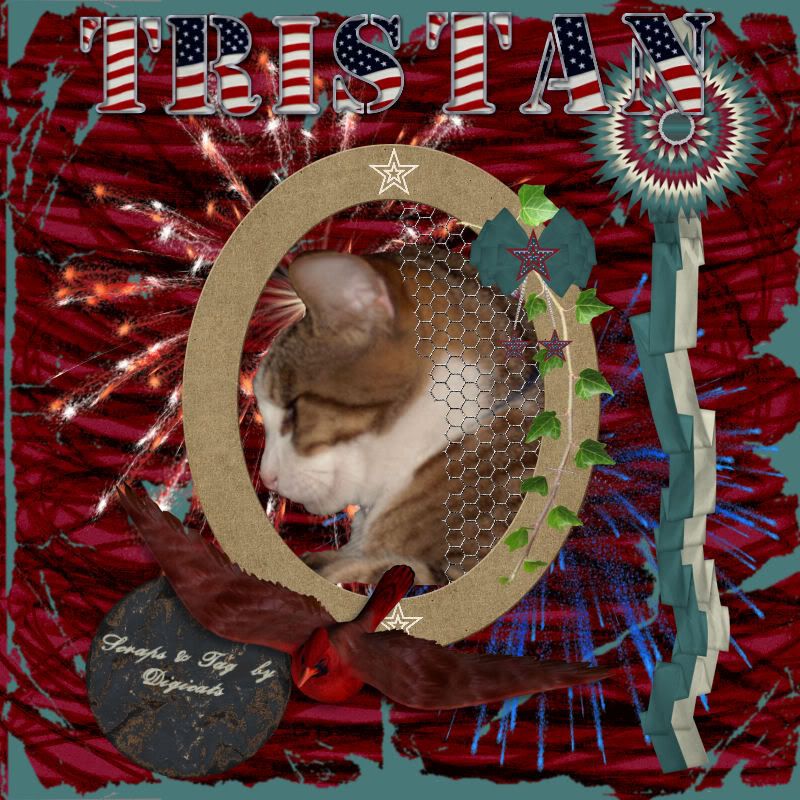 I think he'd look much better on a one dollar bill than old Georgie boy, don't you agree?
Note: This kit has been retired and is available for FREE elsewhere on this blog!