"I don't wanna go to school Mommy!" my inner child screams. I can sympathize. My back hurts, my knees hurt, my hip hurts. Dragging the trash can out to the curb is agony.
Growing old is hell. And unfortunately, I am much more responsible than my inner child. So I owe, I owe, it's off to work I go...
I have finished up the Noah's Ark kit, which is entitled "40 Days", but I'm stalled on the preview. I don't like the one I did, so I need to redo it. I think I have a better Idea for it though...
I also finished up my contribution to the
July Goodie Train
, which is entitled "Americana" as well as my contribution to the
July Gothic Inspirations Blog Train
, which is sporting the theme/color scheme of "Summer".
First the Americana kit...
I am using the Pixie Pride posers by
MediEvil Creations
in these tags, and she is not included in the kit. Nor is the chrome alpha, which was a blog freebie from
ScrapDolly
.
I had started doing my first tag with this kit, had added like two pieces to my canvas and said "I need fireworks. I didn't do any fireworks? What the heck is wrong with me?" So now the kit includes fireworks, both doodle and non-doodle. You can see a sample of the doodle ones in the background of this tag.
Despite rumors to the contrary, the old document in the background is NOT a copy of my birth certificate. It is in fact, a replica of the Constitution of the United States. I've also included the Declaration of Independence, AND the kit contains Liberty and Freedom for all. Don't ask about
Justice
. He's off busy playing baseball in Erie, Pa. and couldn't make it for the party.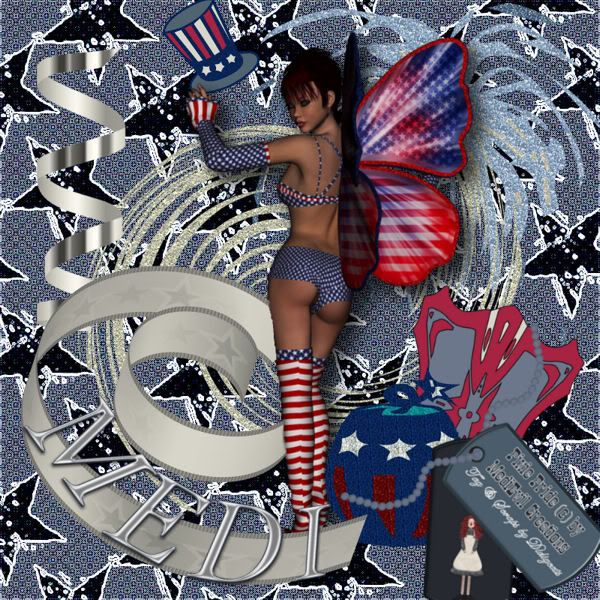 There's lots of ribbons in this kit. Twirly ones, curly ones, loopy ones, and twisty ones.
There's a bit of glitter in it as well. Originally I was trying to stay away from that, but I finally gave up. I like glitter. I can't help it.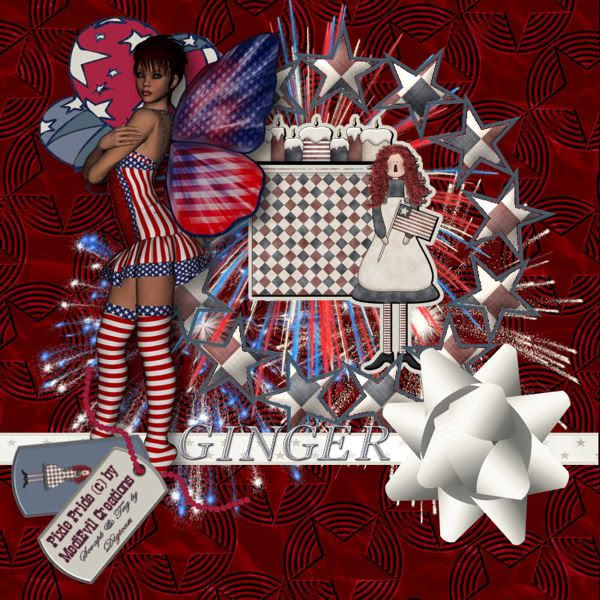 Since the 4th of July it America's Birthday, I did the wrap with a birthday bow in it! And check out the dog tags, I think they turned out cute!
The kit features the clip art of Whimsy Primsy. I discovered I have a lot more patriotic clip art than I thought, so I might yet do another patriotic kit - although it would be PTU.
Our next destination is Summer. Jessica gave us a very bright four color pallet to play with and I came up with some half baked idea of magical keys and the door into summer (which is a mythical place that a cat in the Robert A. Heinlein story keeps looking for).
Mine look for it too...cats are very optimistic creatures. Just ask Tristan who asks for his dinner at 2:00 and 3:00 despite the fact that he know that "meow" does not happen until after 5:00 PM.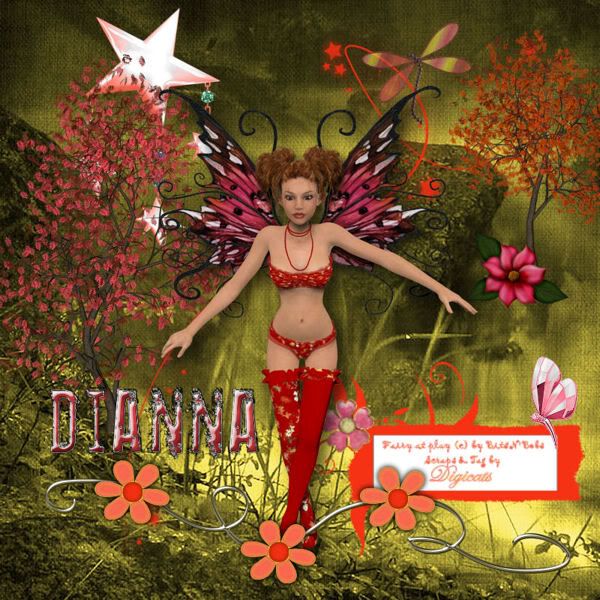 I am using the
Fairy-at-Play
poser pack by
Bits'N'Bobs
for this one, and to a certain extent, that poser pack also inspired the kit. However, you don't get any of these Fae in the kit, although there is a Fae included.
The Glass Alpha is also by Bits'N'Bobs and was a blog freebie.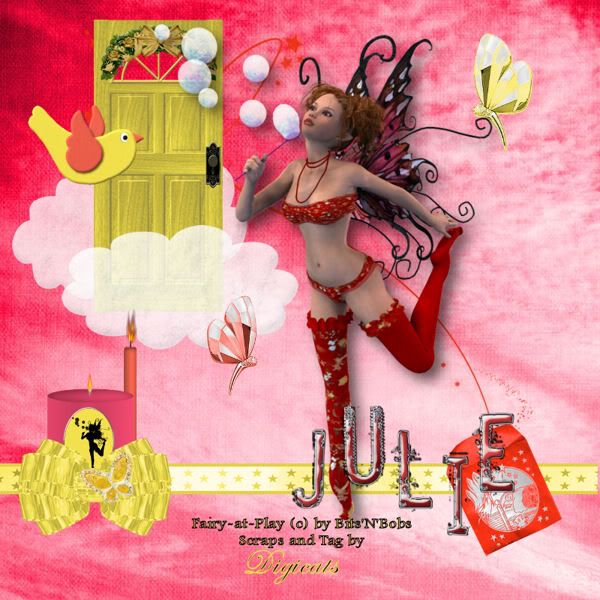 About the same time I was looking for the door into summer,
Joanne
released the
Roses and Pearls Swag Script
and it fit so well that I used one of the swags on the door. I also used one of her scripts for the flowers.
I only discovered her scripts since I moved into Sophisti-Scrap and I do have to say, I really like what she's done. Plus I can get them to work, which, given that I am usually a script retard, is a bit of a blessing.
I laugh at some of these designer call notices that say "send a sample of your best work, do not use any scripts or actions." I'm like "okay I hardly ever use scripts anyway", so it's not like it would be a problem!
There's quite a few fun elements to play with in this kit, and I think you will all enjoy it when it comes out. There's also a bit of darkness in it, as befits the "Gothic Inspirations" part of the Blog Train.
So, I just need to finish putting together the documentation and previews, zip everything up, add
Lion Hunt
and
40 Days
to my stores and then I can turn my attentions to
Something Borrowed
, which is a wedding kit, and
Wild Horses
which is Western/Native American themed.