Thursday, Rowena was asking me what her daughter would like better, Miami or Key West. I said Miami for sure as they have the Seaquarium and the Zoo, which is much better than the Zoo in Naples. My Granddad took us to the zoo all the time when we were kids and we loved it.
While we where at lunch Friday, we'd gotten on the topic of sex when Tom declared that Joey was getting married in the pavilion at the Cape Harbour Yacht club. Which of course led to several moments of embarrassment in which Joey tried to hide under the table. Not that hiding would have helped, as the table was glass.
"When you tying the knot, Joey?" was the first question.
"Maaaa---rrrr---ccchhhhh, Maybe. Wehaven'treallysetadate."
"July is the height of bridal season," I remind him. He dismisses July as being too hot for an outdoor wedding.
"You should make her a June Bride," Kathleen says.
"NO WAY!" Joey's mom was a June Bride and I think that's when Crystal really wants to walk down the aisle.
So then Joanie makes the comment that it USED to be that men WANTED to get married because that was the only way you got out of your parents house. If you were unwed and 35, you still lived at home. You just never went out on your own.
Tom pitched in that was true and that he was so sheltered - and in fact, he'd been in seminary school for while - that Gail pretty much had to tell him what to do on their wedding night.
"Oh come on," I said. "Surely you'd seen dogs."
He declared he lived in the city and never did. I lived in the city too, but I've seen dogs and cats and all sorts of other critters doing it. I mean...really!
Kathleen chipped in that she grew up on a farm with horses, so she knew all about how things worked.
Tom said he was in his mid 20's and they were driving down a road in Tennessee when he saw a pile of hogs, and so they stopped the car to get out and watch. He said by the time Gail got there, she was following in a different car, all the action was over.
I mentioned that lions were really interesting because the male jumps up on the female and they go at for a minute or two with all sorts of fuss and roaring - the whole neighborhood needs to know what's going on - and he jumps back off and the female rolls over in this absolutely classic pose...all she was lacking was a cigarette. I said then 15 minutes later, they start up again and this on and off thing goes on for about 2 hours and finally, some months later, that's where little baby lions come from.
"Where'd you see this at?" Tom asks. "National Geographic?"
"No," I said. "The Miami Zoo. We were there one day and they went at it so we sat on a bench outside the lion pen and watched the proceedings."
Rowena is sitting across the table from me with his horrified look on her face while I'm relating this tale, and when I finish she gasps "And you want to take my DAUGHTER to the ZOO?"
"Just tell her the lions are playing," I said.
"She'll want to play too!"
Well she's gonna have to learn sometime, right?
---
I rather miss just sitting down and tagging some days. Between designing and being on a couple of Creative Teams, plus working full time, I just never seem to have the time, or the inclination. However, with the blog trains running this weekend, I got a chance to sit down and play with
Soxsational Scraps
'
"By the Sea Side"
taggers kit.
I suppose you could argue this fills some of my CT duties to Sophisti-Scraps, as Sox sells out of there, and I am using the
"Cookie"
poser by
Sophisticated Scraps
, which is also available at Sophisti-Scraps.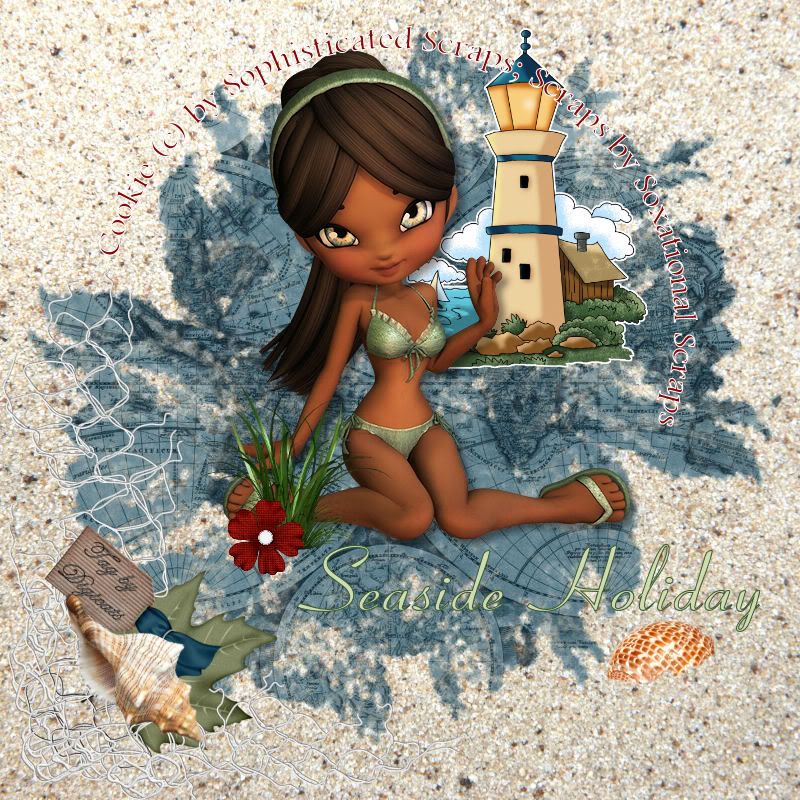 I was going to do these as snags, but couldn't come up with things to say, so they are pretty much blank. If you want to grab them to add a name to and use as siggy, go ahead, just don't tamper with the copyright info.
From the start I enjoyed working with this kit. It's very reminiscent of the beaches up on Maine and New England, although I was reminded again how cold the water is up there, even in the height of summer. Sox does a good job with the kit and stays in motif...she doesn't add a palm tree or outside nautical element just because it's a beach themed kit.
And I can't believe she's visited New England much, so I'll give her extra props for doing such a fine job.
Sox used the digital clip art of
Annie Lang
. She also adds some great elements, like those fishing nets, making for a nice blend of clip art and realism.
And need I say that Lisa's little Cookie posers are just too cute?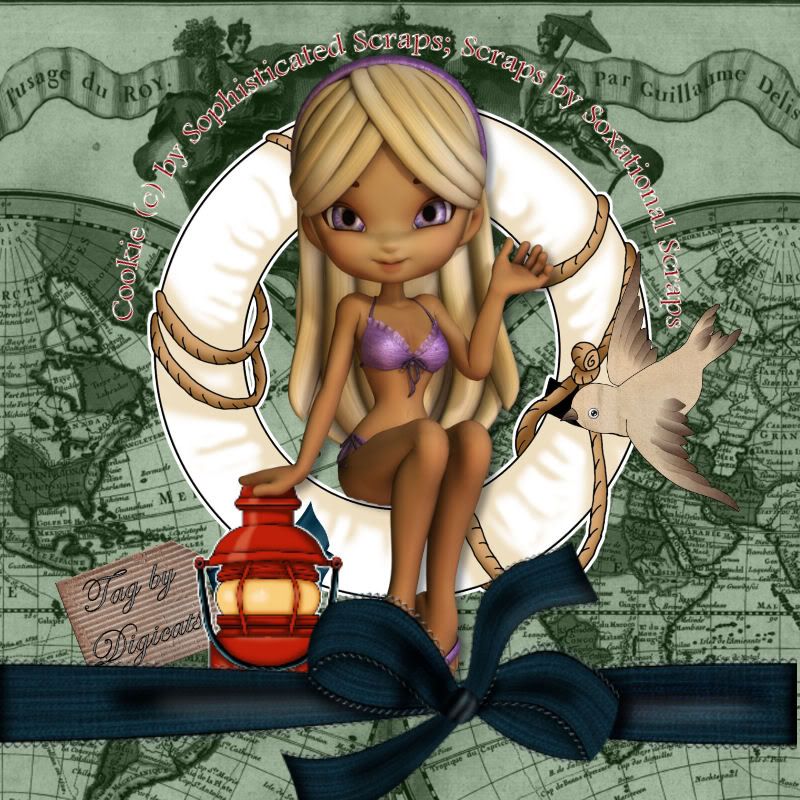 I also love that map paper and just bought - if not that exact overlay - then at least a set of overlays very similar to that one she is using.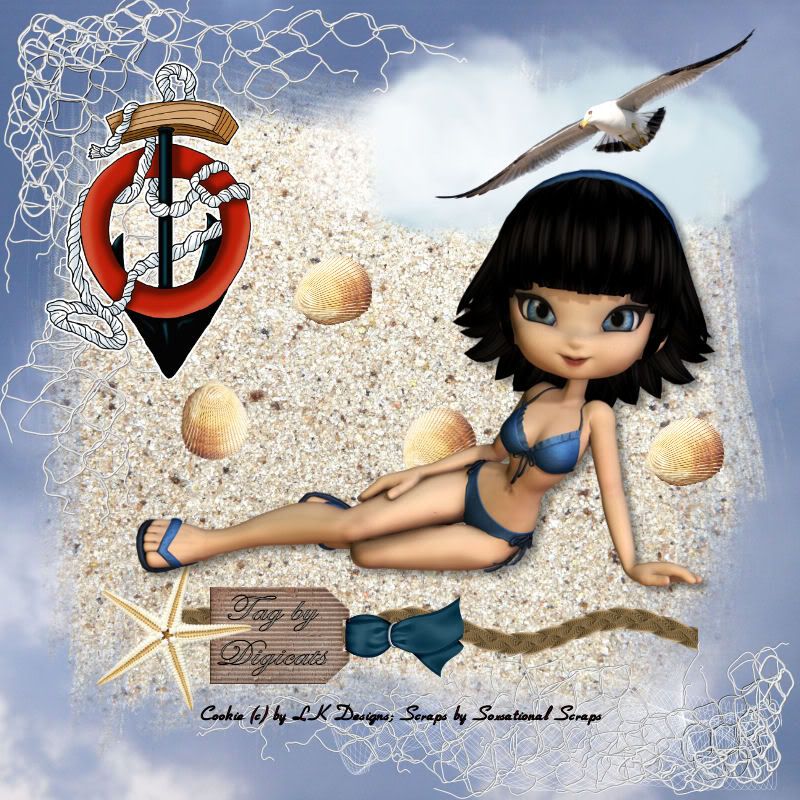 If I'd had a bucket and shovel, we could have gone digging for clams! You can almost hear the cries of the gulls and the clanking of the ships gear in the background of these tags. Super job all the way around on this kit.
I didn't see a full size version of this one offered. Too bad as this would have been a great one to use to scrap those visits to Cape Cod. However, it will bring you hours of tagging pleasure.
On a side note I will be joining the designing team as Sophisti-Scraps as well. They're cutting my hours back and work and while that allows me more time to devote to designing and tagging, it also cuts into my money which means I need to find a way to generate more revenue, so felt that branching out a bit was a good idea at this time.
---
Now available at Stargazer Scraps is my
Blooming Bears
taggers kit as well as my popular
Toad U So
taggers kit.
Are you still out kissing Frogs, looking for your Prince Charming? Well take a look at the little fellows you can pucker up to in this whimsical taggers kit. 36 800 x 800 .jpg papers off set 140 elements including half a dozen frogs, 12 bows, 4 pieces of ric-rac & lace, 12 ribbon wraps, 8 frames, 8 flowers, 8 stick pins, 4 frog pins, 4 beaded hearts, 4 heart charms, a castle, 4 kisses, 4 lip charms, 4 lipsticks with lids, 4 butterflies, 2 dragonflies, string, bling, swags, iris, water lillies and cattails, a couple of princes and a noble steed and one bottle of wart remover. Toad U So also features some great word art from Ginger's House. So what are you waiting for? Get those lips and gear and go out and find your prince!
Looking for the prefect garden? Mama Bear's got everything you need to get one started! 15 800 x 800.jpg papers and 84 .png elements all saves to 300 DPI. Inside this bright and cheerful kit you will find Sun, seeds, clouds, rain, and a rainbow, 5 bows, 5 ribbons, 5 flower clips, 10 marking sticks, 5 glitter sticks, 5 string bows, 7 stickers, a set of gardening tools, a little pink worm, 3 butterflies, 8 frames, 4 tags, a stone bench and pedestal, and a selection of lovely realistic flowers.
Both these kits have been retired and are available for FREE elsewhere on this blog!