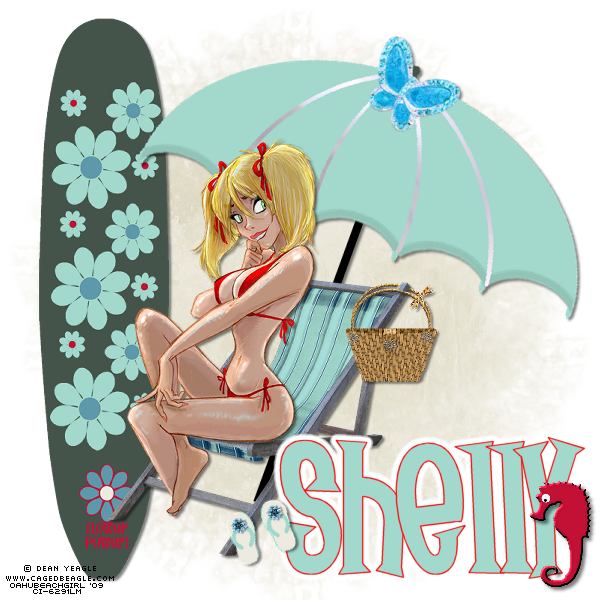 Shelly (Oahu Beach Girl) has written a fabulous tutorial using my "Big Kahuna" taggers kit. I have to say that - to date - this has been one of my favorite kits, both to make and because of tags you can get on it. A lot of people have left positive comments as well, but it's nice to hear from someone who lives in Hawaii that it is spot on.
Visit
OahuBeachGirl
to try this tutorial. And of course you can click
HERE
to go and get a copy of the Big Kahuna for yourself.
Of the three trains that went out,
Fairy Delightful
has drawn 250 downloads,
Lion Hunt
has drawn 176 downloads and in just the four days that it's been available, the
Big Kahuna
has been downloaded 332 times!
---
One of the designers - not mentioning names - at the store I sell seems to have a crisis a day. Normally, I wouldn't care - my mother and my sister are both consummate drama queens - but I had bought some overlays from this designer at H.C. and the link was bad. I've written to both the designer and the store owner, and the situation was never resolved. And since said designer goes ballistic on a regular basis, I gave up on the issue, and purchased the same set of overlays from Stargazer's - where they will download. The aggravation isn't worth the price of the overlays, but I think it's a poor way to do business.
Equally bad was a recent transaction in which I purchased a Bird House template to use in my
All Decked Out
kit but which the link came back 404 Not Found. I contacted the designer via the contact box on the store site - it's her own personal store - and she issued a new invoice for additional downloads, but NEVER FIXED THE LINK. I wrote twice from Yahoo but never got a response and finally - after I'd purchased a different bird house template at Michelle's Angels to use in the kit - contacted her via the store again. This time she sent me a link to the template on 4 Shared, which makes me think she STILL hasn't fixed the link in her store.
Needless to say, I will not be purchasing from her store again. (A similar incident turned me off of Cool Digital - I've since deleted their link from my computer).
Customer service is important - especially in an online setting where people can go elsewhere to get the same product. In the cases above, I will quite likely be going elsewhere from now on.
---
Ismael Rac is now selling out of AMI. This was the hot topic yesterday, as a lot of taggers are unhappy with MyPSPTubes.com. For the record, I've never had a problem with either CILM or AMI, and the only problem I had with Stickerchick was the first purchase in which I didn't get my licensing number. A quick note to their customer service department fixed that issued. I have to wonder why so many others have problems. Could they be creating mountains out of molehills?