The Fourth of July was traditionally celebrated as America's birthday, but the idea of an annual day specifically celebrating the Flag is believed to have first originated in 1885. BJ Cigrand, a schoolteacher, arranged for the pupils in the Fredonia, Wisconsin Public School, District 6, to observe June 14 (the 108th anniversary of the official adoption of The Stars and Stripes) as 'Flag Birthday'. In numerous magazines and newspaper articles and public addresses over the following years, Cigrand continued to enthusiastically advocate the observance of June 14 as 'Flag Birthday', or 'Flag Day'.
On June 14, 1889, George Balch, a kindergarten teacher in New York City, planned appropriate ceremonies for the children of his school, and his idea of observing Flag Day was later adopted by the State Board of Education of New York. On June 14, 1891, the Betsy Ross House in Philadelphia held a Flag Day celebration, and on June 14 of the following year, the New York Society of the Sons of the Revolution, celebrated Flag Day.
There would be various celebrations of the flag, and after 3 decades, the anniversary of the Flag Resolution of 1777 was officially established by the Proclamation of President Woodrow Wilson on May 30th, 1916. While Flag Day was celebrated in various communities for years after Wilson's proclamation, it was not until August 3rd, 1949, that President Truman signed an Act of Congress designating June 14th of each year as National Flag Day.
The full history of Flag Day, plus lots of various other items about the Flag of the United States of America, can be found at
www.usflag.org
.
In celebration of Flag Day, I am offering 50% Off my
Entire catalog
including these great Patriotic Themed Kits:
American Heroes

Dedicated to the Men and Women of America's Armed Forces, this kit is packed with both red, white and blue and soldier green. 20 Camo papers plus 100 elements make this kit perfect for Patriotic tags and to show your support of the troops! Includes art work by Whimsy Primsy!
All Decked Out

What would the summer be without some great cook outs and fun times with your friends? In this kit you'll find a great setting to help bring all the summer fun of your tags to life. Lots of red, white and blue and even some fireworks for those Memorial Day, Flag Day and 4th of July cook outs!

Puppylicious

Like Puppies? Then your gonna love Puppylicous! This adorable taggers kit reminds you that the best things in life are furry! Puppylicious features the art work of Whimsy Primsy, and comes with 2o Papers, and 91 elements, plus a Paw Print alpha! Also included is my 4th of July themed Patriotic Pup 28-piece Mini-Kit.>
Lion Hunt

Enter the heart of the jungle and go on safari with this too cute taggers sized kit. 25 papers and 101 elements including lions and tigers and bears (0h my!) I had a lot of fun making this one and I'm sure you'll have a blast playing with it.
NOTE: These kits have been retired and are available for FREE elsewhere on this blog!
---
Just for you for Flag Day, I've whipped up a set of snags, which could actually be used for any Patriotic Occasion.
I am using the
Pixie Pride
poser from MediEvil Creations, as well as the
Independence
kit from
Kimmie's Kreations
. Independence comes in both a traditional page Kit version as well as a taggers version.
I have to say I had a lot of fun with it, as it's packed with a bunch of Patriotic goodies. I especially love the fireworks papers and the sparklers, more so as they don't make noise when shot off in the neighborhood until 3:30 AM. Both these items are available for CU as well, check out
Kimmie's store at Sophisti-Scraps
for more information.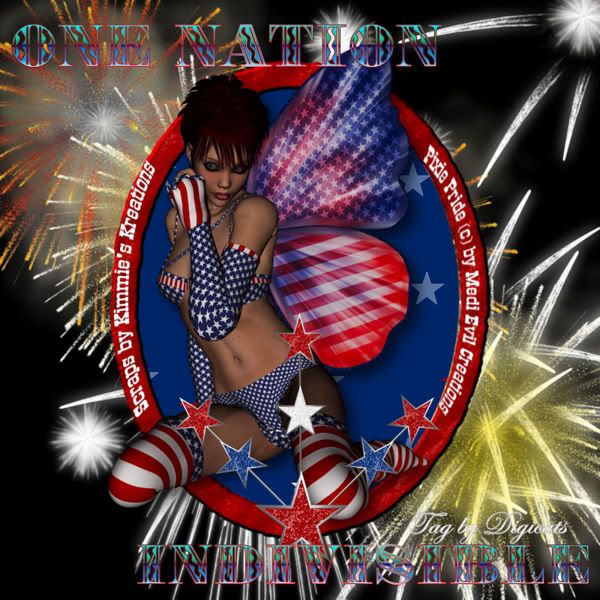 Medi's Pixie Pride came out like a day or two after I'd purchased a similar set from Perfect Posers for twice the cost, and I really like Pixie Pride better. There are 12 posers in the pack, so there's lots to work with.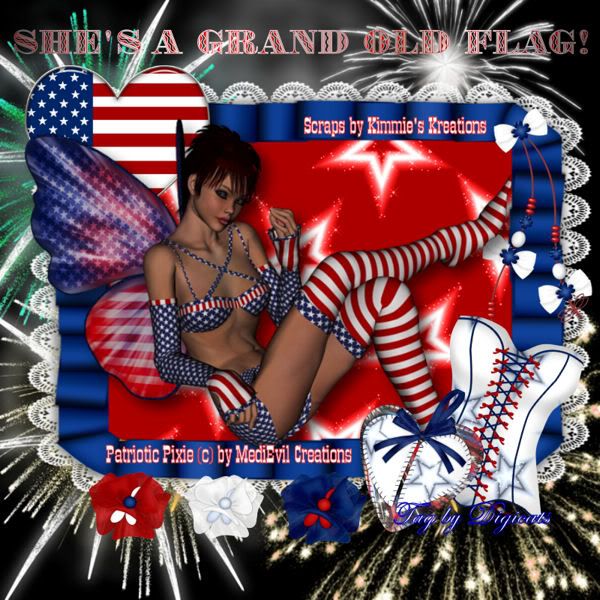 I love the RW&B corsets in the kit as well as the padded hearts. Kimmie is using the kit in her blog layout too, if you're looking for some additional ideas. AND, I've done a Tutorial called Miss USA which you can find by
CLICKING HERE
.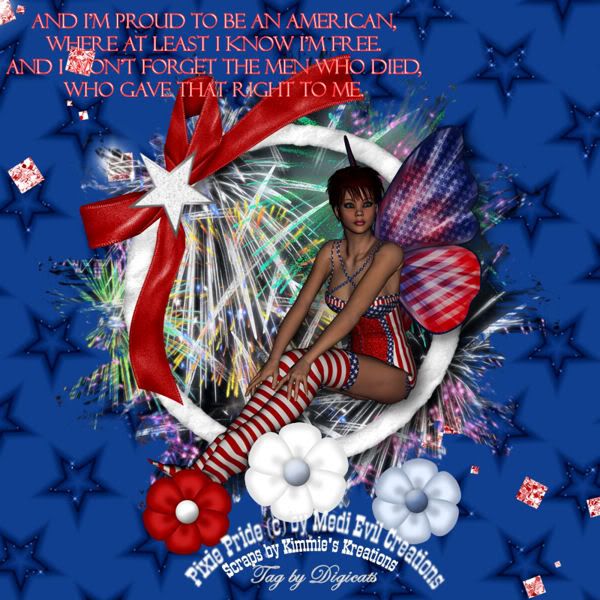 Yup...I snagged that quote from the song, but then, all the quotes are snagged.
Kimmie saves her papers to 700 x 700 pxl, but she's scripting the elements down from her full sized kit so some are included in the set in unusually large sizes. The glitter trail used int he background of this tag is an example, as it's sized at 1800 x 1800 pxls. The Oval frames are also like 800 + pxls high, so you will need to do some resizing of items while you are composing with the kit.
The quote on this snag is from Ben Franklin, in case you didn't know.
I had pulled this kit several weeks ago to do a tutorial with have been putting it off as I get bogged down in other projects, but it worked out well, as I know have it for you on Flag Day.
I also was finishing up my Americana kit this weekend, which will be part of the July Goodie Train, but I'll have the tags I did with that one up tomorrow (maybe). Meanwhile, a sale, four snags and a tutorial should be enough for you for today, don't you think? :)