No, it's not quite the same as free to a good home. New in my stores is my latest release called Puppylicious. It's an absolutely adorable taggers sized kit and if you like puppies - and who doesn't? - you're absolutely gonna love!
The kit comes with 20 papers, 91 elements and a paw print alphabet! Included in the kit are 10 frames, 10 ribbons, 5 balls, 5 bows, 5 butterflies, 5 dog dishes, 5 flowers, 4 heart strings, 5 leashes, 5 paper clip bows, 5 stickers, 5 tags, 5 wraps, 3 heart chicks, 2 doggies, 2 food bowls, 2 grassy borders, 2 word arts, 1 collar, 1 dog bone, 1 dog house, 1 fire hydrant, and 1 rope toy.
And remember, there's no barking or biting with the digital fur-babbies in this kit! And let's face it, $2.25 is a low adoption price for this pups!
Puppylicious turned out way too cute and I'm really pleased with it.
Note: This kit has been retired and is available for FREE elsewhere on this blog.
To celebrate the release of Puppylicious, I put together a little tagger sized mini-kit to share with you called Patriotic Pup.
This 4th of July themed kit includes 5 papers, 3 ribbons and 3 bows, 2 patriotic puppy stickers, 2 frames, 2 flowers, 1 star curtain, 5 stick pins, 2 fireworks, an Uncle Sam hat sticker, a Fourth of July sticker and a flag sticker.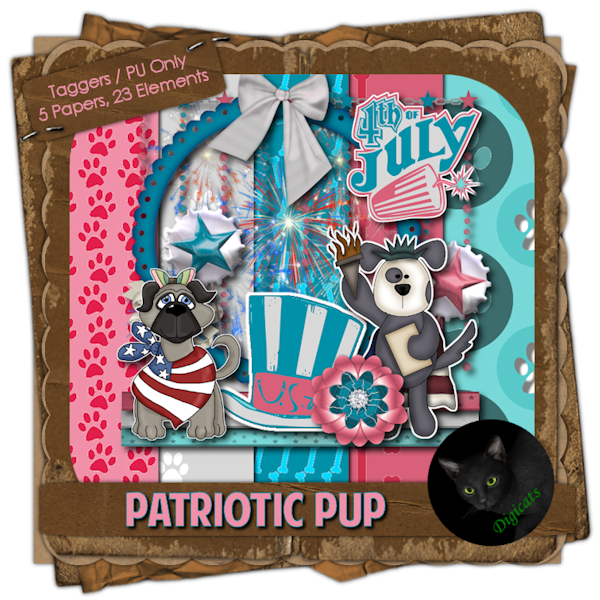 Please remember that by downloading this kit you agree to my terms of use which state, in part that that that you cannot redistribute, rebroadcast, resale, or claim my graphics as your own. That means placing this kit on 4Shared, RapidShare or any other file sharing site for any reason is a strict NO-NO! That constitutes redistribution.
If you know someone who is interested in this kit , please direct them to my blog where they can download their own copy. Free to use is NOT the same thing as free to share. My graphics are copyright protected.
Plus I already pay for premium download service so you don't have to wait for your freebies, and the links stay here FOREVER, so you don't have to put this kit anywhere else to share it, just link to this post.
To download from MediaFire, click
HERE
.
The password is "TYVM" - no quotes.
If you enjoyed this freebie, please take a moment to vote for Digi!

Click on the blinkie to vote!
Remember that you can keep up with all the latest Digicats news and freebies just by liking us on
Facebook
, or following us on
Twitter
!