I received the Lemonade Award from
Calypso Designs
. She has the wrong blog linked but that's okay. I know it's for me as their is only one of me.
The Lemonade award is given out to people that have shown a good attitude on the internet.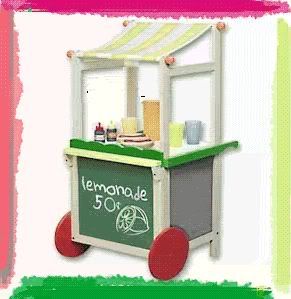 The rules for this awards are:
1. Put the logo on your blog.
2. Add a link to the person who awarded you.
3. Nominate (up to)* 10 other blogs.
4. Add links to those blogs on yours.
5. Leave a message for your nominees on their blogs.
* The rules actually said, nominate 10 blogs, but this award has been around enough that I think most bloggers have it.
My nominees are:
Ginger at
Ginger's House
, for all the fine word art;
Bonnie at the
Maltese Scrapper
, for all the great hand outs;
Toni at
Toni's Scraparoni
, for making my life so much more blingier (is that a word?);
Kathy at
Tizzy's Angel
, for preserving through some really bad times lately,
Sarah, at
CWD
for the really fun contests;
Jay, at
Heartbeatz Creationz
, for some fun little kits and a great taggers forum;
And Kate, over at the
Urban Mermaid
for some truly beautiful scrap kits.
Kate has also given me an award, but I'll do that in a separate post. Since spring is right around the corner - finally - and the only reason I will need a space heater for the next six months is to break my toes on when I bash my foot into it - I wanted to do some springy layouts.
I actually want to try my hand at making a spring kit, so that's in the works. (Valentine's Day had been my original target, then St. Patrick's Day. Now I've pushed it back to Easter. I deserve a procrastinators award, is what I deserve!)
Anyway, the
Heartbeatz Creationz
store was having a 50 cents sale, so I picked up several things, including the new
Hoppy Easter
kit from Heartbeatz.
Both these tags use that kit, along with posers from
UFDesigns
.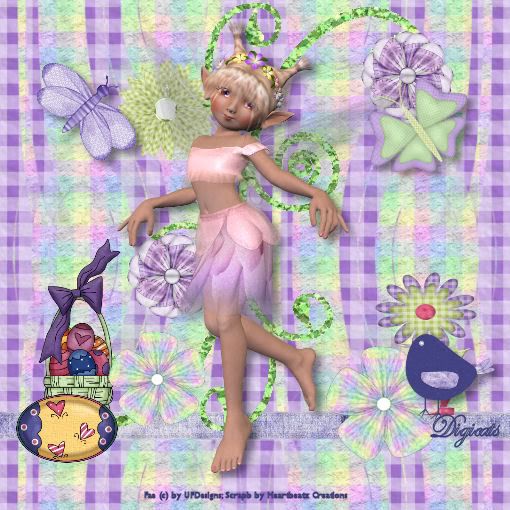 That doodle was actually blue, and I glitterized it green. I love the birds. I also picked up Jay's
Purdy Birdys
kit but haven't worked with it yet.
The spring kit will be a good use for the Sadie posers - I have a bunch of them. This one is Sadie with an unusual hairstyle...and big ears.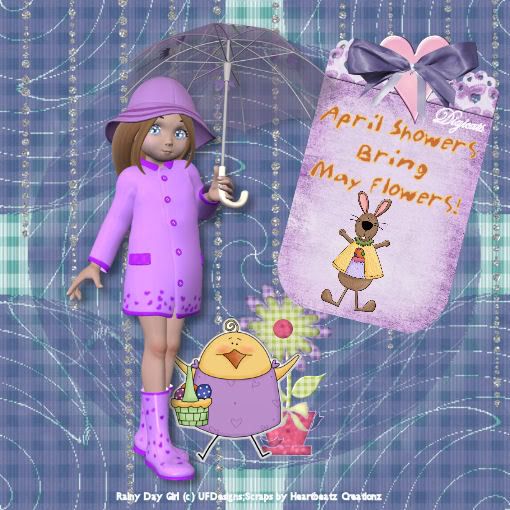 Calypso has just put out a pack of the "Rainy Day" girls which I bought yesterday at the $1.00 sale at
Heavenly Taggerz
. She also has a sample you can
download off her blog
.
The bling curtain does not come with the kit - I added it in myself. I used masks from Cameron on both pieces. I liked the way this one created a stormy looking effect that worked with the "rainy day" piece.
We don't do the April showers/May Flowers thing in Florida. Our rain season starts June first. We did get a little bit of rain yesterday, which was good. We really need it right now.
Another of Jay's kits that I worked with last night was the
Be Still my Beating Heart
mini kit which I used to create Tristan's Valentine to T'Abby Normal.
You can view it here
, as part of Skeezix Valentine Day Contest.
On a side note, we are hosting the Bad Kitty Cats Festival of Chaos this weekend here at Digicats, so I'm going to hold back the rest of the sweetheart club tags and use them as part of that blog carnival post. Thanks for stopping by and have a great weekend!