Despite the twice daily hassle of getting a pill down him, I do have to say that Tristan's bum looks a lot better and we've had no more diarrhea of late. However, after getting pilled, he sits there and glowers at me, looking like foo-man-choo with slobber hanging out both sides of his mouth instead of whiskers.
Strange cat. He is not the worst cat I've ever had to take care of though. Currently that award goes to Phantom, who was the cat who owned me prior to getting these two. She was very healthy all her life, but once a year, we had to go through...the experience.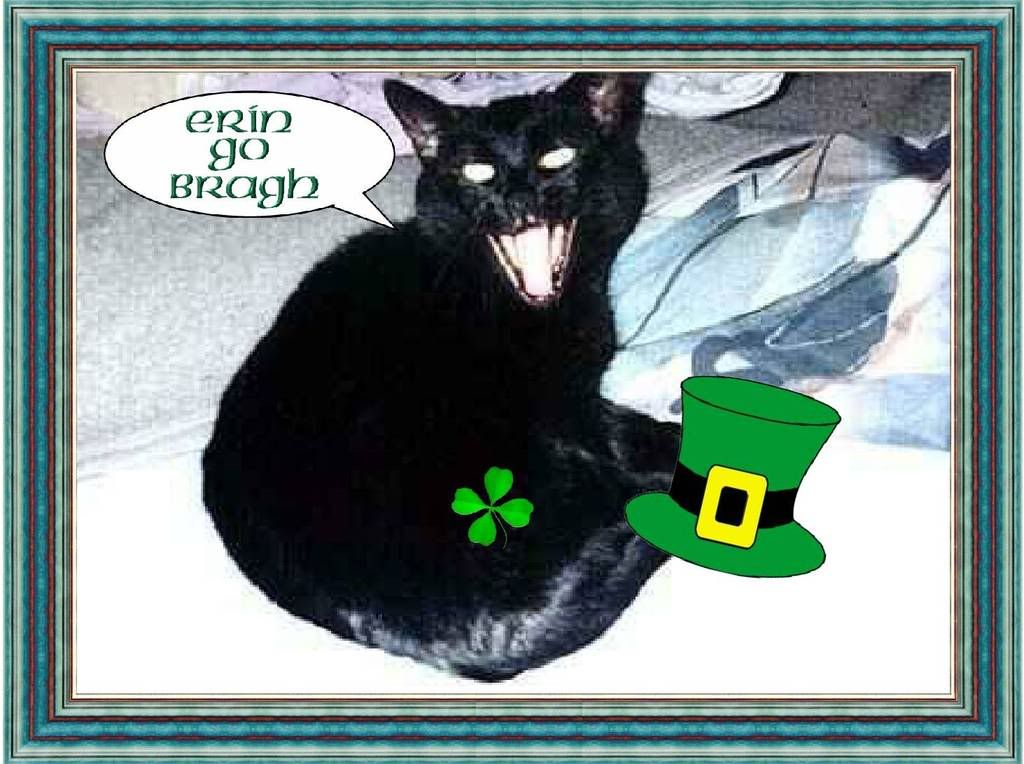 She was the hardest cat to get into a carrier. You had to control all four feet and the tail in order to slide her in - which of course meant finding in. Hiding the carrier until the last possible moment was advisable. Once you got her in the roaring would commence.
For a very small cat, she had a roar that would make a full grown panther proud. How all that sound came from one one small body all never know, but you could hear her from blocks away. Putting the carrier into the car and driving her to the vet meant putting up the sound, but thankful, I lived not far from the vets office. When I moved from Key West to Fort Lauderdale, she continued that roaring for four straight hours. It was quite a memorable journey.
The minute we arrived at the vets office and switched off the ignition, there would be dead silence. You'd wondered whatever happened to the cat. Glancing into the carrier would show you a small black fur ball glued to the back wall of the carrier. Everything was good until it was time to get her out of the carrier.
Putting your hand inside, in an attempt to extract her, was a good way to end up bitten and/or clawed. Turning the cage on end and trying to dump her out was equally pointless. She was as good as clinging to a wall as a spider and nothing could get her undone. Nope. We had to undo the screws, take the top off the carrier and gently extract her that way. And make sure very single door to the exam room was shut or she was sure to get loose and make a bolt for safety.
While she was getting her shots, one of the assistants would re-assemble the carrier for us. Getting her back inside was much easier. You just had to open the door and point her head in the right direction and she'd go. Of course, once the car started up for the trip home, the roaring commenced.
She was a good cat. I still miss her a lot.
Tristan can't be too mad at me though, as he brought me a frog on Sunday night. It was still alive and when I tried to trap it, it hopped behind the book case. Monday morning, I found it in the toilet. Again it escaped, wedging itself into the crack along the rim where the water comes out.
This morning, the wee little beastie was in the shower. I thought it was deaded, but it wasn't! Hah! I managed to get a cup put over it, and after I got dressed, I took it outside and released it. Hurray!
He shall live to be a meal for someone on another day!
Truck Stop
To continue our little feline road trip, I broke out the
Truck Stop
taggers kit, which is by Ivory's Design. I really like this one a lot!
The Texaco sign is from the
Maltese Scrapper
is the license plate. That goes for all the tags on the road trip. The Black & White alpha beads are courtesy of Katimousi76. The string is actually part of the kit, so it worked out well.
Angus is a pixie bob, so yes, his tail is by nature, very short.
I had a hard time with this one because I don't know much about Missouri - well, I do now - and so I didn't know how much trucking went through it. Not to worry.
The Interstate 80 sign is part of the kit. The quarter was taken from
State Symbols USA.org
. Bonnie had asked after them, and I did explain that I hadn't decided if this was a project I wanted to pursue as a potential CU item, or let her do it. I think the best I can do though is 400 x 400 pixel - they're quarters after all - and I don't know how good that would be for full sized scrapping use. The Chrome Alpha used in this tag and in the one for Tinker is from
Scrap Dolly
.
The last kit I used is "Speed Limit" from
Tantrum Scraps
. I didn't like this kit at first, but it kind of grew on me.
That's the Philly skyline in the background. My dad lived in Philly for a while after my folks got divorced, so I've actually visited the city, although I don't remember much about it.
Ohio I am quite familiar with, although not the area where Mr. Hendrix lives. The red carnation is the state flower and is from
Chili Designz
from one of their Blooming element packs. The detour/one way signs, which are part of the Tantrum kit, remind me very much of downtown Cleveland, where you can see where you want to go, but you can't drive directly there because everything is one way.
The red felt alpha is again, by a designer unknown, but it's a nice little alpha. If you did it, please step forward and take credit!
I was going to make a comment about Sanjee needing a new chauffeur after Mom Robin's car accident, but I decided to be nice. Heh! The key is from
Voodoo Scraps
and the key chain is from
Farrah's Creations
. The Silver Swirl Alpha is from
Free Digital Scrapbooking
.
And that finishes up our cat's eye view of 13 of the 50 US States. Part one is
HERE
BTW, in case you missed it, and the full presentation, with Travelogue can be found at
Diamond's Lair
.
And yes, I've already got quite a few requests for our next 13, although this week we're doing St. Patrick's Day, and I think next week we might do Movie Time. I have several Movie/Hollywood themed kits, so I thought it might be fun to send a cat invasion to Hollywood. :)
Thanks for joining us for Cats on Tuesday and don't forget to visit the other Cats on Tuesday Bloggers!