Tom stops by my office and says "So did you get Lenore straightened out?"
I said "Yeah...I noticed she went to the same school of sainthood as my mother did."
Tom strikes a martyred pose in the doorway.
"Exactly. My mother has that picture hanging on her wall. I think it's one of the things that I always turned me off about the Catholic Religion. It's such a gruesome thing to subject a small child to."
That and the sacred heart picture my grandmother was fond of. I mean seriously, here's a guy with his chest ripped open and his heart showing.
And then they worry about the amount of violence shown on TV.
Southern Scraps has her
Sunrise Service
taggers kit available for fr33 at
Paradise 4 Scrappers
, and yes, it does have the obvious religious overtones for the holiday. I usually play those down, having traded in my cross for a pentagram years ago.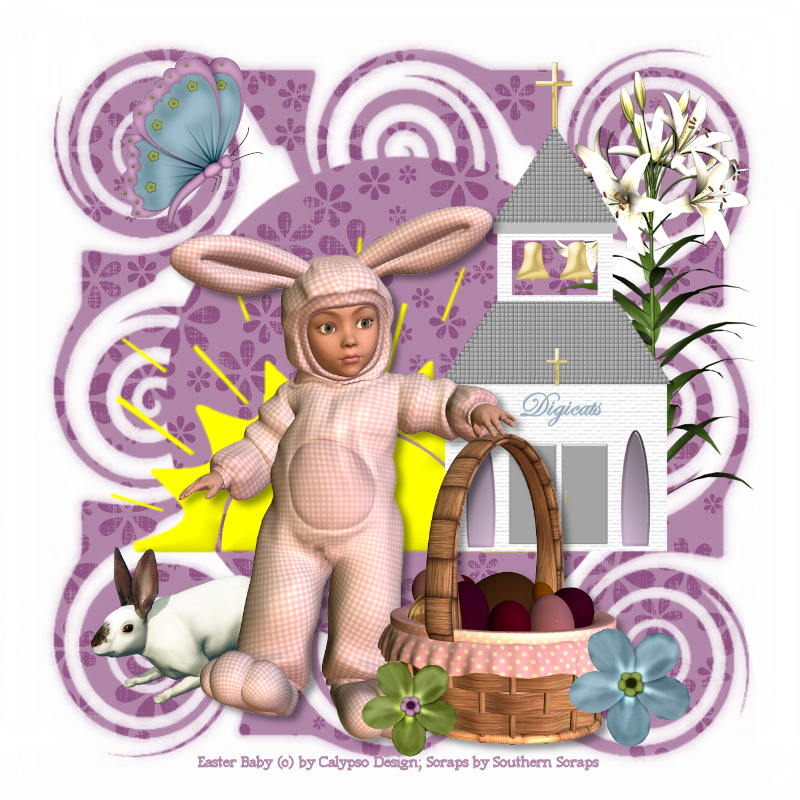 The "Bunny Baby" poser & basket is from
Calypso Design
and is a blog fr33bie. She's got a bunch of Easter themed fr33bies on
her blog
, so be sure to stop by and collect them all.
The "Bunny Babies" have been making the rounds.
Outlaw by Design
has some in her PTU tube area, and Gail at Aussie Scrap Design has a
blog fr33bie
set as well. As I told Gail, they're very cute, but if my parents had ever dressed me like that, I'd have to kill them.
The mask on this piece is from
Cameron's Tags
, the masks on the other two tags in this post are from
Wee Scots Lass
.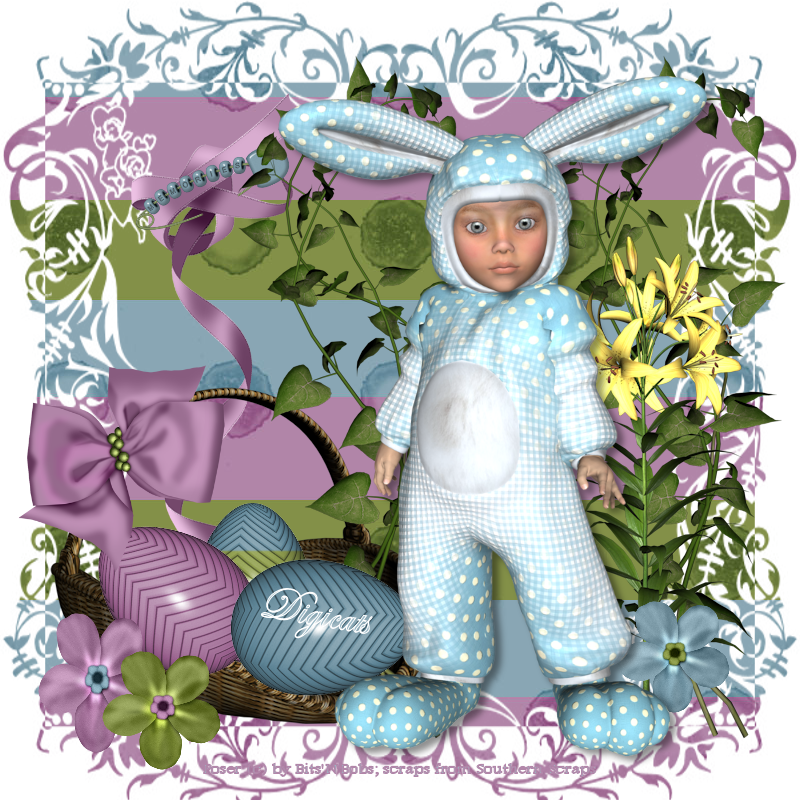 This "Bunny Baby" is from Bits'N'Bobs and is part of a
9-piece tube set
, which also includes baskets and eggs besides the "Bunny Babies". The eggs and basket in this tag though came with the scrap kit.
Julie of Bits'N'Bobs also has her
Spring Blog Train Kit
available on her blog, which is fr33 for a limited time only, so be sure to snag it while the snagging is good.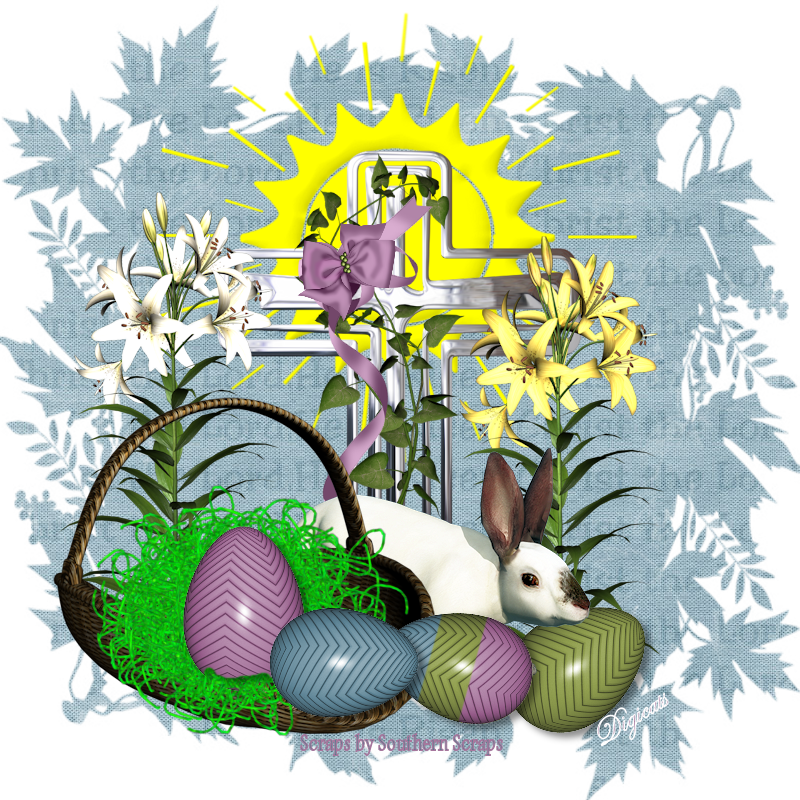 This last pieces utilizes scraps from the kit, except for the
Easter Grass
, which is by
Gemini Creationz
. There's some religious word art in the kit as well, which I ignored.
For those of you, like my aunt, who wish to remind me that "Jesus is the reason for the season" I wish to point out that the Christian celebration of Easter was
designed to replace Jewish Passover and the pagan celebration of Spring Equinox
, and that the season was around many, many, many years ago B.C.
The modern English term Easter developed from the Old English word Eastre, which itself developed prior to AD 899. The name refers to the Eostur-month, a month of the Germanic calendar which may have been named for the goddess Eastre in Germanic paganism.
In all Romance languages the name of the Easter festival is derived from the Greek name, Pascha which is itself derived from Pesach, the Hebrew festival of Passover.
The ecclesiastical historian Socrates Scholasticus (b. 380) attributes the observance of Easter by the church to the perpetuation of local custom, "just as many other customs have been established," stating that neither Jesus nor his Apostles enjoined the keeping of this or any other festival.
We won't get into the heavy commercialism that we celebrate in society today.
As for my computer...I think I'm going to see about buying a new hard drive when I get paid next week, and then transferring everything over. This way I can get much more room (to store more scraps!) and I won't have to worry if the thing is going bad or not.