I apologize that I haven't been participating, but things have been crazy around here. Hopefully I can get back on schedule soon!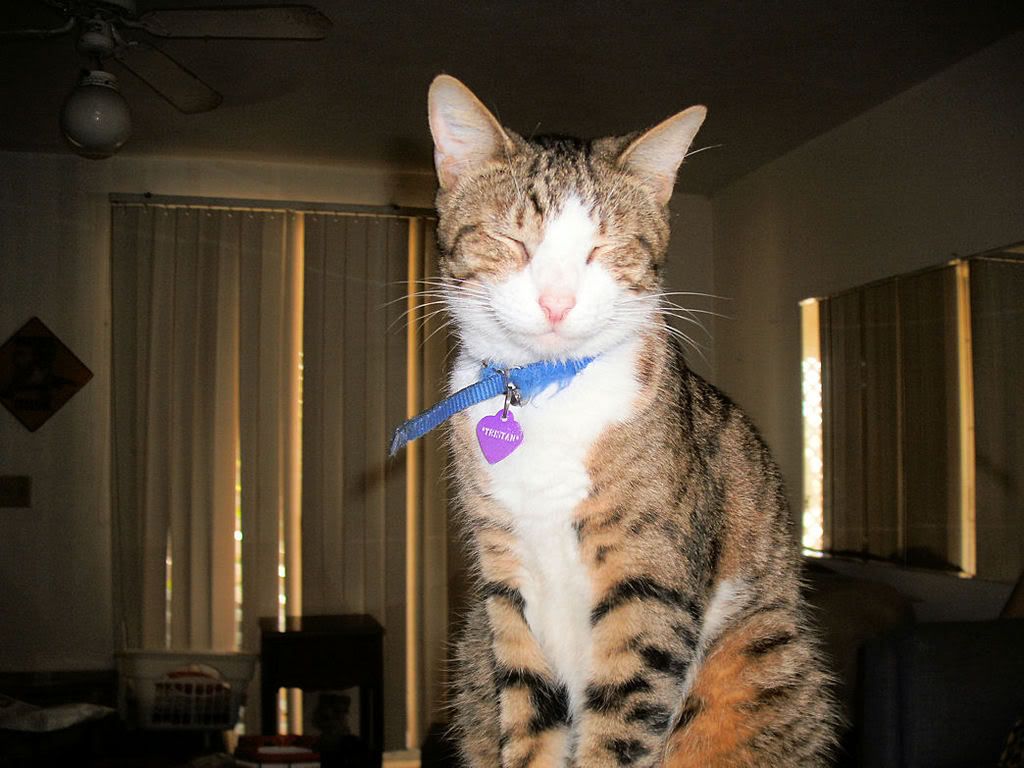 Having brought me two rats over the last week - and being fussed over - Tristan has decided the way to my heart his through my stomach. As a result, he was out hunting all day yesterday. Happily, or sadly, depending upon how you view it, he didn't catch anything.
Today he's all curled up on the loveseat in a very interesting position. The loveseat is his latest catbed. Diamond meanwhile has taken over the top of the sofa, and the top of the box of easter decoration that I brought in from storage.
Since he was being such a good boy I was trying to get him to pose for me, but it's so hard to get him to keep his eyes open. He knows, as soon as the little red dot for the laser focus hits him to shut his eyes. Smart boy!
I've been very bad about scrapping him too, although he was in our Mardi Gras special.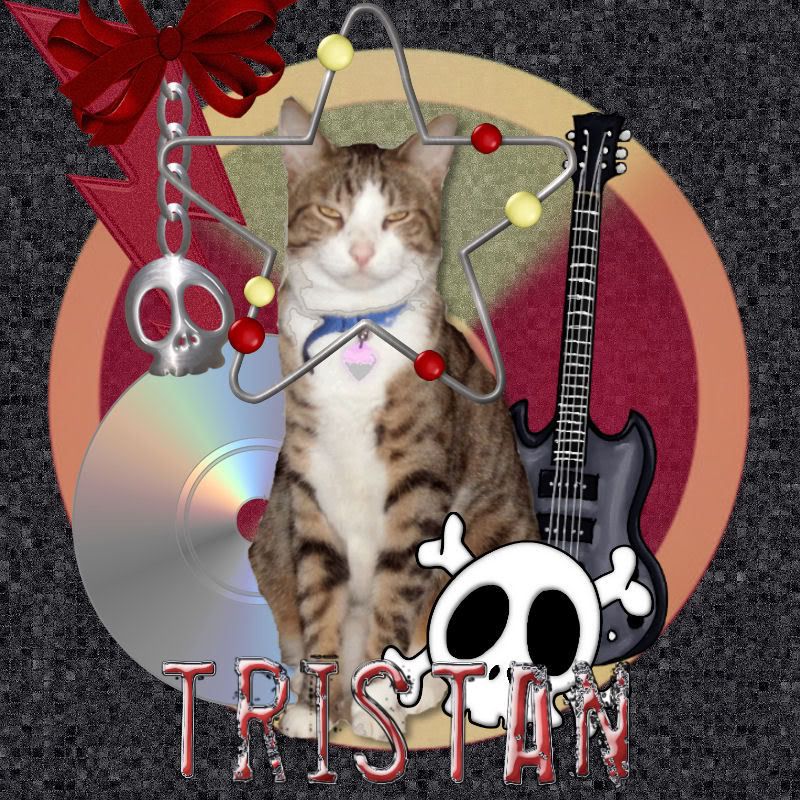 The scraps for this layout are from the
Electric
kit by Meadowsong, except for the CD, which is from DMK Designs. I have ideas - and I'm working on the scraps - for both a rock and roll themed kit and a tabby cat themed kit. And who knows, maybe I'll combine the ideas and do a tabby rock mini-kit as well.
The
Red Glass Alpha
is from Bits'N'Bobs and was a blog fr33bie.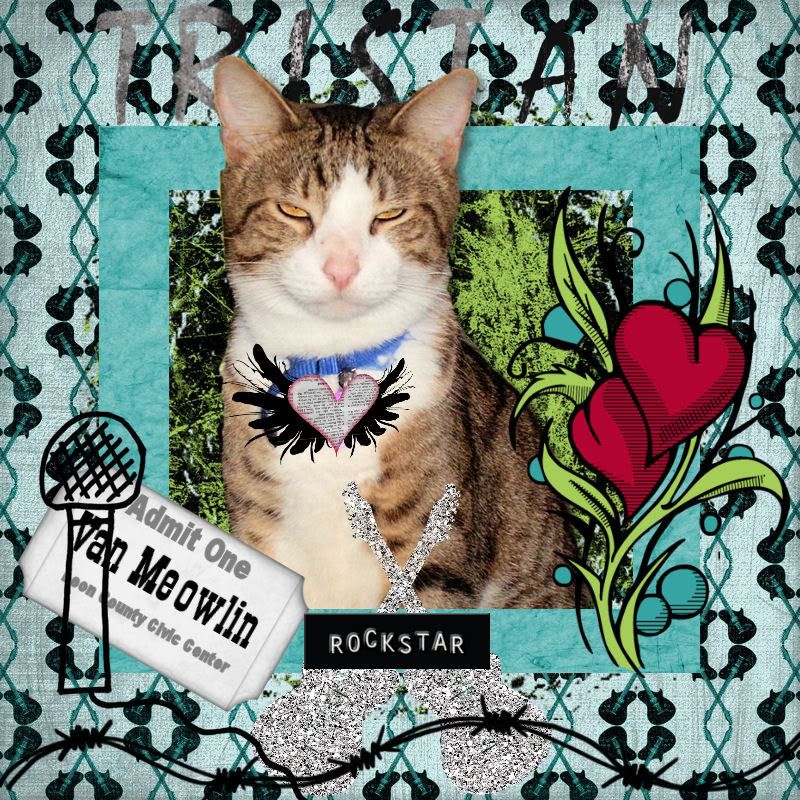 This layout was done with the
"Wanna be a Rock Star"
taggers kit by
DMK Designs
.
The black grunge alpha is courtesy of
Dreamsfulfilled
.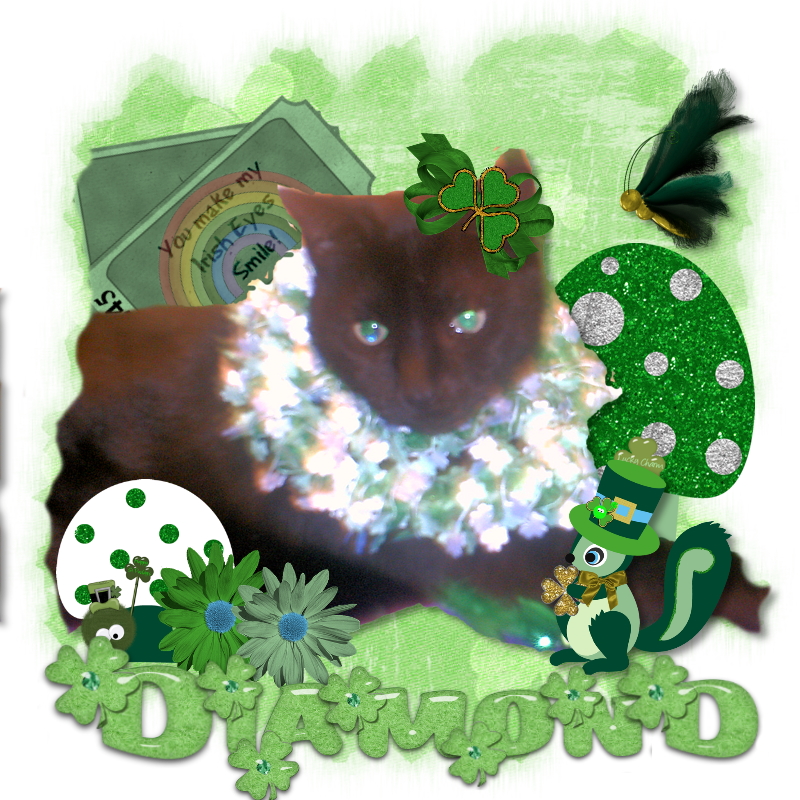 Miss Diamond's March profile picture was done using my
Irish Eyes
taggers kit. The
Clover Alpha
, which is a CU item, is from ChaDesignz. I like the alpha, but it's a bit hard to work with.
The photo of Diamond was actually shot last year, I didn't feel like making her dress up again for a new shoot this year.
I am currently working on this week's T-13 layouts - it's required a bit of research on the various states. Once I complete that project I'm going to start working on a new kit, plus my Hippity Hoppity Blog Train kit.